E-book
The Handbook of Gangs
ISBN: 978-1-118-72675-4
592 pages
July 2015, Wiley-Blackwell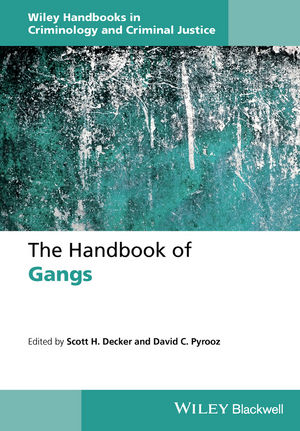 Pulling together the most salient, current issues in the field today, The Handbook of Gangs provides a significant assessment by leading scholars of key topics related to gangs, gang members, and responses to gangs.
• Chapters cover a wide array of the most prominent issues in the field of gangs, written by scholars who have been leaders in developing new ways of thinking about the topics
• Delivers cutting-edge reviews of the current state of research and practice and addresses where the field has been, where it is today and where it should go in the future
• Includes extensive coverage of the individual theories of delinquency and provides special emphasis on policy and prevention program implications in the study of gangs

• Offers a broad understanding of how other countries deal with gangs and their response to gangs, including Great Britain, Latin America, Australia and Europe

• Chapters covering the legacies of four pioneers in gang research—Malcolm W. Klein, Walter B. Miller, James F. Short Jr., and Irving A. Spergel
See More
Notes on Contributors vii
1 Introduction 1
Scott H. Decker and David C. Pyrooz
2 The Logic of Defining Gangs Revisited 7
G. David Curry
3 Little Gang Research, Big Gang Research 28
David C. Pyrooz and Meghan M. Mitchell
4 Documenting Gang Activity: Intelligence Databases 59
C. Ronald Huff and Julie Barrows
5 Gang Membership in a Developmental and Life?]Course Perspective 78
Beidi Dong, Chris L. Gibson, and Marvin D. Krohn
6 Neighborhoods and Street Gangs 98
Andrew V. Papachristos and Lorine A. Hughes
7 Gangs and Social Learning Theory: What We Know, What We Need to Know, and Why it Matters 118
L. Thomas Winfree, Jr. and Adrienne Freng
8 Social Psychology of Gangs: An Intergroup Communication Perspective 136
DaJung Woo, Howard Giles, Michael A. Hogg, and Liran Goldman
9 Social Network Analysis and Gangs 157
Michael Sierra?]Arevalo and Andrew V. Papachristos
10 Gangs, Guns, and Violence: Synergistic Effects 178
Arna L. Carlock and Alan J. Lizotte
11 Gangs and Drugs: Connections, Divergence, and Culture 193
Mark S. Fleisher
12 Gender, Sexuality, and Gangs: Re?]envisioning Diversity 208
Vanessa R. Panfil and Dana Peterson
13 Joining the Gang: A Process of Supply and Demand 235
James A. Densley
14 Leaving the Gang: A Review and Thoughts on Future Research 257
Dena C. Carson and J. Michael Vecchio
15 Micro?]Level Processes of the Gang 276
Jean M. McGloin and Megan E. Collins
16 Street Gangs, Terrorists, Drug Smugglers, and Organized Crime: What's the Difference? 294
Scott H. Decker and David C. Pyrooz
17 Police Gang Units and Effective Gang Violence Reduction 309
Anthony A. Braga
18 Gangs in Correctional Institutions 328
Shytierra Gaston and Beth M. Huebner
19 Legislative Approaches to Addressing Gangs and Gang?]Related Crime 345
Beth Bjerregaard
20 The Gang Resistance Education and Training (G.R.E.A.T.) Program: An Evaluator's Perspective 369
Finn?]Aage Esbensen
21 The OJJDP Comprehensive Gang Strategy: The Comprehensive Gang Model 392
Erika Gebo, Brenda J. Bond, and Krystal S. Campos
22 The Legacy of Malcolm W. Klein 406
Cheryl L. Maxson
23 The Legacy of Irving A. Spergel 424
James C. Howell
24 The Legacy of James F. Short, Jr. 440
Lorine A. Hughes
25 The Legacy of Walter B. Miller 458
Richard K. Moule, Jr.
26 Understanding Gangs in Contemporary Latin America 478
Dennis Rodgers and Adam Baird
27 Understanding European Gangs 503
Frank van Gemert and Frank M. Weerman
28 European Responses to Gangs 520
Rob Ralphs and Hannah Smithson
29 Gangs in African, Asian, and Australian Settings 538
Angela Higginson and Kathryn Benier
Author Index 558
Subject Index 572
See More
Scott H. Decker is Foundation Professor of the School of Criminology and Criminal Justice at Arizona State University. His most recent books include European Street Gangs and Troublesome Youth Groups (edited with Frank Weerman, 2005), Drug Smugglers on Drug Smuggling: Lessons from the Inside (2008), and Criminology and Public Policy: Putting Theory to Work (with Hugh Barlow, 2010).


David C. Pyrooz is an Assistant Professor of Sociology at University of Colorado Boulder. He is the author of Confronting Gangs: Crime and Community (with G. David Curry and Scott H. Decker, 2014).
See More
More in this series