A Companion to Steven Spielberg
ISBN: 978-1-118-72691-4
536 pages
January 2017, Wiley-Blackwell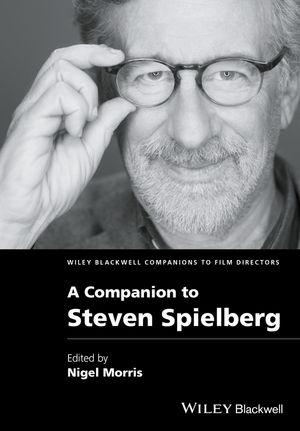 A Companion to Steven Spielberg provides an authoritative collection of essays exploring the achievements and legacy of one of the most influential film directors of the modern era.
Offers comprehensive coverage of Spielberg's directorial output, from early works including Duel, The Sugarland Express, and Jaws, to recent films
Explores Spielberg's contribution to the development of visual effects and computer games, as well as the critical and popular reception of his films
Topics include in-depth analyses of Spielberg's themes, style, and filming techniques; commercial and cultural significance of the Spielberg 'brand' and his parallel career as a producer; and collaborative projects with artists and composers
Brings together an international team of renowned scholars and emergent voices, balancing multiple perspectives and critical approaches
Creates a timely and illuminating resource which acknowledges the ambiguity and complexity of Spielberg's work, and reflects its increasing importance to film scholarship
See More
Notes on Contributors x
Acknowledgements xvii
Film and Television Programs: Steven Spielberg (chronological) xviii
1 Introduction 1
Nigel Morris
Part One Industry and Agency 25
2 Spielberg as Director, Producer, and Movie Mogul 27
Thomas Schatz
3 Producing the Spielberg "Brand" 45
James Russell
Part Two Narration and Style 59
4 Magisterial Juvenilia: Amblin' and Spielberg's Early Television Work 61
Nigel Morris
5 Finding His Voice: Experimentation and Innovation in Duel, The Sugarland Express, and 1941 103
James Kendrick
6 Creating a Cliff hanger: Narration in The Lost World: Jurassic Park 122
Warren Buckland
7 Steven Spielberg and the Rhetoric of an Ending 137
Michael Walker
8 The Spielberg Gesture: Performance and Intensified Continuity 159
Steven Rybin
Part Three Collaborations and Intertexts 173
9 Spielberg–Williams: Symphonic Cinema 175
Jack Sullivan
10 Spielberg and Kubrick 195
Peter Krämer
11 Spielberg and Adaptation 212
I.Q. Hunter
12 "A very cruel death of innocence": Notes Toward an Appreciation of Spielberg's Film of Empire of the Sun 227
Neil Sinyard
Part Four Themes and Variations 241
13 "Who am I, David?": Motherhood in Spielberg's Dramas of Family Dysfunction 243
Linda Ruth Williams
14 Close Encounters of the Paternal Kind: Spielberg's Fatherhoods 258
Murray Pomerance
15 Spielberg and Rockwell: Realism and the Liberal Imagination 276
Frederick Wasser
16 Too Brave for Foolish Pride: Violence in the Films of Steven Spielberg 291
Stephen Prince
Part Five Spielberg, History, and Identity 305
17 Morality Tales? Visions of the Past in Spielberg's History Plays 307
Sarah Barrow
18 "Britain's Secret Schindler": The Impact of Schindler's List on British Media Perceptions of Civilian Heroes 320
Erin Bell
19 The (M)orality of Murder: Jews, Food, and Steven Spielberg's Munich 336
Nathan Abrams and Gerwyn Owen
20 You Must Remember This: History as Film/Film as History 353
Lester D. Friedman
21 Violence and Memory in Spielberg's Lincoln 374
Robert Burgoyne and John Trafton
Part Six Spielberg in the Digital Age 387
22 The Spielberg Effects 389
Dan North
23 Spielberg and Video Games (1982 to 2010) 410
Grethe Mitchell
Part Seven Reception 433
24 Sharks, Aliens, and Nazis: The Crisis of Film Criticism and the Rise of Steven Spielberg 435
Raymond J. Haberski, Jr.
25 Spielberg, Fandom, and the Popular Appeal of His Blockbuster Movies 452
Lincoln Geraghty
26 Steven Spielberg and the Rise of the Celebrity Film Director 466
Kirsty Fairclough and Andy Willis
Index of Film and Television Programs 479
Index 488
See More
Nigel Morris is Principal Lecturer in Media, School of Film and Media, University of Lincoln, UK, specializing in film, television, and media, cultural and educational studies. He is the author of The Cinema of Steven Spielberg (2007).
See More
More in this series