E-book
Effective Project Management: Traditional, Agile, Extreme, 7th Edition
ISBN: 978-1-118-72931-1
768 pages
December 2013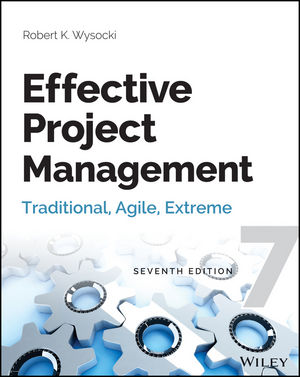 The popular guide to the project management body of knowledge, now fully updated
Now in its seventh edition, this comprehensive guide to project management has long been considered the standard for both professionals and academics. With more than 32,000 copies sold in the last three editions, it has now been fully updated to cover the new PMBOK® Guide. Well-known expert Robert Wysocki has added more than 100 pages of new content based on instructor feedback, enhancing the coverage of best-of-breed methods and tools for ensuring project management success.
With enriched case studies, accompanying exercises and solutions on the companion website, and PowerPoint slides for all figures and tables, the book is ideal for instructors and students as well as active project managers.
Serves as a comprehensive guide to project management for both educators and project management professionals
Completely updated to cover the new PMBOK® Guide
Examines traditional, agile, and extreme project management techniques; the Enterprise Project Management Model; and Kanban and Scrumban methodologies
Includes a companion website with exercises and solutions and well as PowerPoint slides for all the figures and tables used
Written by well-known project management expert Robert Wysocki
Effective Project Management, Seventh Edition remains the comprehensive resource for project management practitioners, instructors, and students.

(PMBOK is a registered mark of the Project Management Institute, Inc.)
See More
Preface xxix
Introduction xxxi
Part I Understanding the Project Management Landscape 1
Chapter 1 What Is a Project? 3
Chapter 2 What Is Project Management? 25
Chapter 3 What Are the Project Management Process Groups? 65
Part II Traditional Project Management 101
Chapter 4 How to Scope a TPM Project 103
Chapter 5 How to Plan a TPM Project 141
Chapter 6 How to Launch a TPM Project 217
Chapter 7 How to Monitor & Control a TPM Project 267
Chapter 8 How to Close a TPM Project 299
Part III Complex Project Management 309
Chapter 9 Complexity and Uncertainty in the Project Management Landscape 311
Chapter 10 Agile Project Management 327
Chapter 11 Extreme Project Management 351
Chapter 12 Comparing Linear, Incremental, Iterative, Adaptive, and Extreme PMLC Models 359
Part IV Managing the Realities of Projects 445
Chapter 13 Prevention and Intervention Strategies for Distressed Projects 447
Chapter 14 Organizing Multiple Team Projects 477
Chapter 15 Establishing and Maturing a Project Support Office 509
Chapter 16 Establishing and Managing a Continuous Process Improvement Program 555
Part V End State: Maturing to an Enterprise-Level Project Management Model 591
Chapter 17 Establishing a Project Portfolio Management Process 593
Chapter 18 A Practical Project-Based Model of the Enterprise 645
Appendix A Glossary of Acronyms 683
Appendix B What's on the Website? 689
Appendix C Bibliography 691
Index 701
See More
Robert K. Wysocki, PhD, has more than 40 years' experience as a project management consultant and trainer, information systems manager, systems and management consultant, author, training developer, and provider. Many of his books on project management, business analysis, and information systems management have been adopted at more than 100 colleges and universities.
See More