Geriatric Neurology
ISBN: 978-1-118-73068-3
744 pages
April 2014, Wiley-Blackwell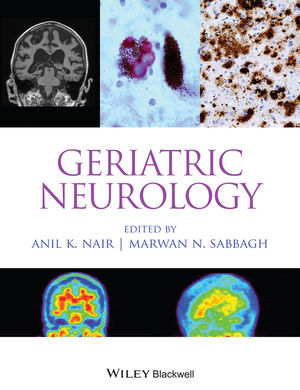 Aging affects neurological function leading to neurological disease
As society grows older, so do the neurological problems associated with aging. These can be new neurological deficits due to the aging process itself, or the effect of aging on already existing neurological conditions. Neurologists will spend increasing amounts of time managing patients with age-related neurological complications.
Geriatric Neurology brings together the wisdom of world-leading experts. They have crafted a new textbook to define this emerging subspecialty from basic science through clinical assessment and medical management to social aspects of patient care. Geriatric Neurology covers:
The aging brain in neurology
Assessment of the geriatric neurology patient
Neurological conditions in the elderly
Therapeutics for the geriatric neurology patient
Management issues beyond therapeutics
Comprehensive in scope but with practical focus for effective patient care, Geriatric Neurology provides top-of-class guidance for the management of elderly patients with neurological disorders.
See More
About the Editors, vii
List of Contributors, viii
Preface, xii
Acknowledgments, xiii
Part 1 The Aging Brain in Neurology, 1
1 The Biology of Aging: Implications for Diseases of Aging and Health Care in the Twenty-First Century, 3
Douglas F. Watt
2 Functional Changes Associated with the Aging Nervous System, 38
Julie A. Schneider and Chunhui Yang
Part 2 Assessment of the Geriatric Neurology Patient, 69
3 Approach to the Geriatric Neurology Patient: The Neurologic Examination, 71
Marwan N. Sabbagh and Anil K. Nair
4 Assessment of Cognitive Status in Geriatric Neurology, 85
4.1 Mental Status Examination in the Geriatric Neurology Patient, 87
Papan Thaipisuttikul and James E. Galvin
4.2 Neuropsychology in Geriatric Neurology, 98
Donald J. Connor and Marc A. Norman
5 Cognitive Reserve and the Aging Brain, 118
Adrienne M. Tucker and Yaakov Stern
6 Gait Disorders in the Graying Population, 126
Joe Verghese and Jessica Zwerling
7 Imaging of the Geriatric Brain, 136
7.1 Structural Neuroimaging in Degenerative Dementias, 138
Liana G. Apostolova
7.2 Functional Imaging in Dementia, 146
Adam S. Fleisher and Alexander Drzezga
7.3 Amyloid Imaging, 162
Anil K. Nair and Marwan N. Sabbagh
8 Clinical Laboratory Investigations in Geriatric Neurology, 170
Geoffrey S. Baird and Thomas J. Montine
Part 3 Neurologic Conditions in the Elderly, 181
9 Cognitive Impairment and the Dementias, 183
9.1 Mild Cognitive Impairment, 187
Ranjan Duara, Miriam Jocelyn Rodriguez, and David A. Loewenstein
9.2 Alzheimer's Disease, 200
Martin R. Farlow
9.3 Dementia with Lewy Bodies, 208
Clive Ballard
9.4 Vascular Cognitive Impairment, 224
Helena C. Chui and Freddi Segal-Gidan
9.5 Frontotemporal Dementia, 239
David Perry and Howard Rosen
9.6 Primary Progressive Aphasia, 251
Maya L. Henry, Stephen M. Wilson, and Steven Z. Rapcsak
9.7 Prion Diseases, 267
Michael D. Geschwind and Katherine Wong
9.8 Normal Pressure Hydrocephalus, 281
Norman R. Relkin
10 Depression in the Elderly: Interactions with Aging, Stress, Chronic Pain, Infl ammation, and Neurodegenerative Disorders, 287
Douglas F. Watt
11 Cerebrovascular Diseases in Geriatrics, 302
Patrick Lyden, Khalil Amir and Ilana Tidus
12 Movement Disorders, 313
12.1 Parkinson's Disease, 315
Robert Fekete and Joseph Jankovic
12.2 Essential Tremor and Other Tremor Disorders, 325
Holly Shill
12.3 Progressive Supranuclear Palsy, 333
Virgilio Gerald H. Evidente
12.4 Corticobasal Degeneration, 344
Katrina Gwinn
13 Sleep Disorders, 347
Sanford Auerbach
14 Autonomic Dysfunction and Syncope, 358
Rohit R. Das
15 Geriatric Epilepsy, 370
David V. Lardizabal
16 Vertigo and Dizziness in the Elderly, 379
Terry D. Fife and Salih Demirhan
17 Disorders of the Special Senses in the Elderly, 396
Douglas J. Lanska
18 Nervous System Infections, 460
Ronald Ellis, David Croteau, and Suzi Hong
19 Delirium, 478
Alan Lerner, Stefani Parrisbalogun, and Joseph Locala
20 Headache in the Elderly, 486
Brian McGeeney
21 Neuromuscular Disorders, 494
Heber Varela and Clifton Gooch
Part 4 Therapeutics for the Geriatric Neurology Patient, 519
22 Neurosurgical Care of the Geriatric Patient, 521
David Fusco, Rasha Germain, and Peter Nakaji
23 Treatment of Dementia, 556
23.1 Evidence-Based Pharmacologic Treatment of Dementia, 557
Jasmeet Singh, Marwan N. Sabbagh, and Anil K. Nair
23.2 Immunotherapy for Alzheimer's Disease, 574
Michael Grundman, Gene G. Kinney, Eric Yuen, and Ronald Black
24 Geriatric Psychopharmacology, 586
Sandra A. Jacobson
25 Nonpharmacologic Treatment of Behavioral Problems in Persons with Dementia, 615
Gary A. Martin and John Ranseen
26 Expressive Art Therapies in Geriatric Neurology, 630
Daniel C. Potts, Bruce L. Miller, Carol A. Prickett, Andrea M. Cevasco, and Angel C. Duncan
Part 5 Important Management Issues Beyond Therapeutics in the Geriatric Neurology Patient, 645
27 Dietary Factors in Geriatric Neurology, 647
Yian Gu and Nikolaos Scarmeas
28 Exercising the Brain: Nonpharmacologic Interventions for Cognitive Decline Associated with Aging and Dementia, 669
Brenna A. Cholerton, Jeannine Skinner, and Laura D. Baker
29 Driving Impairment in Older Adults, 682
Anne D. Halli-Tierney and Brian R. Ott
30 Elder Abuse and Mistreatment, 699
Elliott Schulman, Ashley Roque, and Anna Hohler
31 Advocacy in Geriatric Neurology, 707
Glenn Finney and Anil K. Nair
Index, 713
Color plate section appears between pages 50 and 51
See More
Anil K. Nair, MD, Director, Alzheimers Disease Center, Quincy Medical Center, Quincy, MA, USA.
Marwan N. Sabbagh, MD, Director, Banner Sun Health Research Institute and Research Professor of
Neurology, University of Arizona College of Medicine, Phoenix AZ, USA.
See More