A Companion to First Ladies
ISBN: 978-1-118-73222-9
760 pages
May 2016, Wiley-Blackwell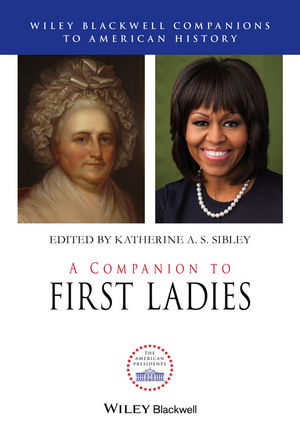 This volume explores more than two centuries of literature on the First Ladies, from Martha Washington to Michelle Obama, providing the first historiographical overview of these important women in U.S. history.
Underlines the growing scholarly appreciation of the First Ladies and the evolution of the position since the 18th century
Explores the impact of these women not only on White House responsibilities, but on elections, presidential policies, social causes, and in shaping their husbands' legacies
Brings the First Ladies into crisp historiographical focus, assessing how these women and their contributions have been perceived both in popular literature and scholarly debate
Provides concise biographical treatments for each First Lady
See More
Notes on Contributors viii
Acknowledgements xiv
Introduction 1
Katherine A. S. Sibley
1 Martha Washington 6
Robert P. Watson
2 Abigail Adams: The Life and the Biographers 20
Margaret A. Hogan
3 Martha Jefferson Randolph, First Daughter 38
Billy L. Wayson
4 James and Dolley Madison and the Quest for Unity 59
Catherine Allgor
5 Elizabeth Monroe 75
Finn Pollard
6 A Monarch in a Republic: Louisa Catherine Johnson Adams and Court Culture in Early Washington City 89
Catherine Allgor, Margery M. Heffron and Amanda Mathews Norton
7 Rachel Donelson Robards Jackson: A Reluctant First Lady 111
Christina Mune
8 Angelica Singleton Van Buren, First Lady for a Widower 129
John F. Marszalek
9 The Ladies of Tippecanoe, and Tyler Too 142
Christopher J. Leahy and Sharon Williams Leahy
10 Sarah Polk: Ideas of Her Own 159
Valerie Palmer -Mehta
11 Margaret Taylor, Abigail Fillmore, and Jane Pierce: Three Antebellum Presidents' Ladies 176
Elizabeth Lorelei Thacker -Estrada
12 Harriet Rebecca Lane Johnston 197
Thomas J. Balcerski
13 Mary Todd Lincoln 214
William D. Pederson
14 Eliza McCardle Johnson and Julia Dent Grant 230
Pamela K. Sanfilippo
15 Lucy Webb Hayes, Lucretia Rudolph Garfield, and Mary Arthur McElroy 247
Benjamin T. Arrington
16 Rose Cleveland, Frances Cleveland, Caroline Harrison, Mary McKee 265
Merry Ellen Scofield
17 Ida McKinley: A Life of Contrasts 283
Louie P. Gallo
18 Edith Kermit Carow Roosevelt: The Victorian Modern First Lady 298
Catherine Forslund
19 Helen Herron Taft: The Forgotten Impact of a Memorable First Lady 320
Rafaele Fierro
20 Ellen Axson Wilson 339
Lisa M. Burns
21 Edith Wilson: The First Lady in Charge 357
Barbara Klaczynska
22 Florence Kling Harding: Celebrity and Activist 379
Katherine A. S. Sibley
23 Grace Coolidge 404
Teri Finneman
24 The Historiography of Lou Henry Hoover 423
Nancy Beck Young
25 Anna Eleanor Roosevelt: Her Life before and during the White House Years 439
Maurine H. Beasley
26 Eleanor Roosevelt: First Lady of the World 459
Maurine H. Beasley
27 Elizabeth Virginia "Bess" Wallace Truman 476
Michael J. Devine
28 Overrated Pleasures and Underrated Treasures: Mamie Eisenhower, a Bridge between First Lady Archetypes 492
Anthony Rama Maravillas
29 Jacqueline Kennedy 503
Katherine Jellison
30 Lady Bird Johnson 517
Lisa M. Burns
31 An Unlikely First Lady: Pat Nixon 535
Mary C. Brennan
32 Betty Ford: "When Ordinary Becomes Extraordinary" 552
Myra G. Gutin
33 Eleanor Rosalynn Smith Carter 569
Kristin L. Ahlberg
34 Nancy Reagan 585
Jason Roberts
35 Barbara Pierce Bush: Choosing a Complete Life, I: 1925–1988 604
Diana B. Carlin
36 Barbara Pierce Bush: Choosing a Complete Life, II: 1988–2015 621
Diana B. Carlin
37 Hillary Rodham Clinton 635
Janette Kenner Muir
38 Laura Welch Bush: Strength and Serenity in Turbulent Times 653
Anita McBride
39 First Lady Michelle Obama: The American Dream Endures, I 677
Nancy Kegan Smith and Diana B. Carlin
40 First Lady Michelle Obama: The American Dream Endures, II 696
Diana B. Carlin and Nancy Kegan Smith
Index 716
See More
Katherine A.S. Sibley is Professor of History at Saint Joseph's University, USA. She is the author of four books, most recently First Lady Florence Harding: Behind the Tragedy and Controversy (2009) and Red Spies in America: Stolen Secrets and the Dawn of the Cold War (2004). She was the editor of A Companion to Warren G. Harding, Calvin Coolidge, and Herbert Hoover (Wiley Blackwell, 2014), and serves on the editorial board of American Communist History as well as on the Historical Advisory Committee for the US State Department.
See More
More in this series