The Power of Japanese Candlestick Charts: Advanced Filtering Techniques for Trading Stocks, Futures and Forex, Revised Edition
ISBN: 978-1-118-73292-2
368 pages
November 2015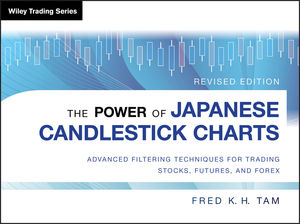 A practical, must-read guide to candlestick charting techniques
Japanese candlestick charting is a highly effective method for timing the market for short-term profits. Unlike most western techniques—moving average, relative strength index, MACD, stochastic, Bollinger bands, or Elliot waves—candlestick charting signals are based on very close analysis of product price, producing accurate buy or sell signals between two and ten periods earlier than other techniques. In The Power of Japanese Candlestick Charts, noted author and futures trading expert Fred Tam offers a full and sophisticated range of charting techniques using candlestick methodology.
Written by Fred K. H. Tam, a noted pioneer in exploring the Japanese candlestick methodology
Ideal for anyone who wants to invest or trade in both the futures and stock markets
Includes hundreds of illustrated charts
The Power of Japanese Candlestick Charts is a comprehensive and valuable guide to candlestick charting that is perfect for analysts, stock or day traders, and short-term position traders.
See More
Index of Reversal Patterns ix
Index of Continuation Patterns xi
Preface xiii
Acknowledgments xxi
Part I Basic Candlestick Techniques
Chapter 1 Introduction 3
Historical Background 4
Reasons Candlestick Charts Are So Popular Today 5
Construction of the Candlestick Chart 7
Construction of a Bar Chart 8
Chapter 2 Single Candle Types 11
Single Candles 11
The Doji 35
Chapter 3 The Umbrella Group 59
White Hammer or Hanging Man (Also Called White Umbrella Candle) 59
Black Hammer or Hanging Man (Also Called Black Umbrella Candle) 60
White Inverted Hammer or Shooting Star (Also Called Inverted White Umbrella Candle) 60
Black Inverted Hammer or Shooting Star (Also Called Inverted Black Umbrella Candle) 61
Chapter 4 Reversal Patterns 67
Introduction 67
Index of Reversal Patterns 69
Single Candlestick Patterns 70
Double Candlestick Patterns 90
Triple Candlestick Patterns 119
Multiple Candlestick Patterns 156
Chapter 5 Continuation Patterns 171
Introduction 171
Double Candlestick Patterns 172
Multiple Candlestick Patterns 185
Windows (Gaps) 192
Chapter 6 Summarizing Part I 209
Can One Trade the Market and Profit Just by Applying Candlestick Chart Analysis? 210
Candlestick Chart Analysis Is Best Used in Conjunction with Technical Indicators 210
Conclusion 211

Part II A dvanced Candlestick Techniques
Chapter 7 Filtering with Western Indicators 215
Using Filtering or the Rule of Multiple Techniques 216
Scenario 1: In the Case of a Bull Market or Bullish Trend 216
Scenario 2: In the Case of a Bear Market or Bearish Trend 216
Scenario 3: In the Case of Overbought or Oversold Situations 216
Filtering with Moving Averages 217
Filtering with MACD (Moving Average Convergence Divergence) 218
Filtering with Relative Strength Index 221
Filtering with Stochastic 224
Filtering with Momentum 229
Filtering with Williams' Percentage Retracement 229
Filtering with Directional Movement Index 232
Filtering with Commodity Channel Index 235
Filtering with Volume 238
Filtering with Bollinger Bands 238
Filtering with Elliott Wave Theory 240

Chapter 8 P.I. System Trader 247
The P.I. System Trader Mimics Candlesticks 248
Trading Rules for P.I. System Trader 250
Advantages of P.I. System Trader 250
Chapter 9 Sakata's Five Methods 253
Sakata's Constitution and Sakata's Five Methods 253
Sakata's Constitution (Soba Sani No Den) 254
The Japanese Method of Three 254
Conclusion 267
Chapter 10 Computerized Candlestick Forecasting 273
The Era of Computerized Candlestick Scanning 274
Features of the Nison Candle Scanner 275
Nison Candle Highlighter on MetaTrader 4 Platform 280
Chapter 11 Conclusion: Facts about Candlesticks 285
About the Author 287
Reading List 289
Index 291
See More
FRED K. H. TAM is a gold, silver, forex, stock indices, and stock trader for 30 years, and is the author of six books on the financial markets.
He is a full member of the Society of Technical Analysts, U.K., a Certified Financial Technician, and a Master of Financial Technical Analysis from IFTA. He is the first Malaysian to receive the MFTA award. Fred holds another Master of Philosophy (Technical Analysis) from Multimedia University, Cyberjaya, Malaysia. He also served as the principal lecturer of the Certificate in Financial Technical Analysis course at Open University Malaysia from 2007 to 2010. His students take the MSTA (UK) and CFTe (USA) exams, and passes have been impressive.
Fred uses a combination of Japanese candlestick and Western technical indicators to track the markets, and he has developed his own computerised trading system called the P.I. System Trader, which mimics candlestick reversal patterns and is excellent for trading fast-moving markets. He teaches and promotes technical analysis and makes speaking appearances in Indonesia, Singapore, as well as Malaysia. Mr Tam is now collaborating with Asia e University (AeU) to offer Malaysia's first EMBA (Financial Technical Analysis) Course.
www.f1traderacademy.com
See More
More in this series