The International Encyclopedia of Media Studies, 7 Volume Set
ISBN: 978-1-118-73356-1
5024 pages
February 2014, Wiley-Blackwell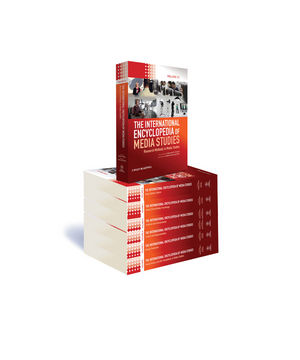 The International Encyclopedia of Media Studies
brings together over 200 critical essays to redraw the boundaries of this rapidly evolving and dynamically complex area. Global in scope, wide-ranging in its inclusion of topics, and edited by an international team of the world's best scholars, this is the definitive resource for the field.
Arranged across 7 thematic volumes – each of which features an accessible introduction exploring key themes – edited by an international team of expert scholars

Explores media as it is being practiced, produced, and analyzed in Asia, Africa, the Americas, Australia, and Europe

Probes the many dimensions of the subject: history, production, content, audiences, methodologies, effects, and futures

Newly updated with a seventh volume on Research Methods in Media Studies that is available as a stand-alone reference or as part of the complete set
7 Volumes
www.encyclopediaofmediastudies.com
See More
Volume I: Media History and the Foundations of Media Studies: John Nerone
PART 1: Approaches
PART 2: Moments
PART 3: Foundations
Volume II: Media Production: Vicki Mayer
PART 1: Production Regimes and Infrastructures
PART 2: The Cultural Industries and the Organization of Production
PART 3: Product and Content Flows
PART 4: Production Work and Practices
PART 5: Production Cultures
PART 6: The Ethics of Production
Volume III: Content and Representation: Sharon R. Mazzarella
PART 1: Persuasion and Information
PART 2: Entertainment
PART 3: Interaction and Performance
Volume IV: Audience and Interpretation: Radhika Parameswaran
PART 1: Expanding the Horizons of Audience Studies
PART 2: Practicing Reflexivity in and out of the Field
PART 3: Finding and Engaging Global Audiences
PART 4: Comprehending Online Audiences 
PART 5: Empowering Audiences as Citizens
Volume V: Media Effects/Media Psychology: Erica Scharrer
PART 1: Theories and Processes/Processing
PART 2: Evidence of Effects
PART 3: The Young Audience
Volume VI: Media Studies Futures: Kelly Gates
PART 1: The Future Of Media Studies: Theory, Methods, Pedagogy
PART 2: Social and Mobile Media Futures
PART 3: Industry Futures
PART 4: Journalism and Media Policy Futures
PART 5: Interactivity, Affect, and the Future of Media Subjectivities
PART 6: Whose Future? Children, Youth Cultures, and Digital Media
PART 7: What Future? Or, The Unsustainable Present

Volume VII: Research Methods in Media Studies

PART 1: Setting up the Stage

PART 2: Working with People

PART 3: Working with Texts

PART 4: Virtual Challenges Interdisciplinary and Mixed Method Research
See More
Angharad N. Valdivia is a Research Professor of Communications and Media at the University of Illinois at Urbana-Champaign. She is also the head of the Media and Cinema Studies Department, Interim Director of the Institute of Communications Research, and Editor-in-chief of Communication Theory.  Her research and teaching focuses on transnational popular culture studies, with special attention to issues of gender and ethnicity.  She has published extensively on issues of transnational Latina Studies, exploring the tension between agency and structure in media production and consumption.
See More