E-book
Health Analytics: Gaining the Insights to Transform Health Care
ISBN: 978-1-118-73395-0
272 pages
June 2013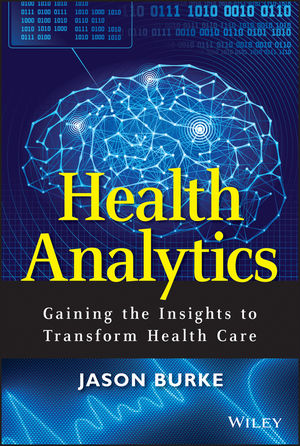 A hands-on, analytics road map for health industry leaders
The industry-wide transformation taking place across the health and life sciences ecosystem is mandating that organizations adopt new decision-making capabilities, based on science and real-world information. Analytics will be a required competency for the modern health enterprise; this book is about how to "cross the chasm." The ultimate analytics guide for the health industry leader, this essential book equips business leaders with little-to-no experience in analytics to understand how to incorporate analytics as a cornerstone of their 21st century competitive business strategy.
Paints the picture for a new health enterprise, one focused on the patient
Explores the financial components of this new operating model, using analytics to optimize the tradeoffs between cost and value
Deals with the rising role of the consumer, using analytics to create a completely new health engagement model with individual recipients of care
Looks at how analytics can drive innovations in care practice, patient-experienced medical outcomes, and analytically driven novel therapies optimized for the individual patient
Presents a variety of text, tables, and graphics illustrating the various concepts being described
Within each section and chapter, Health Analytics assesses the current landscape, proposing a new model/concept, sharing real-world stories of how the old and new world come together, and framing a "how-to" for the reader in terms of growing that particular set of capabilities in their own enterprises.
See More
Foreword xi
Preface xv
Acknowledgements xix
Chapter 1 A Changing Business for a Changing Science 1
The Gathering 1
How Can Medicine Become Smarter? 3
Complexity Exceeding Cognition 4
Learning from Other Industries 6
Nancy 7
Characterizing Health Analytics 8
The Gathering Revisited 10
Chapter 2 Convergence and the Capability Map 11
Nice Job, But . . . 11
Fifty Flashlights 12
Convergence Defined 13
Is Convergence Really Required? 14
The Rush to Health It 17
The Capability Map 18
Putting the Capability Map to Use 21
Health Analytics as a Discipline 23
Notes 25
Chapter 3 The Four Enterprise Disciplines of Health Analytics 27
Heresy 27
Health Analytics for the Nonanalytical 29
Information Management 30
Statistics 36
Information Delivery 39
High-Performance Computing 41
Maturation and Scale 42
Enterprise-Class Analytics: Putting it All Together 44
Chapter 4 Dealing with Data 47
Callimachus 47
Not a Drop to Drink 48
Defining Data 48
Big Data 49
Growth in Data Provisioning 52
The Excuses Every Leader Needs to Know 54
Building for Tomorrow 58
Conclusion 60
Chapter 5 BEST Care, First Time, Every Time 63
By Dr. Graham Hughes Chief Medical Officer, SAS Center for Health Analytics and Insights
Medicine: Art, Science, or Both? 63
Leveraging Evidence to Deliver Improved Outcomes 66
What are Clinical Outcomes? 68
Supplementing the Unaided Human Mind 72
Health Care's Dark Fiber 74
Identifying Hidden Patterns 75
Chapter 6 Financial Performance and Reimbursement 79
Goals 79
Structures and Models 80
Many Names, Common Attributes 83
What is Needed 86
Surviving and Thriving 91
Chapter 7 Health Outcomes Analysis 95
No Leeches Necessary 95
Orientation 96
The Big Seven þ One 97
Timing is Everything 98
Groupers 100
The Population-Patient Pivot 101
Patients Like this One 104
One Model, Many Beneficiaries 107
The Role of Rules Engines 109
Challenges in Health Outcomes Analytics 110
Health Outcomes Analytics in Practice 113
The Marvelous Leech 114
Note 115
Chapter 8 Health Value and Cost 117
An Asymmetrical Industry 117
Kaplan and Porter's Stand 120
The Elusive Health Value 121
Dissecting Value 123
Linking Costs to Risk 132
Value Innovation 133
Note 134
Chapter 9 The New Behavioral Health 135
Dangerous Portals 135
The Health-Mindedness Gene Experiment 136
Engel's Model 137
The New Evolving Science of Behavioral Health 138
What You Are 140
What You Experience 142
What You Do 143
What You Believe 145
Influencing Change 145
Putting Into Practice 146
Outcomes 148
Notes 149
Chapter 10 Customer Insights 151
The Consumerized Patient 151
Will the Real Customer Please Stand Up? 151
What Are Customer Analytics? 154
A Framework of Customer Analytics 155
Sharing Insights 161
Adherence 163
Beyond Commercial 165
Chapter 11 Risk Management 167
Risky Business 167
Why Are Risks So Hard? 168
Recharacterizing Risk Factors 169
The Example of Customer Segmentation 170
Risk Interdependencies 171
Everybody in the Pool 173
The Catch 175
Risk Adjustment 176
Borrowing from Other Industries 178
Growing Risks 179
Chapter 12 Quality and Safety 181
Defining Quality 181
Not Your Father's Toyota 184
On Track 185
Avoiding the Obvious 187
We Just Have to Do This 188
The Growing Inventory 189
Strategy and Performance Management 191
Transparency and Benchmarking 192
Setting Quality Targets 195
Drug Safety 197
The Burden of Insight 198
Notes 199
Chapter 13 The New Research and Development 201
Returning to Alexandria 201
The End of Theory 202
Goals of a New Research Model 205
Characteristics of a New Research Paradigm 207
Target Improvement Areas 209
The Data Conundrum 216
The Big Four 219
One That Does What It Should 221
Notes 223
Chapter 14 Conclusions 225
Taking on Research 227
Five Phases of Value-Based Analytical Innovation 230
Phase 0: The Plan 232
Managing Capability Maturity 233
Wisdom and Health 237
About the Author 239
Index 241
See More
JASON BURKE is founder of Burke Advisory Group, an executive consulting firm focused on helping health leaders pursue transformational programs using data, technology, and analytics. He holds an adjunct faculty appointment with the University of North Carolina at Chapel Hill School of Medicine, where he focuses on the development of new health informatics capabilities for health practitioners, researchers, and patients.
See More
More in this series