Wiley CPAexcel Exam Review 2014 Study Guide, Financial Accounting and Reporting
ISBN: 978-1-118-73401-8
1224 pages
December 2013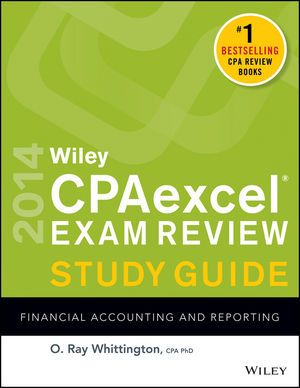 Everything today's CPA candidates need to pass the CPA Exam
Published annually, this Financial Accounting and Reporting volume of the comprehensive four-volume paperback reviews all current AICPA content requirements in business environment and concepts. Many of the questions are taken directly from previous CPA exams. With 2,800 multiple-choice questions in all four volumes, these study guides provide all the information candidates need to master in order to pass the computerized Uniform CPA Examination. Its unique modular format helps you zero in on those areas that need more attention and organize your study program.
Complete sample exam
The most effective system available to prepare for the CPA exam—proven for over thirty years
Timely—up-to-the-minute coverage for the computerized exam
Contains all current AICPA content requirements in business environment and concepts
Unique modular format—helps candidates zero in on areas that need work, organize their study program, and concentrate their efforts
Comprehensive questions—over 2,800 multiple-choice questions and their solutions in the four volumes
Guidelines, pointers, and tips—show how to build knowledge in a logical and reinforcing way
Other titles by Whittington: Audit Sampling: An Introduction, Fifth Edition
Wiley CPA Exam Review 2014 arms test-takers with detailed outlines, study guidelines, and skill-building problems to help candidates identify, focus on, and master the specific topics that need the most work.
See More
Preface vii
About the Author ix
About the Contributor ix
INTRODUCTION
Chapter 1: Beginning Your CPA Review Program 3
Chapter 2: Examination Grading 17
Chapter 3: The Solutions Approach 19
Chapter 4: Taking the Examination 27
Chapter 5: Exam Content Overview 31
FINANCIAL ACCOUNTING AND REPORTING
Module 9: Basic Theory and Financial Reporting 41
Module 10: Inventory 217
Module 11: Fixed Assets 267
Module 12: Monetary Current Assets and Current Liabilities 329
Module 13: Present Value 395
Module 14: Deferred Taxes 537
Module 15: Stockholders' Equity 577
Module 16: Investments 639
Module 17: Statement of Cash Flows 687
Module 18: Business Combinations and Consolidations 725
Module 19: Derivative Instruments and Hedging Activities 785
Module 20: Miscellaneous 825
Module 21: Governmental (State and Local) Accounting 897
Module 22: Not-for-Profi t Accounting 983
Outlines of Accounting Pronouncements 1017
APPENDICES
Appendix A: Financial Accounting and Reporting Sample Examination 1125
Appendix B: Sample Financial Accounting and Reporting Testlet Released by AICPA 1159
Appendix C: 2013 Released AICPA Questions for Financial Accounting and Reporting 1167
INDEX 1187
See More
O. RAY WHITTINGTON, CPA, PhD, CMA, CIA, is Dean of the Driehaus College of Business and Kellstadt Graduate School of Business at DePaul University. Ray is a former member of the AICPA Auditing Standards Board and the AICPA Accounting and Review Services Committee. He is also the coauthor of Audit Sampling: An Introduction, Fifth Edition, available from Wiley.
See More