E-book
Organic Synthesis and Molecular Engineering
ISBN: 978-1-118-73648-7
470 pages
October 2013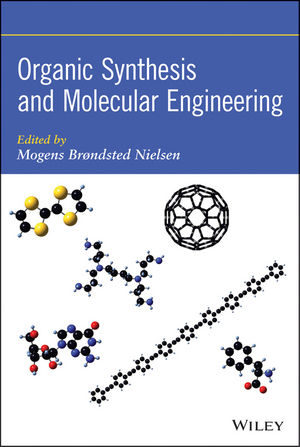 The theory, methods, and practices needed to build molecules and supramolecular systems
Using a synthetic approach to organic materials chemistry, this book sets forth tested and proven methods and practices that make it possible to engineer organic molecules offering special properties and functions. Throughout the book, plenty of real-world examples demonstrate the countless possibilities of creating one-of-a-kind molecules and supramolecular systems to support a broad range of applications. The book explores applications in both materials and bioorganic chemistry, including molecular electronics, energy storage, sensors, nanomedicine, and enzyme engineering.
Organic Synthesis and Molecular Engineering consists of fourteen chapters, each one contributed by one or more leading international experts in the field. The contributions are based on a thorough review and analysis of the current literature as well as the authors' firsthand experience in the lab engineering new organic molecules. Designed as a practical lab reference, the book offers:
Tested and proven synthetic approaches to organic materials chemistry
Methods and practices to successfully engineer functionality into organic molecules
Explanations of the principles and concepts underlying self-assembly and supramolecular chemistry
Guidance in selecting appropriate structural units used in the design and synthesis of functional molecules and materials
Coverage of the full range of applications in materials and bioorganic chemistry
A full chapter on graphene, a new topic generating intense research
Organic Synthesis and Molecular Engineering begins with core concepts, molecular building blocks, and synthetic tools. Next, it explores molecular electronics, supramolecular chemistry and self-assembly, graphene, and photoresponsive materials engineering. In short, it offers everything researchers need to fully grasp the underlying theory and then build new molecules and supramolecular systems.
See More
Acknowledgements vii
Contributors ix

1 Introduction 1
Mogens Brøndsted Nielsen
2 Organic Building Blocks for Molecular Engineering 4
Kasper Lincke and Mogens Brøndsted Nielsen
3 Design and Synthesis of Organic Molecules for Molecular Electronics 46
Karsten Jennum and Mogens Brøndsted Nielsen
4 Carbon Nanotubes and Graphene 76
Helena Grennberg
5 H-Bond Based Nanostructuration of Supramolecular Organic Materials 128
Tomas Marangoni and Davide Bonifazi
6 Molecular Systems for Solar Thermal Energy Storage and Conversion 179
Kasper Moth-Poulsen
7 Strategies to Switch Fluorescence with Photochromic Oxazines 197
Erhan Deniz, Janet Cusido, Massimiliano Tomasulo, Mutlu Battal, Ibrahim Yildiz, Marco Petriella, Mariano L. Bossi, Salvatore Sortino, and Françisco M. Raymo
8 Supramolecular Redox Transduction: Macrocyclic Receptors for Organic Guests 213
Sébastien Goeb, David Canevet, and Marc Sallé
9 Detection of Nitroaromatic Explosives Using TTF-Calix[4]pyrroles 257
Karina R. Larsen, Kent A. Nielsen, Jonathan L. Sessler, and Jan O. Jeppesen
10 Recognition of Carbohydrates 284
Martina Cacciarini
11 Cyclodextrin Based Artificial Enzymes: Synthesis and Function 305
Christian Marcus Pedersen and Mikael Bols
12 Organozymes: Molecular Engineering and Combinatorial Selection of Peptidic Organo and Transition Metal Catalysts 333
Morten Meldal
13 Dendrimers in Biology and Nanomedicine 361
Jørn Bolstad Christensen
14 Dynamic Combinatorial Chemistry 393
Brian Rasmussen, Anne Sørensen, Sophie R. Beeren, and Michael Pittelkow
Index 437
See More
MOGENS BRØNDSTED NIELSEN, PhD, is Professor of Organic Chemistry at the University of Copenhagen, where he teaches courses in advanced organic chemistry, heterocyclic chemistry, and supramolecular chemistry. Dr. Nielsen has published more than 100 peer-reviewed papers, monographs, and book chapters.
See More