Textbook
Applied Research Methods in Public and Nonprofit Organizations
ISBN: 978-1-118-73736-1
360 pages
September 2014, ©2014, Jossey-Bass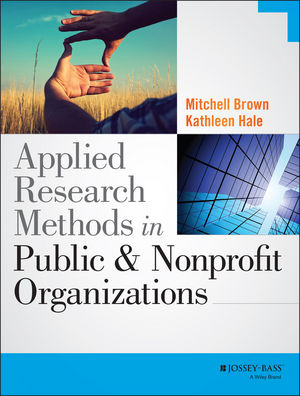 A complete guide to applied research, featuring original data and detailed case studies
Applied Research Methods in Public and Nonprofit Organizations takes an integrative approach to applied research, emphasizing design, data collection, and analysis. Common case studies across chapters illustrate the everyday nature of research, and practical exercises reinforce concepts across all sections of the text. The book includes forms and formats for data collection and analysis, plus writing excerpts that demonstrate results reporting and presentation. The accompanying instructor's guide features assignments, discussion questions, and exercises referenced in the book, and the authors' own data sets are available for use online.
Conducting research, analyzing results, and synthesizing the findings for key stakeholders is fundamental to the study and practice of public and nonprofit management. Aligned with management curriculum for both sectors, the book focuses on the common ground these organizations share when it comes to planning, conducting, and using research in day-to-day professional activities. The original research examples presented are in the context of this shared commonality, including resource acquisition, evaluative processes, and future planning through the lens of common social policy issues facing leaders today. Topics include:
The research process and applied research designs
Applied research questions and literature
Data collection in the field and survey research
Data analysis, writing, and presentation
The examples highlight intergovernmental institutions in which public service occurs, and provide expanded reach to nonprofit organizations and the networked collaborations that make up a significant portion of today's public service. For students and practitioners of public administration, public policy, and nonprofit management, Applied Research Methods in Public and Nonprofit Organizations provides a comprehensive reference to this critical skillset.
See More
List of Figures and Tables xiii
Acknowledgments xvii
The Authors xix
Introduction 1
Integrating Case Studies into Learning About Applied Research Methods 2
The Cases 3
Community Garden Initiative: Exploring Community Interest in Local Food Projects 4
Statewide Needs Assessment: Understanding the Status of Aging Women 6
Election Administration and Technology: Understanding the Implementation and Implications of Election Policy Decisions 8
National Program Evaluation: Domestic Violence Prevention and Faith-Based and Community Organizations 11
Criminal Justice Policy Reform: Exploring Innovation Across Sectors 13
Structure of the Book and Message to Instructors 15
Part One: Research Basics: What Do We Want to Know and Why? 19
Chapter One Overview and Context of the Research Process 21
The Research Process 21
The Applied Research Context 25
Public Administration, Nonprofit Studies, and Other Subfields 27
Information Literacy 28
Information Quality and Types of Sources 29
Finding High-Quality Information 37
Values, Beliefs, and Certainty in Applied Disciplines 38
Grand Theory and Theories of the Middle Range 40
Case Comparisons 41
Ethics and Institutional Review Boards 43
Specific Concerns for Public Administration and Nonprofit Studies 45
Decision Trees 47
Applied Research Project Planning 47
Typical IRB Review Considerations 48
Conclusion 49
Overview of the Book 50
Chapter Support Materials 51
Chapter Two Applied Research Questions, Literature, and Theory 55
Asking Good Research Questions 56
Case Illustrations of Research Questions 57
Research Questions and Sponsored Research 60
Case Illustrations of Research Questions in Sponsored Research 60
Using Literature and Building Theory 62
The Literature Review 62
Literature Sources 63
Literature Searches 65
A Note About Citations 69
Theory Building 71
Developing Research Expectations and Hypotheses 75
Theories of Change and Logic Models 79
Theories of Change 79
Logic Models 82
Steps for Development of Theories of Change 86
Decision Tree 90
Decisions About Applied Research and Using a Theory of Change 90
Conclusion 91
Chapter Support Materials 92
Chapter Three Applied Research Designs 99
General Parameters of Design 99
Major Design Types 100
Experimental Design 100
Quasi-Experimental Design 105
Nonexperimental Design 108
Case Illustrations of Research Design Approaches 113
Sampling 117
Random or Probability Sampling 118
Nonrandom or Nonprobability Sampling 121
Sample Size 123
Case Illustrations of Sampling Approaches 123
Decision Trees 127
Selecting a Research Design Type 127
Choosing a Sampling Strategy 129
Conclusion 130
Chapter Support Materials 131
Part two: Data Collection: Where and How Can We Gather Information? 135
Chapter Four Qualitative Data Collection in the Field 137
Validity, Reliability, and Error in Qualitative Research 138
The Process of Conducting Field Research 142
Interviews 146
Writing Interview Questions 148
Putting Respondents at Ease 149
Focus Groups 151
Direct Observation 152
Content Analysis 154
Case Studies 159
Case Illustrations of Data Collection 161
Statewide Needs Assessment 161
Election Administration and Technology 162
National Program Evaluation 163
Decision Tree 163
Data Collection Strategy 164
Conclusion 165
Chapter Support Materials 165
Chapter Five Survey Research 171
The Survey Research Process 172
Survey Design 175
Crafting Quality Questions 176
Response Categories 181
Demographic Questions 188
Problems and Controversies in Survey Research 189
Case Illustrations of Survey Use 191
Statewide Needs Assessment 191
Criminal Justice Policy Reform 192
National Program Evaluation 192
Decision Tree 193
Decisions About Methods of Survey Distribution 193
Conclusion 194
Chapter Support Materials 195
Part Three: Analyzing Data and Communicating About Them: What Do They Mean? How Can They Be Used? 199
Chapter Six Data Analysis 201
Context and Descriptive Analysis 202
Qualitative Analysis 203
Quantitative Analysis 207
Coding 208
Levels of Measurement 209
Descriptive Statistics 210
Statistical Significance 216
Bivariate Statistics 219
Multivariate Statistics 225
Codebooks 232
Case Applications of Qualitative and Quantitative Analysis 233
Decision Tree 240
Conclusion 242
Chapter Support Materials 242
Chapter Seven Writing and Presentations 249
General Tips for Writing 250
A Productive Writing Process 250
Feedback and (Constructive) Criticism 251
Readability and Appeal 252
A Note About Style 254
Types of Writing 256
Needs Assessments and Asset Mapping 256
Grant Applications 258
Funder Reports 264
Stakeholder Documents 266
Journal Articles 268
Applied Dissertations 270
Presentations 271
Presenting Material to Stakeholders 274
Academic Presentations 275
Case Illustrations of Writing and Presentation 277
Decision Tree 277
Decisions About Making Presentations 277
Conclusion 280
Chapter Support Materials 282
Glossary 287
Bibliography and Works Cited 303
Index 309
See More
MITCHELL BROWN, PHD, is Associate Professor at Auburn University, Department of Political Science. Brown is Co-Director (with Kathleen Hale) of the Community Governance Research Project.
KATHLEEN HALE, J.D., PHD, is Associate Professor and M.P.A. Director at Auburn University, Department of Political Science. Hale is author of How Information Matters: Networks and Public Policy Innovation.
See More
Instructors Resources
Request a print evaluation copy
Contact us

Contact your Wiley Representative
Find Your Rep

See More
See Less