The Architecture Student's Handbook of Professional Practice, 15th Edition
ISBN: 978-1-118-73897-9
672 pages
January 2017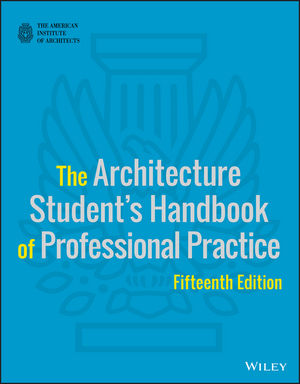 The essential guide to beginning your career in architecture
The Architecture Student's Handbook of Professional Practice opens the door to the vast body of knowledge required to effectively manage architectural projects and practice. A professional architect is responsible for much more than design; this book is specifically designed to help prepare you for the business and administrative challenges of working in the real-world—whether you are a student or are just starting out in practice. It provides clear insight into the legal, financial, marketing, management, and administrative tasks and issues that are integral to keeping a firm running. This new edition has been restructured to be a companion textbook for students undertaking architectural practice classes, while also fulfilling the specific knowledge needs of interns and emerging professionals. It supplements information from the professional handbook with new content aimed at those setting out in the architectural profession and starting to navigate their careers. New topics covered in this new edition include: path to licensure, firm identity, professional development, strategic planning, and integrated project delivery.
Whether you want to work at a top firm, strike out on your own, or start the next up-and-coming team, the business of architecture is a critical factor in your success. This book brings the fundamentals together to give you a one-stop resource for learning the reality of architectural practice.
Learn the architect's legal and ethical responsibilities
Understand the processes of starting and running your own firm
Develop, manage, and deliver projects on time and on budget
Become familiar with standard industry agreements and contracts
Few architects were drawn to the profession by dreams of writing agreements and negotiating contracts, but those who excel at these everyday essential tasks impact their practice in innumerable ways. The Architecture Student's Handbook of Professional Practice provides access to the "nuts and bolts" that keep a firm alive, stable, and financially sound.
See More
About The Architecture Student's Handbook of Professional Practice vii
Part 1 THE PROFESSION 1
1 Professional Life 2
1.1 Architecture as a Profession, Dana Cuff, Ph.D. 2
1.2 Demographics of Practice: 2012 AIA Firm Survey, Bradford Perkins, FAIA 6
1.3 Ethics and Professional Conduct, Phillip H. Gerou, FAIA 22
1.4 Regulation of Professional Practice, Cornelius R. DuBois, FAIA 34
1.5 Entering the Profession, Bradford Perkins, FAIA 44
1.6 The Career Paths of an Architect, Lee W. Waldrep, Ph.D. 46
1.7 Developing Leadership Skills, William C. Ronco, Ph.D., and Mark Jussaume, PE 57
1.8 Developing Communication Skills, David Greusel, AIA 61
1.9 Intern Development, Harry M. Falconer, Jr. AIA, NCARB, and Catherine Berg 71
1.10 The Path to Licensure, By Jessica Sheridan, AIA, LEED AP BD+C 76
1.11 Serving Your Community and Participation in Professional Development Organizations, Bradford Perkins, FAIA 81
1.12 Participating in Professional Organizations, Andrea S. Rutledge, SDA, CAE 82
Part 2 PRACTICE 91
Introduction, Bradford Perkins, FAIA 91
2 Starting and Organizing a Practice 93
2.1 Developing a Practice, Bradford Perkins, FAIA and Peter Piven, FAIA 93
2.2 Firm Legal Structure, Philip R. Croessmann, AIA, Esq., and David F. Kinzer III, CPA 102
2.3 Legal Issues, Donald W. Doeg, Esq., PE, LEED AP 111
2.4 Insurance Coverage, Ann Casso and Fredric W. Schultz, CPCU 122
3 Marketing and Strategic Planning 135
3.1 Firm Identity, Image, and Expertise, Bradford Perkins, FAIA, MRAIC, AICP 135
3.2 Marketing and Business Development, David Koren, Assoc. AIA, FSMPS, CPSM 137
3.3 How Clients Select Architects, Pat Rosenzweig 154
3.4 Qualifications, Proposals, and Interviews, Sally A. Handley, FSMPS 166
3.5 Strategic Planning for a Design Firm, Bradford Perkins, FAIA, and Peter Piven, FAIA 178
4 Running a Practice 185
4.1 Financial Planning, Lowell V. Getz, CPA 185
4.2 Financial Management Systems, Lowell V. Getz, CPA 194
4.3 Maintaining Financial Health and Navigating Economic Cycles, Peter Piven, FAIA 201
4.4 Setting Fees and Alternative Fee Types, Bradford Perkins, FAIA, and Peter Piven, FAIA 210
4.5 Building a Quality Design Practice, Bradford Perkins, FAIA, and Peter Piven, FAIA 214
4.6 Risk Management Strategies, Peter Gifford Longley, AIA, CSI CCS, LEED AP 221
4.7 Managing and Avoiding Disputes, David A. Ericksen, Esq. 237
4.8 Technology in Practice Overview, Calvin Kam, Ph.D., AIA, PE, LEED AP 247
4.9 Practicing in a Global Market, Bradford Perkins, FAIA 251
4.10 Potential Cause of Failure, Bradford Perkins, FAIA, and Peter Piven, FAIA 267
Part 3 The Project 273
Introduction, Bradford Perkins, FAIA 273
5 Project Definition 275
5.1 Life of a Project, Bradford Perkins, FAIA 275
5.2 Defining Project Services, Glenn W. Birx, FAIA, LEED AP 285
5.3 Architectural Services and Compensation, Clark S. Davis, FAIA, LEED AP 292
6 Common Project Issues 301
6.1 Programming, Robert G. Hershberger, FAIA, PhD 301
6.2 Evidence-Based Design, Travis L. Hicks, AIA 311
6.3 Sustainable Design, Henry Siegel, FAIA; Larry Strain, FAIA, LEED-AP; and Nancy Malone, AIA, LEED-AP 318
6.4 Environmentally Preferable Product Selection, Nadav Malin 332
7 Project Development 344
7.1 Design Phases, Bradford Perkins, FAIA 344
7.2 Construction Documentation, Kristine K. Fallon, FAIA, and Kenneth C. Crocco, FAIA 356
7.3 Bidding or Negotiation Phase, William C. Charvat, AIA 386
7.4 Construction Contract Administration, James B. Atkins, FAIA, KIA 395
7.5 Project Closeouts, Douglas C. Hartman, FAIA, FCSI, CCS, CCCA, SCIP, LEED AP 413
8 Design Project Delivery 423
8.1 Project Delivery Methods, Phillip G. Bernstein, FAIA, RIBA, LEED AP 423
8.2 Integrated Project Delivery Overview, Randy Deutsch 433
8.3 Emerging Issues in Project Delivery, Phillip G. Bernstein, FAIA, RIBA, LEED AP 444
9 Design Project Management 452
9.1 Managing Architectural Projects, Grant A. Simpson, FAIA 452
9.2 Project Scheduling, Frank Stasiowski 471
9.3 Construction Cost Management, Brian Bowen, FRICS 475
9.4 Project Controls, Lowell V. Getz, CPA, and Frank A. Stasiowski, FAIA 491
10 Building Codes and Regulations 504
10.1 Community Planning Controls, Debra L. Smith, AIA, AICP 504
10.2 Building Codes and Standards, David S. Collins, FAIA, NCARB 525
PART 4 CONTRACTS AND AGREEMENTS 541
11 Contracts and Agreements 542
11.1 Agreements with Owners, Joseph L. Fleischer, FAIA 542
11.2 Owner-Generated Agreements, Steven G. M. Stein, Esq.; Scott R. Fradin, Esq., AIA; and John-Paul Lujan, Esq. 552
11.3 Project Design Team Agreements, Joseph L. Fleischer, FAIA 568
11.4 Construction Contracts, Gregory Hancks, Esq., AIA 579
12 AIA Documents 590
12.1 The AIA Documents Program, Joseph L. Fleischer, FAIA 590
12.2 AIA Contract Documents 606
12.3 AIA Contract Documents Synopses by Family, Joseph L. Fleischer, FAIA 610
Index 649
See More
The American Institute of Architects (AIA) has been the leading professional membership association for licensed architects, emerging professionals, and allied partners since 1857. The AIA serves as the voice of the architecture profession and the resource for its members in service to society.
See More
Learn more about