E-book
The Handbook of Global Science, Technology, and Innovation
ISBN: 978-1-118-73905-1
624 pages
June 2015, Wiley-Blackwell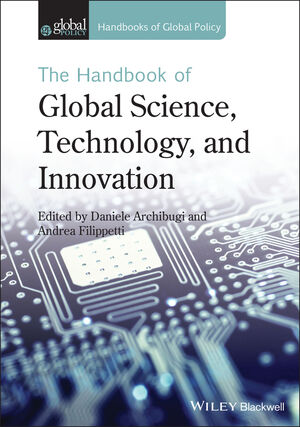 This unique Handbook provides an in-depth overview of the themes and direction of science, technology, innovation, and public policy in an increasingly globalized world. Leading authorities discuss current debates, research issues, and prospects, and present a foundation for the development of global policy.
Presents a state-of-the-art overview of science, technology, and innovation in the context of globalization and global policy
Offers an accessible introduction for students, researchers, and policy makers in the fields of economics, sociology, political science, business studies, global studies, and international relations
Addresses emerging issues and provides clear policy implications and analysis in each chapter
Includes crucial coverage of the activities of established and emerging geographical areas
Explores the ways in which reforms in intellectual property rights and world trade have been affected by the increasingly international flows of knowledge, technology, and innovation
Examines major policy trends, including a significant shift toward private scientific research, and a heightened awareness amongst policy-makers of the economic and technological impact of scientific activity
See More
Daniele Archibugi is a Research Director at the Italian National Research Council (CNR) in Rome, and Professor of Innovation, Governance and Public Policy at Birkbeck, University of London. His publications include The Global Commonwealth of Citizens: Toward Cosmopolitan Democracy (2008), Innovation and Economic Crisis: Lessons and Prospects from the Economic Downturn (with Andrea Filippetti, 2011), and Global Democracy: Normative and Empirical Perspectives (edited with Mathias Koenig-Archibugi and Raffaele Marchetti, 2011).
Andrea Filippettiis Marie Curie Fellow at the London School of Economics and Political Science and Researcher at the National Research Council of Italy (CNR). Previously, he was a Visiting Fellow at Birkbeck College, University of London and Fulbright Fellow at Harvard University. He has collaborated with the Italian Ministry of Development on the evaluation of regional innovation policy. Filippetti is co-author with Daniele Archibugi of Innovation and Economic Crisis: Lessons and Prospects from the Economic Downturn (2011).
See More
More in this series