E-book
Designing With Light: The Art, Science and Practice of Architectural Lighting Design
ISBN: 978-1-118-74039-2
336 pages
October 2014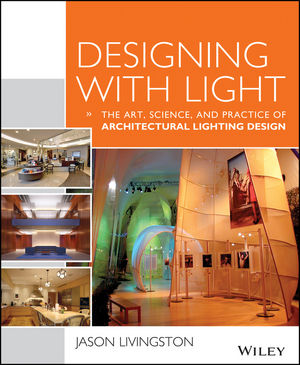 A comprehensive introduction to the theory and practice of lighting design
Designing With Light: The Art, Science, and Practice of Architectural Lighting Design is a comprehensive introduction to the intelligent use of lighting to define and enhance a space. The book explores all aspects of the process, including aesthetics, technology, and practicalities, in a clear, concise manner designed to provide the reader with a full working knowledge of lighting design. Color illustrations throughout demonstrate the real-world effects of the concepts presented, and the companion website offers video animations and exercises to better illuminate the art and science of lighting. The book addresses the considerations that should be a part of any designer's process, and provides thorough guidance on meeting the various demands with smarter design.
Lighting is an essential element of interior design, and despite its ubiquity, is difficult to truly master. A designer with a fundamental and conceptual understanding of light is empowered to create simple, typical spaces, or work intelligently with lighting consultants on more complex projects. Designing With Light contains special discussions on color, light, and health, as well as the latest information on energy efficient lighting, control systems, and other technologies. Topics include:
Physics, psychology, and perception of light
Current and future lighting technology
Communication, documentation, and the design process
Sustainability, daylighting, and energy efficiency
The book also contains an entire chapter on building and energy codes, as well as practical guidance on photometrics and calculations. Lighting can make or break an otherwise well-designed space, so designers need the background to be able to think intelligently about illumination factors during all stages of the process. With comprehensive coverage and thorough explanation, Designing With Light is a complete resource for students and professionals alike.
See More
Preface xiii
Acknowledgments xiv
About the Author xv
Chapter 1: The Lighting Design Profession 1
The Lighting Designer's Scope of Practice 2
Professional Lighting Design Credentials 4
Online Resources 5
References 6
Chapter 2: Designing with Light 7
What Is Lighting Design? 7
Beginning the Design 8
Thinking about Light 9
Thinking about Luminaires 14
Thinking about Architecture 15
Thinking about Everything—Layers of Light 16
Communicating Design Ideas 17
Approaches to the Lighting Design Process 22
Additional Considerations 34
Online Resources 34
References 35
Chapter 3: What Is Light? 37
Light Is Illumination 37
Light Is Rays of Vision 38
Light Is Material 38
Light Is Waves 39
Light Is Particles 39
Light Is Waves, Again 40
Light Is Waves and Particles, aka Quanta 41
Light Is Art 41
Light Is a Tool 43
Online Resources 45
References 45
Chapter 4: How We See 47
The Path of Light 47
The Eye 48
How We See Color 51
Visual Performance 53
Online Resources 55
References 56
Chapter 5: Light, Vision, and Psychology 57
Perception 57
Impressions 58
Lighting, Architecture, and Impressions 59
Online Resources 66
References 66
Chapter 6: Distribution of Light 67
Interaction of Light and Materials 67
Shadows and Luminaires 72
Glare 73
Types of Distribution 76
Online Resources 78
References 78
Chapter 7: Lamps 79
Incandescent Lamps 79
Halogen Lamps 81
Fluorescent Lamps 82
High Intensity Discharge 84
Light Emitting Diode 86
Other Lamp Technologies 88
Arriving Technologies 89
Lamp Shapes 91
Lamp Sizes 94
Lamp Bases 96
Beam Angle and Field Angle 99
Describing a Lamp 100
Selecting a Light Source 104
Lamp Information for Consumers 106
Online Resources 106
References 108
Chapter 8: Color in Light 109
Colors of White Light 109
Color Rendering 112
Color Stability 117
Colored Light 122
Sources of Colored Light 127
Use of Color 130
Online Resources 139
References 140
Chapter 9: Lighting Fixtures or Luminaires 141
Luminaire Components 142
Common Luminaire Types 144
Luminaire Accessories 154
Mounting Conditions 154
Outdoor Luminaires 157
Luminaire Consideration Summary 158
Reading Manufacturer's Literature 158
Modifying Luminaires 161
Custom Luminaires 161
Luminaire Information and Sales 161
Online Resources 165
References 166
Chapter 10: Daylighting 167
The Benefits of Daylighting 167
Planning for Daylighting 168
Glazing 171
Designing Daylighting 171
Shading Strategies 176
Online Resources 176
References 178
Chapter 11: Documenting the Design 179
Phases of the Architectural Design Process 179
Design Documentation 182
Luminaire Cut Sheets 199
Luminaire or Fixture Schedule 199
Specifications 209
Layout and Installation Details 210
Online Resources 222
References 223
Chapter 12: Lighting Controls 225
Electricity and Electrical Engineering 225
The Need for Controls 227
Basic Controls 228
Types of Dimmers 228
Intermediate Controls 232
Large-Scale Control Systems 235
Control Protocols 237
Control System Features 239
Documenting Controls 240
Online Resources 242
References 243
Chapter 13: Photometrics and Calculations 245
Terms Describing Brightness 245
Units for Measuring Light 246
Illuminance 246
Reflectance 247
How Much Light Is Required? 247
Illuminance Calculations 248
Software for Calculations 258
Online Resources 261
References 263
Chapter 14: Building and Energy Codes 265
Model Codes 265
Verifying Energy Code Compliance 269
Online Resources 270
References 271
Chapter 15: Sustainability 273
Voluntary Energy Programs 273
Life-Cycle Cost Analysis 276
Payback, or Return on Investment 278
Online Resources 278
References 279
Chapter 16: Light and Health 281
Biological Rhythms 281
Light Deficiency and Light Therapy 283
Harmful Effects of Light 284
Light and the Aging Eye 284
Online Resources 285
References 285
Appendix I: Lighting Design–Related Professional Organizations 287
Illuminating Engineering Society (IES) 287
International Association of Lighting Designers (IALD) 287
Designers Lighting Forum (DLF) 288
International Commission on Illumination (CIE) 288
National Council on Qualifications for the Lighting Professions (NCQLP) 288
International Dark-Sky Association 288
Appendix II: Lighting-Related Trade Publications 289
Architectural Lighting 289
Theatrical Lighting 290
Architecture and Interior Design 290
Green Building 291
Glossary 293
Index 307
See More
JASON LIVINGSTON is principal of Studio T+L, an interdisciplinary studio of theatrical and architectural designers and consultants. Livingston also teaches lighting design at Parsons School of Design and Pratt Institute.
See More