Textbook
Majoring in Psychology: Achieving Your Educational and Career Goals, 2nd Edition
ISBN: 978-1-118-74103-0
424 pages
March 2015, ©2015, Wiley-Blackwell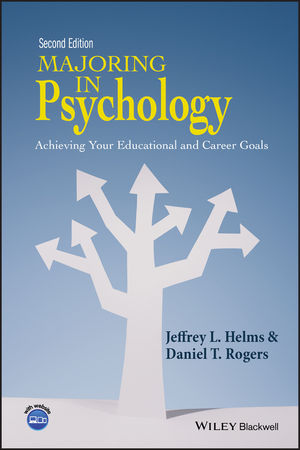 Updated to reflect the latest data in the field, the second edition of
Majoring in Psychology: Achieving Your Educational and Career Goals
remains the most comprehensive and accessible text for psychology majors available today.
The new edition incorporates the most up-to-date research, as well as recent changes to the GRE
Reveals the benefits of pursuing a psychology degree and shows students how to prepare for a career or to continue with graduate study in the field
Features a wide range of supplemental exercises and materials plus topical contributions written by national and international figures in their respective psychology subfields
Online support materials for instructors include Powerpoint slides and test banks to support each chapter
See More
List of Boxes xviii
List of Tables xxi
Preface xxii
Acknowledgments xxiv
About the Website xxvi
Part I Majoring in Psychology 1
1 Why Major in Psychology? 3
2 Succeeding in College: Transitions, Strategies, and Resources 15
3 Succeeding in the Psychology Major: Adjustments, Common Difficulties, and Strategies 38
4 Assessing and Developing Career Goals 57
5 Using your Bachelor's Degree: Preparing for the Job Market 76
6 The Preprofessional Degree: Preparing for Graduate School 102
7 The Preprofessional Degree: Applying to Graduate School 122
Part II The Subfields of Psychology 169
8 Careers in Research: Experimental, Developmental, Social, Cognitive, and Biopsychology 171
9 Careers in Industrial and Organizational Psychology 194
10 Careers in Clinical Psychology and Counseling Psychology 217
11 Careers in Educational and School Psychology 248
12 Careers in Exercise and Sport Psychology 266
13 Careers in Health Psychology 283
14 Careers in Neuropsychology 298
15 Careers in Forensic Psychology 315
16 Careers in Academe 339
17 Assessing the Career Outlook for the Psychology Major 361
Index 371
See More
Jeffrey L. Helms is Professor of Psychology at Kennesaw State University. Dr. Helms, a licensed psychologist and member of the American Psychological Association, currently maintains a small private consulting practice that focuses on executive coaching and organizational, academic, and forensic consultation.

Daniel T. Rogers is an Associate Professor of Psychology at Kennesaw State University. A licensed psychologist, Dr. Rogers is also a member of the American Psychological Association and the Society for Personality Assessment.
See More
"Many of my students keep and use this book even after they graduate. I will continue to require this text in my course."—Loretta Neal McGregor, Ph.D., Professor of Psychology Arkansas State University
Praise for the first edition:
"A worthy addition to the growing literature on the keys to success for undergraduate psychology majors, the Helms and Rogers text is likely to be one of those books that conscientious psychology students refer to again and again."—William Addison, Eastern Illinois University
"The Helms and Rogers text truly focuses on helping students achieve their educational and career goals. The authors go beyond the typical career books by presenting a realistic, robust, and diverse picture of possible careers in psychology. Bringing a variety of careers to life, the professional spotlights and profiles of real psychologists represent the true diversity of careers in the field. I look forward to discussing it with my students."—Tracy Zinn, James Madison University
--This text refers to the
Hardcover
edition.
See More
Instructors Resources
Request a print evaluation copy
Contact us

Contact your Wiley Representative
Find Your Rep

See More
See Less