Virtual Banking: A Guide to Innovation and Partnering
ISBN: 978-1-118-74247-1
240 pages
July 2014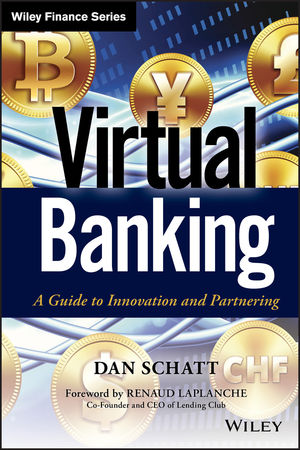 Technology is permanently transforming the banking industry, and digital payments are the key
Electronic Payments, Mobile Commerce, and Virtual Banking: A Guide to Innovation, Partnering, and Regulation takes a hands-on approach to competing in the modern banking environment. Former PayPal Head of Financial Innovation Dan Schatt explores the reasons behind the massive consumer migration away from traditional banks, and provides clear, actionable guidance on beating new banking models at their own game. Digital payment is the hottest topic in banking today, and is set to define the future of the industry.
Consumers are rapidly abandoning traditional banks in favor of institutions that are lower-cost and more consumer-centric. Between the pace of financial regulatory reform and the cloud computing revolution, the old banking model is on the fast track to extinction. Electronic Payments, Mobile Commerce, and Virtual Banking provides the information banks need to compete in this new environment, and details the integral implementation actions that will allow them to thrive. The book discusses real-world innovations from banks, non-banks, and up and comers, and the heavy competition from the new outsource bank model. Topics include:
The changing POS landscape and the need for digital wallet partnerships
Shifting gears to greenfield market opportunities versus non-profitable markets
Digital channel best practices for superior customer experience
When to outsource, and what capabilities to truly own
Case studies including PayPal, Google, Square, Facebook, Twitter, and more illustrate acceleration of innovation through banking partnerships, as well as the mechanics behind banking's biggest, scariest threats. The trick to surviving the paradigm shift is to embody innovation while providing a superior customer proposition. Electronic Payments, Mobile Commerce, and Virtual Banking: A Guide to Innovation, Partnering, and Regulation provides the inside track on managing the shift and dominating the new marketplace.
See More
Foreword
Preface
Acknowledgments
Introduction: Innovating Through Scarcity
The Influence of Cloud on Innovation
The Influence of Smartphones
Big Data = Big Driver of Innovation
Taking a Cue from Retailing
The Enemy of My Enemy Is My Friend
Reconciling Innovation and Regulation
In Search of New Payments Revenue Streams
New Skillsets for a New Era
A Roadmap for This Book
Notes
Chapter 1: Consumer Empowerment Knocking At the Door
How Mobile is Reshaping Consumer Expectations in Financial and Retail
How Mobile is Changing Consumer Behavior
Mobile is Blurring the Lines between Digital and Physical
The Uber-ization of Mobile
'Top of Wallet' to "Top of Mobile"
The QR Code
What Banks Can Learn From Starbucks
Leveling the Playing Field With LevelUp
From Mobile Banking to Tablet Banking
Mobile Models for the Emerging Markets
What's Next? More of the Same
Notes
Chapter 2: Social and Financial Services
Maintaining Relationships and Relevance through Social strategies
Digital, Data, and the Future of Banking
Social Media Experiences in Banking
Gamification
Personal Financial Relationship Mapping
Capitalizing on Social Banking
Moven: Delivering Banking through Social Context
Social Banking in Europe and Asia
Social Login, Sharing, and Top of Wallet
Peer to Peer Lending: Blending Social and Banking
Beyond the Hype: Partnering For The Future with Peer-to-Peer Lenders
Lending Club: A Win-Win for Banks and Their Customers
An Investor's Perspective on Social Banking and the Emergence of Bitcoin
Message To Banks: Be a Smaller Part of a Bigger Pie
Notes
Chapter 3: Connected Financial Commerce
Location-based Services, Mobile Commerce, and Digital Wallets
The "Local" Digital Wallet
The New Retail Experience
Retail 2.0 and Its Effect on Payments
Entrepreneurs, Developers, and Financial Services
I d Context Banking: The Next Step
Low Energy Bluetooth, Hardware, and the Future of Commerce
iBeacon and EasyPay: The Future of In-store Payments?
PayPal's iBeacon: Proximity and Context
Google Glass for Finances
In Search of the Digital Wallet
The Who's Who of Digital Wallets
What's Next?
Notes
Chapter 4: Innovating with Big Data and Open Platforms
Competing in a World of Unlimited Data and Storage
The Rise of Platform Services
Application and Programming Interfaces (APIs) for Online and Mobile Commerce
Coping Strategies for Banks
PayPal's Bold Bet: Unleashing Innovation Through an Open Platform
App Stores For Banks: Will It Work?
What's Next?
Notes
Chapter 5: The Smart Pipe
Models that Will Survive the Next Generation
The Prepaid Model
Prepaid Nation: Redefining What A Bank Can Be2
The 'Underbanked' and Opportunities for Innovation
MoneyGram: An Example of Innovation Through Partnering
Innovative Ways To Expand Access- PayNearMe
How Innovative Banks Are Partnering For Innovation
The CEO, CIO Relationship Driving the Innovation of ING DIRECT Canada6
A Whole New Era7
A Venture Capitalist's Look at The Future of Banking
Technology As An Enabler And Partner…
What the Next 50 Years Might Hold?
The Future Bank Bundle: Platform-Relationship-Utility
Notes
Chapter 6: Math Based Currencies
How Bitcoin May Prove Transformational to The Financial Services Industry (George Peabody)
Entering The Age of Context
Intro to Math-based Currencies
Why "Math-based Currencies"?
History of Digital Currencies
Math-based Currency Characteristics
Bitcoin: The First MBC
Is it Bitcoin, Bitcoin, or Just BTC
How Bitcoin Works
Counterfeiting No More
Completing the Bitcoin Ecosystem
Bitcoin Use Cases in Payments
Improving the Bitcoin Protocol
Ripple: The Second MBC
International Remittance Rails
Interbank Settlement
Building Trust with MBCs
Automating Transaction Policies
Moving Ahead with MBCs
Conclusion
About the Companion Website
About the Author
Index
See More
DAN SCHATT is the former Head of Financial Innovations for PayPal, responsible for defining and executing on PayPal's initiatives with the financial services industry. Schatt has also been an advisor to CGAP, part of the World Bank, and an industry analyst with Celent. Prior, he worked in the Financial Institutions Group at Citigroup. He currently serves as Chief Commercial Officer for Stockpile.
See More