E-book
Protein Families: Relating Protein Sequence, Structure, and Function
ISBN: 978-1-118-74281-5
536 pages
November 2013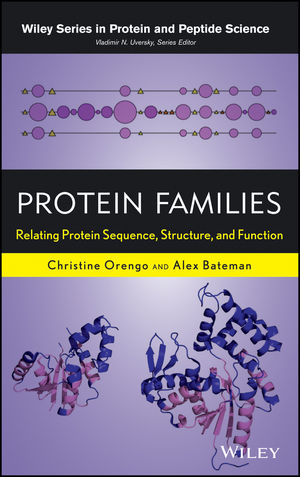 New insights into the evolution and nature of proteins
Exploring several distinct approaches, this book describes the methods for comparing protein sequences and protein structures in order to identify homologous relationships and classify proteins and protein domains into evolutionary families. Readers will discover the common features as well as the key philosophical differences underlying the major protein classification systems, including Pfam, Panther, SCOP, and CATH. Moreover, they'll discover how these systems can be used to understand the evolution of protein families as well as understand and predict the degree to which structural and functional information are shared between relatives in a protein family.
Edited and authored by leading international experts, Protein Families offers new insights into protein families that are important to medical research as well as protein families that help us understand biological systems and key biological processes such as cell signaling and the immune response. The book is divided into three sections:
Section I: Concepts Underlying Protein Family Classification reviews the major strategies for identifying homologous proteins and classifying them into families.
Section II: In-Depth Reviews of Protein Families focuses on some fascinating super protein families for which we have substantial amounts of sequence, structural and functional data, making it possible to trace the emergence of functionally diverse relatives.
Section III: Review of Protein Families in Important Biological Systems examines protein families associated with a particular biological theme, such as the cytoskeleton.
All chapters are extensively illustrated, including depictions of evolutionary relationships. References at the end of each chapter guide readers to original research papers and reviews in the field.
Covering protein family classification systems alongside detailed descriptions of select protein families, this book offers biochemists, molecular biologists, protein scientists, structural biologists, and bioinformaticians new insight into the evolution and nature of proteins.
See More
Introduction vii
Contributors xiii
SECTION I. CONCEPTS UNDERLYING PROTEIN FAMILY CLASSIFICATION 1
1 Automated Sequence-Based Approaches for Identifying Domain Families 3
Liisa Holm and Andreas Heger
2 Sequence Classification of Protein Families: Pfam and other Resources 25
Alex Bateman
3 Classifying Proteins into Domain Structure Families 37
Alison Cuff, Alexey Murzin, and Christine Orengo
4 Structural Annotations of Genomes with Superfamily and Gene3D 69
Julian Gough, Corin Yeats, and Christine Orengo
5 Phylogenomic Databases and Orthology Prediction 99
Kimmen Sj¨olander
SECTION II. IN-DEPTH REVIEWS OF PROTEIN FAMILIES 125
6 The Nucleophilic Attack Six-Bladed β-Propeller (N6P) Superfamily 127
Michael A. Hicks, Alan E. Barber II, and Patricia C. Babbitt
7 Functional Diversity of the HUP Domain Superfamily 159
Benoit H. Dessailly and Christine Orengo
8 The NAD Binding Domain and the Short-Chain Dehydrogenase/Reductase (SDR) Superfamily 191
Nicholas Furnham, Gemma L. Holliday, and Janet M. Thornton
9 The Globin Family 207
Arthur M. Lesk and Juliette T.J. Lecomte
SECTION III. REVIEW OF PROTEIN FAMILIES IN IMPORTANT BIOLOGICAL SYSTEMS 237
10 Functional Adaptation and Plasticity in Cytoskeletal Protein Domains: Lessons from the Erythrocyte Model 239
Anthony J. Baines
11 Unusual Species Distribution and Horizontal Transfer of Peptidases 285
Neil D. Rawlings
12 Deducing Transport Protein Evolution Based on Sequence, Structure, and Function 315
Steven T. Wakabayashi, Maksim A. Shlykov, Ujjwal Kumar, Vamsee S. Reddy, Ankur Malhotra, Erik L. Clarke, Jonathan S. Chen, Rostislav Castillo, Russell De La Mare, Eric I. Sun, and Milton H. Saier
13 Crispr-CAS Systems and CAS Protein Families 341
Kira S. Makarova, Daniel H. Haft, and Eugene V. Koonin
14 Families of Sequence-Specific DNA-Binding Domains in Transcription Factors across the Tree of Life 383
Varodom Charoensawan and Sarah Teichmann
15 Evolution of Eukaryotic Chromatin Proteins and Transcription Factors 421
L. Aravind, Vivek Anantharaman, Saraswathi Abhiman, and Lakshminarayan M. Iyer
Index 503
See More
CHRISTINE ORENGO, PhD, is Professor of Bioinformatics at University College London. Dr. Orengo's research focuses on protein structure comparison, classification, and analysis. Her group develops the CATH domain family classification and algorithms for predicting protein functions and functional networks.
ALEX BATEMAN, PhD, is Senior Investigator at Wellcome Trust Sanger Institute, where he leads the Pfam database project. Dr. Bateman also participates in the European InterPro project, which seeks to merge the annotations from Pfam, PRINTS, Prosite, and other domain databases.
See More
More in this series