Textbook
The Methods and Skills of History: A Practical Guide, 4th Edition
ISBN: 978-1-118-74544-1
328 pages
January 2015, ©2015, Wiley-Blackwell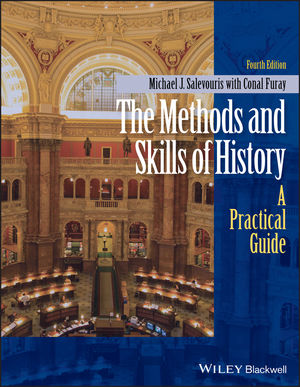 Widely acclaimed for its accessibility and engaging approach to the subject, the fourth edition of
The Methods and Skills of History
combines theory and instruction with hands-on practice, making it a comprehensive guide to historical research and writing.
Combines theory with hands-on practice in its introduction to historical methods
Includes a series of field-tested exercises designed to make the research and writing of history more meaningful and accessible to readers
Features expanded coverage of writing history and up-to-date coverage of online research
Designed to strengthen students' critical thinking and communication skills
See More
Preface xi
Part I HISTORICAL THINKING 1
1 THE USES OF HISTORY 3
Exercises Set A 8
Exercises Set B 10
2 THE NATURE OF HISTORY: HISTORY AS RECONSTRUCTION 13
Exercises Set A 21
Exercises Set B 24
3 HISTORICAL THINKING: CONTINUITY AND CHANGE 27
Exercises Set A 37
Exercises Set B 39
4 HISTORICAL THINKING: MULTIPLE CAUSALITY IN HISTORY 43
Exercises Set A 55
Exercises Set B 60
5 HISTORICAL THINKING: CONTEXT 65
Exercises Set A 73
Exercises Set B 77
6 HISTORY WRITING: TELLING A STORY 83
Exercises Set A 91
Exercises Set B 98
Part II CONFRONTING THE HISTORICAL ACCOUNT 101
7 LIBRARIES: REAL AND VIRTUAL 103
Exercises Set A 115
Exercises Set B 124
8 READING HISTORY 131
Exercises Set A 141
Exercises Set B 149
9 HISTORY ON FILM 151
Exercise 165
Part III DOING HISTORY 167
10 EVIDENCE 169
Exercises Set A 179
Exercises Set B 188
11 ORAL HISTORIES, STATISTICS, AND PHOTOGRAPHS 197
Exercises Set A 211
Exercises Set B 214
12 INTERPRETATION 217
Exercises Set A 227
Exercises Set B 234
13 WRITING FOR YOUR READER 241
Exercises Set A 249
Exercises Set B 250
Part IV HISTORIOGRA PHY 253
14 THE HISTORY OF HISTORY 255
Exercise 269
15 HISTORY AND THE DISCIPLINES 271
Exercises 279
appendix A: FUR TRADE ON THE UPPER MISSOURI RIVER: DOCUMENTS 287
appendix B: SOURCE REFERENCES AND BIBLIOGRAPHIES 295
appendix C: SAMPLE ORAL HISTORY RELEASE FORM 299
SUGGESTIONS FOR FURTHER READING 301
Index 307
Writing Capsules
1. Coherent Paragraphs: The Topic Sentence 10
2. The Literature Review 35
3. Essays: The Introduction 76
4. Integrating Quotations 97
5. The Précis 148
6. Coherent Paragraphs: Transitions 244
See More
Michael Salevouris is a Professor Emeritus of History at Webster University in St. Louis. In addition to various reviews and articles he is the author of Riflemen Form: The War Scare of 1859-1860 in England (1982), and, with Conal Furay, Learning American History: Critical Skills for the Survey Course (1997).
The late
Conal Furay
was Professor Emeritus at Webster University, where he taught such courses as American Business History and the Western in film and story. He is the author of
The Grass-Roots Mind in America
(1977), and, with Michael Salevouris,
Learning American History: Critical Skills for the Survey Course
(1997).
See More
Instructors Resources
Digital evaluation copy available for this title
Request Copy

Contact your Wiley Representative
Find Your Rep

See More
See Less