MSP For Dummies
ISBN: 978-1-118-74640-0
408 pages
June 2014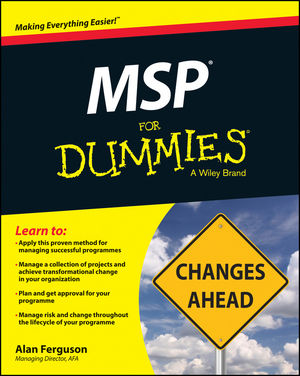 Programme management is the coordinated organisation and implementation of a portfolio of projects and activities that help your business achieve its strategic objectives. Good programme management is the key to managing transformational change and, in today's business environment, the organisations that can transform themselves are more likely to succeed.
Managing Successful Programmes For Dummies is your plain-English guide to implementing and using the proven MSP method. It provides a structured framework that helps you coordinate your projects and achieve your goals.  The book takes you through every step of programme management and inside you'll find:
What's involved in a programme - and how it differs from a project!
An overview of the structure of MSP
Full explanations of MSP principles, governance themes and transformational flow
Planning and making a business case for your programme
The key roles and responsibilities in programme management
The lifecycle of a programme - from conception to delivery
Quality and risk management in your programme
Working with stakeholders
All about the MSP Qualifications
See More
Introduction 1
Part I: Getting Started with Managing Successful Programmes 5
Chapter 1: Introducing Programme Management: Projects, Programmes and MSP 7
Chapter 2: Understanding What's Involved in a Programme 19
Chapter 3: Identifying a Programme 39
Chapter 4: Focusing on the Principles of Programme Management 51
Part II: Moving Forward with Managing Your Programme 67
Chapter 5: Creating Your Programme's Vision 69
Chapter 6: Building Up a Blueprint 77
Chapter 7: Details, Details: Honing Your Programme 95
Chapter 8: Documenting the Business Case for Your Programme 113
Part III: Managing Multiple Projects 125
Chapter 9: Organizing a Programme: Who does What 127
Chapter 10: Planning and Controlling Your Programme 153
Chapter 11: Managing Risk in Your Programme 173
Chapter 12: Resolving Issues and Keeping Track of Detail 197
Chapter 13: Achieving Quality in Your Programme 211
Part IV: Out in Business as Usual: Exploiting Projects' Capabilities 227
Chapter 14: Keeping 'em Sweet: Engaging Your Stakeholders 229
Chapter 15: Getting Started with Benefits Management: Modelling the Benefits 253
Chapter 16: Reaping the Benefits: Measuring Your Outcomes 275
Chapter 17: Leading People Through Change as the Programme Delivers 285
Part V: Step by Step in Your Programme 295
Chapter 18: Managing a Tranche 297
Chapter 19: Managing Projects within a Programme: Delivering Capability 309
Chapter 20: All Change: Realizing the Benefits through Transition 321
Chapter 21: Closing a Programme 331
Part VI: The Part of Tens 337
Chapter 22: Ten Reasons Why Change Initiatives Go Wrong 339
Chapter 23: Ten Reasons to Run an Initiative as a Programme 345
Chapter 24: Ten Great Ways to Manage Benefits 351
Part VII: Appendixes 357
Appendix A: Looking into MSP Qualifications 359
Appendix B: Glossary of the Main MSP Terms 367
Index 377
See More
Alan Ferguson is Managing Director of AFA Project Management Limited. He has contributed to all of the Cabinet Office best practice methods through various review and authoring activities. As AFA's lead consultant and trainer, Ferguson has delivered consultancy and training in these methods globally.
See More