E-book
Crowdfunding: A Guide to Raising Capital on the Internet
ISBN: 978-1-118-74686-8
272 pages
February 2014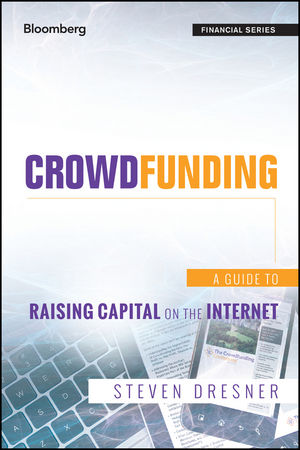 A groundbreaking book on the growing trend of crowdfunding
Crowdfunding has gained considerable traction over the last few years. By combining the Internet/social media with equity-based financing, it is poised to usher in a new asset class that will change how early stage and small business financing transactions are consummated. Author Steven Dresner, Founder and CEO of Dealflow.com, understands the nuances of how crowdfunding can help companies gain much needed access to capital, and now he shares those insights with you.
Engaging and informative, this book will serve the needs of a global audience comprising entrepreneurs, financiers, and other professionals. It skillfully addresses the market dynamics that are catapulting crowdfunding into the mainstream and explores essential issues ranging from planning an online campaign, post-transaction management, and business planning to securities law and tax issues.
Puts the business of crowdfunding in perspective with a look at the current marketplace, overview of important data, and legitimate concerns
Examines effective techniques for communicating with the crowd
Details equity-based financing and other sources such as debt instruments
Contains contributions from a wide array of individuals involved in the worlds of finance, law and accounting, social media, marketing, as well as DealFlow Media's own staff
Crowdfunding affords-start ups and other smaller businesses better access to capital via the Internet/social media. It also allows an investor of any size to back a business of their choosing. This new book will show you what this process entails and how it can benefit everyone involved.
See More
Acknowledgments ix
Introduction xi
Part I. The Business of Crowdfunding 1
Chapter 1 Crowdfunding: A Historical Perspective 3
Jason Best and Sherwood Neiss
Chapter 2 Understanding the "Crowd" 15
Karen Kerrigan
Chapter 3 A Statistical View of Crowdfunding 31
Carl Esposti
Chapter 4 Current Market Dynamics 47
Andrew Dix and Charles Luzar
Part II. Prepa ring for your Crowdfunding campaign 81

Chapter 5 Business Planning in Preparation for a Crowdfunding Campaign 83
David Feldman
Chapter 6 Protecting Your Intellectual Property 97
Michael J. Allan and Tremayne M. Norris
Chapter 7 Understanding Your Investor Options 111
Reginald Chambers
Chapter 8 Communicating with Your Investors or "Backers" 127
Joy Schoffler
Chapter 9 Alternatives to Crowdfunding 145
David R. Burton
Part III. Understanding the Framework of Rules and Regulations 163

Chapter 10 The Legal Aspects of Crowdfunding and U.S. Law 165
Joan MacLeod Heminway
Chapter 11 Crowdfunding Laws Based on Global Jurisdiction 199
Jeff Lynn and Kristof De Buysere
Chapter 12 Living with the New Reg D and Its Impact on Pitch Events and Demo Days 213
Kiran Lingam, Trent Dykes, and Megan Muir
Afterword 227
About the Author 233
About the Contributors 235
Author's Disclaimer 241
Index 243
See More
STEVEN DRESNER is the founder and CEO of Dealflow.com which provides software for deal marketing and transaction analysis. Steven's experience includes managing businesses in the areas of software development, financial databases, and media. Steven has a BS in psychology and both an MBA in finance and a graduate degree in computer communications and networks. Steven is co-author and editor of two prior books on financing strategies and is frequently quoted in the media on ways companies can successfully raise capital.
See More
More in this series