Interpreting Land Records, 2nd Edition
ISBN: 978-1-118-74687-5
432 pages
November 2014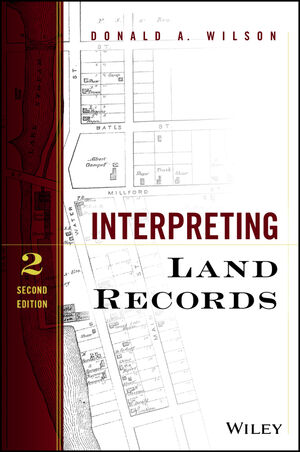 Base retracement on solid research and historically accurate interpretation
Interpreting Land Records is the industry's most complete guide to researching and understanding the historical records germane to land surveying. Coverage includes boundary retracement and the primary considerations during new boundary establishment, as well as an introduction to historical records and guidance on effective research and interpretation. This new edition includes a new chapter titled "Researching Land Records," and advice on overcoming common research problems and insight into alternative resources when official records are unavailable. Topical case studies provide helpful, plain-language descriptions of methods, problems, and resolutions, and appendices provide definitions, context, and modern interpretation of historical words and phrases. The text features exhaustive coverage and notes, with hundreds of case law citations annotated with expert insight that gives readers the complete background of the methods and techniques discussed.
Boundary retracement entails the recovery of historical documents related to the original boundary, correct interpretation and analysis, and the accurate application of historic survey principles with correlation to conditions on the ground. This builds a legally-sound defense to the location of the boundary, and is crucial element to any project or transaction concerning land. Interpreting Land Records is the pre-eminent reference to help readers:
Interpret historical land records, understanding their creation and documentation
Become familiar with the various methods of historic surveys
Overcome common research issues, including lost or corrupted records
Establish boundaries free of vagueness or abstraction, with clear documentation
Haphazard retracement leaves a boundary open to dispute and complicates future retracement efforts. Accuracy depends in part on quality research and the accurate interpretation of available documents. Interpreting Land Records provides comprehensive, practical guidance toward retracement based on sound evidence and technique.
See More
PREFACE VII
ACKNOWLEDGMENTS VIII
1 INTRODUCTION TO LAND RECORDS 1
2 GEOMETRY OF THE DESCRIPTION 3
3 RECORDS RESEARCH: TITLE SEARCH OR DEED SEARCH 53
4 RESEARCHING LAND RECORDS 93
5 RULES OF CONSTRUCTION 109
6 RELATIVE IMPORTANCE OF CONFLICTING ELEMENTS 143
7 EXCEPTIONS AND RESERVATIONS 161
8 WORDS AND PHRASES 177
9 THE USE OF EXTRINSIC EVIDENCE 187
10 MAPS, PLATS, PLANS, AND CHARTS 253
11 PICTURES 285
12 DOCUMENT EXAMINATION 303
APPENDIX ONE – DEFINITIONS OF WORDS AND PHRASES 321
APPENDIX TWO – DEFINITIONS OF ANCIENT LAND TERMS 393
INDEX 397
See More
DONALD A. WILSON, President of Land and Boundary Consultants, Inc., is both a licensed land surveyor and professional forester. With over fifty years in the profession, he is active in many surveying, mapping, and forestry organizations, and has served as the president of both the Maine Society of Land Surveyors and the New Hampshire Land Surveyors Association. Donald has authored over two hundred technical publications and more than fifty books.
See More