Africa's Information Revolution: Technical Regimes and Production Networks in South Africa and Tanzania
ISBN: 978-1-118-75132-9
296 pages
April 2015, Wiley-Blackwell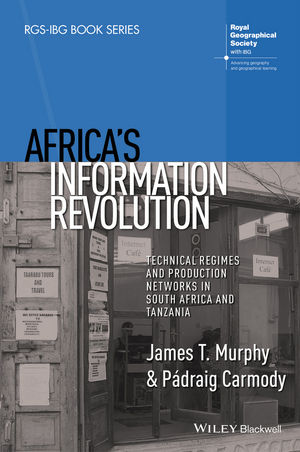 Africa's Information Revolution presents an in-depth examination of the development and economic geographies accompanying the rapid diffusion of new ICTs in Sub-Saharan Africa.
Represents the first book-length comparative case study ICT diffusion in Africa of its kind
Confronts current information and communication technologies for development (ICT4D) discourse by providing a counter to largely optimistic mainstream perspectives on Africa's prospects for m- and e-development
Features comparative research based on more than 200 interviews with firms from a manufacturing and service industry in Tanzania and South Africa
Raises key insights regarding the structural challenges facing Africa even in the context of the continent's recent economic growth spurt
Combines perspectives from economic and development geography and science and technology studies to demonstrate the power of integrated conceptual-theoretical frameworks
Include maps, photos, diagrams and tables to highlight the concepts, field research settings, and key findings
See More
James T. Murphy is Associate Professor at Clark University's Graduate School of Geography. He is co-author of Key Concepts in Economic Geography (2011).


Pádraig Carmody is Associate Professor in Geography at Trinity College Dublin, where he co-directs the TCD-UCD Masters in Development Practice and Research Fellow in the Department of Geography, Environmental Management and Energy Studies at the University of Johannesburg. His books include The New Scramble for Africa (2011) and The Rise of the BRICS in Africa (2013).
See More
'Murphy and Carmody have made an important contribution to the literature on the role of ICT in developing countries. Central to their analysis is a critique of technologically deterministic approaches to the debate. They go well beyond traditional 'impact studies' to consider the structuralist context in which ICT is applied. This leads to a fresh set of conclusions that will in my opinion be widely cited.'
— Jeffrey James, Professor of Development Economics, Tilburg University, The Netherlands

'Drawing on detailed and original empirical research, this book makes a valuable contribution to our understanding of the dynamics of upgrading and downgrading in Global Value Chains and Global Production Networks. The book will be of considerable interest to researchers, students and policymakers.'
— Raphael Kaplinsky, Professor of International Development, The Open University, UK
See More
More in this series