Modernizing Insurance Regulation
ISBN: 978-1-118-75871-7
304 pages
April 2014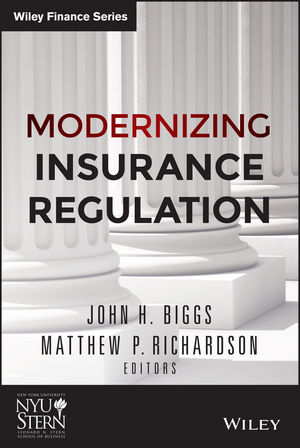 The future of the insurance regulation begins now
For those involved with the insurance industry, from investment professionals to policy makers, and regulators to legislators, tremendous change is coming. With insurance premiums constituting an ever-growing portion of annual U.S. GDP and provisions of the Dodd-Frank Act specifically calling for modernization of insurance regulations, the issues at hand are pervasive. In Modernizing Insurance Regulation, these issues are described against a backdrop of the political and industry discussions that surround insurance, regulation, and systemic risk. Experts Viral V. Acharya and Matthew Richardson discuss a variety of issues with top thinkers in the fields of finance, derivatives, credit risk, and banking to bring to light the most germane elements of this ongoing discussion.
In Modernizing Insurance Regulation, Acharya and Richardson call on the expertise of all the relevant stakeholders within government, academia, and industry to offer a well-rounded and independent view of insurance regulation and how the evolution of this key industry affects the U.S. economy now and in the future.
Provides an overview of the feasibility of maintaining a state-level regulatory structure
Offers a view of the issues from top academics, industry leaders, and state regulators
Explores the debate surrounding the insurance industry and systemic risk
Provides an in-depth look at upcoming changes under the Dodd-Frank Act
Modernizing Insurance Regulation provides a look into the crucial changes coming to insurance regulation and an overview of how those changes will affect almost everyone.
See More
Preface
Acknowledgments
Chapter 2:  Life Insurance's Importance to American Families and Industry's Concern about Regulation (Dirk Kempthorne)
Chapter 3:  Why Insurance Needs a Federal Regulator Option (Roger W. Ferguson, Jr.)
Chapter 4:  Observations on Insurance Regulation – Uniformity, Efficiency, and Financial Stability (Therese M. Vaughan)
Chapter 5:  Lessons Learned from AIG for Modernizing Insurance Regulation (Eric R. Dinallo)
Chapter 6:  Assessing the Vulnerability of the U.S. Life Insurance Industry (Anna Paulson, Thanases Plestis, Richard Rosen, Robert McMenamin and Zain Mohey-Dean)
Appendix 6A: Details on Estimating Asset Risk
Chapter 7:  Systemic Risk and Regulation of the U.S. Insurance Industry (J. David Cummins and Mary A. Weiss)
Chapter 8:  Designation and Supervision of Insurance SIFIs (Scott E. Harrington and Alan B. Miller)
Chapter 9:  Is the Insurance Industry Systemically Risky? (Viral V Acharya and Matthew Richardson1)
Chapter 10:  Modernizing the Safety Net for Insurance Companies (John H. Biggs)
Chapter 11:  Policyholder Protection in the Wake of the Financial Crisis (Peter G. Gallanis)
Appendix 11A:  The Critical Role of "Prompt Corrective Action"
Appendix 11B: Table of Relevant Guaranty Association Coverage Levels by State
As of September 19, 2013 (Subject to Change)
Chapter 12:  Comparative Regulation of Market Intermediaries: Insights from the Indian Life Insurance Market (Santosh Anagol (Wharton), Shawn Cole (Harvard Business School), and Shayak Sarkar (Harvard University))
About the Authors
About the Website
Index
See More
JOHN H. BIGGS is the former Chair and CEO of TIAA-CREF, one of the largest national insurance companies in the U.S., and an Executive in Residence at New York University.
MATTHEW P. RICHARDSON is the Charles E. Simon Professor of Applied Financial Economics at New York University Stern School of Business. He is the co-editor of Restoring Financial Stability and Regulating Wall Street.
See More