Textbook
Governing Cross-Sector Collaboration
ISBN: 978-1-118-75969-1
384 pages
August 2014, ©2014, Jossey-Bass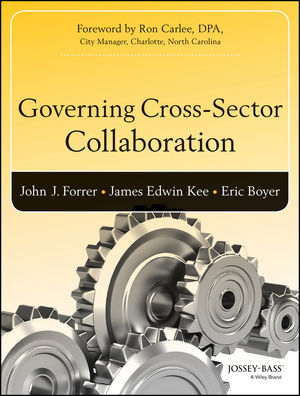 A comprehensive guide to public sector collaboration with private and nonprofit organizations for better service delivery
Governing Cross-Sector Collaboration tackles the issues inherent in partnerships with nongovernmental actors for public service delivery, highlighting the choices available and the accompanying challenges and opportunities that arise. Based on research, interviews with public, private and nonprofit sector leaders, and considerable analysis of organizations involved in public-private-nonprofit collaborations, the book provides insight into cross-sector collaboration at the global, federal, state, and local levels. Through an examination of the primary modes of cross-sector collaboration, including collaborative contracting, partnerships, networks, and independent public services providers, the book presents a clear case for how public managers can assess the trade-offs and use these options to improve public service delivery. Nonprofit organizations, businesses, and third-party contractors are increasingly partnering with government to deliver public services. Recognizing the types of collaborative approaches, and their potential to solve public policy problems is quickly becoming a major task for public managers, with new methods and techniques constantly emerging. Governing Cross-Sector Collaboration provides specific examples and a framework for public managers to make strategic choices about how to engage private and nonprofit actors in delivering public goods and services while ensuring the public interest. The book provides effective methods for choosing, designing, governing, and evaluating networks, partnerships, and independent public-services providers, with in-depth discussion encompassing:
Analysis and engagement of cross-sector organizations
Fostering democratic accountability in the public interest
Collaborative approaches (including contracts, networks and partnerships) and the issues associated with each type of arrangement
Leadership and organizational learning in cross-sector collaboration
Included case studies illustrate effective application of the concepts and methods described, providing both practicing public and nonprofit managers and public policy/administration students with insight into these emerging strategic alliances. The first comprehensive guide to public governance collaborations, Governing Cross-Sector Collaboration is an important and timely contribution to the field of public management.
See More
Acknowledgments ix
Foreword by Ron Carlee xi
Introduction xv
PART ONE: Choosing Cross-Sector Collaboration 1
ONE Dimensions of Cross-Sector Collaboration 3
TWO The Rationale for Cross-Sector Collaboration 31
THREE Contracting and Collaborating 57
FOUR Cross-Sector Partnerships and Public-Private Partnerships 85
FIVE Network Governance 111
SIX Independent Public-Services Providers: A New Potential Collaborator 139
SEVEN Analyzing Cross-Sector Collaboration Options 167
PART TWO: Managing Cross-Sector Collaboration 207
EIGHT The Need for a New Model of Public Administration 209
NINE Leadership Implications in Cross-Sector Collaboration 229
TEN Fostering Democratic Accountability 251
ELEVEN Developing Government Capacity for Cross-Sector Collaboration 279
TWELVE The Future of Cross-Sector Collaboration 297
Notes 313
References 317
The Authors 339
Index 341
See More
Do you think you've discovered an error in this book? Please check the list of errata below to see if we've already addressed the error. If not, please submit the error via our Errata Form. We will attempt to verify your error; if you're right, we will post a correction below.
Chapter
Page
Details
Date
Print Run
ii
Premium Content
The mention of Premium Content in this book is an error. There is no premium content files. However, there is an Instructor?s Companion Site with additional materials for teaching. This site can be accessed upon creating an account and requesting access at http://bcs.wiley.com/he-bcs/Books?action=index&bcsId=9101&itemId=1118759699
See More
Instructors Resources
Request a print evaluation copy
Contact us

Contact your Wiley Representative
Find Your Rep

See More
See Less