Why Moats Matter: The Morningstar Approach to Stock Investing
ISBN: 978-1-118-76023-9
240 pages
July 2014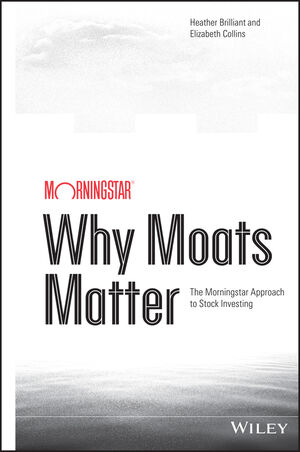 Incorporate economic moat analysis for profitable investing
Why Moats Matter is a comprehensive guide to finding great companies with economic moats, or competitive advantages. This book explains the investment approach used by Morningstar, Inc., and includes a free trial to Morningstar's Research.
Economic moats—or sustainable competitive advantages—protect companies from competitors. Legendary investor Warren Buffett devised the economic moat concept. Morningstar has made it the foundation of a successful stock-investing philosophy.
Morningstar views investing in the most fundamental sense: For Morningstar, investing is about holding shares in great businesses for long periods of time. How can investors tell a great business from a poor one? A great business can fend off competition and earn high returns on capital for many years to come. The key to finding these great companies is identifying economic moats that stem from at least one of five sources of competitive advantage—cost advantage, intangible assets, switching costs, efficient scale, and network effect. Each source is explored in depth throughout this book.
Even better than finding a great business is finding one at a great price. The stock market affords virtually unlimited opportunities to track prices and buy or sell securities at any hour of the day or night. But looking past that noise and understanding the value of a business's underlying cash flows is the key to successful long-term investing. When investors focus on a company's fundamental value relative to its stock price, and not where the stock price sits today versus a month ago, a day ago, or five minutes ago, investors start to think like owners, not traders. And thinking like an owner will makes readers better investors.
The book provides a fundamental framework for successful long-term investing. The book helps investors answer two key questions: How can investors identify a great business, and when should investors buy that business to maximize return?
Using fundamental moat and valuation analysis has led to superior risk-adjusted returns and made Morningstar analysts some of the industry's top stock-pickers. In this book, Morningstar shares the ins and outs of its moat-driven investment philosophy, which readers can use to identify great stock picks for their own portfolios.
See More
Preface ix
Acknowledgments xi
Chapter 1 Guiding Principles of Morningstar's Equity Research 1
Question 1: How Can We Identify Which Businesses Are Great? 2
Question 2: When Is the Best Time to Invest in Great Businesses? 6
Chapter 2 What Makes a Moat? 11
Moat Sources 13
Notes 33
Chapter 3 Why Moat Trends Matter 35
Contributed by Stephen Ellis, a member of Morningstar's Economic Moat Committee and head of Financial Services equity research at Morningstar
Moat Trends and Fundamental Performance 37
Five Key Considerations for Moat Trends 38
Intangibles 41
Cost Advantage 44
Switching Costs 47
Network Effect 51
Efficient Scale 54
Best Practices for Moat Trend Analysis 57
Chapter 4 How Stewardship Affects Economic Moats 61
Contributed by Todd Wenning, who oversees Morningstar's equity stewardship methodology
Meet Our Stewardship Methodology 62
Drilling Down 63
Chapter 5 Applying Moats to Dividend Investing 81
Contributed by Josh Peters, director of equity-income strategy for Morningstar and editor of the Morningstar® DividendInvestorSM newsletter
Why Dividends Matter 83
Which Dividends? 87
Chapter 6 The Importance of Valuation 93
Contributed by Joel Bloomer, Matt Coffina, and Gareth James, members of Morningstar's Moat Committee and contributors to Morningstar's valuation methodology
Valuation Concepts 95
Cost of Capital and Returns on Capital 96
Morningstar's Valuation Approach 97
Example: Calculating ROIC 99
Forecasting Future Free Cash Flows 102
The Morningstar RatingTM for Stocks 106
Fair Value Uncertainty and Cost of Equity 107
Notes 111
Chapter 7 Do Moat Ratings Predict Stock Returns? 113
Contributed by Warren Miller, head of quantitative research at Morningstar
Chapter 8 Putting Moat and Valuation to Work: Portfolio Strategies 121
Wide Moat Focus Index 121
The Tortoise and Hare Portfolios 124
Chapter 9 Basic Materials 129
Commodity Manufacturers 130
Commodity Processors 133
Metals and Mining 135
Chapter 10 Consumer 139
Beverages 140
Consumer Products 141
Tobacco 143
Restaurants 144
Retail Defensive 146
Specialty Retail 148
Lodging 149
Notes 151
Chapter 11 Energy 153
Oil and Gas Drilling 154
Oil and Gas Exploration and Production 156
Oil and Gas Midstream 158
Refining 159
Oil and Gas Integrateds 161
Engineering Services 163
Chapter 12 Financial Services 167
Banks 168
Capital Markets 170
Credit Services 172
Financial Exchanges 173
Insurance 174
Chapter 13 Healthcare 177
Pharmaceuticals 178
Biotechnology 180
viii Contents
Medical Devices 182
Medical Instruments and Supplies 184
Diagnostics and Research 185
Chapter 14 Industrials 187
Railroads 188
Airport Operators 190
Aerospace and Defense 191
Trucking and Marine Shipping 192
Waste Management 193
Heavy Equipment 195
Diversified Industrials 197
Chapter 15 Technology 199
Consumer Technology 200
Enterprise Hardware Systems 202
IT Services 203
Semiconductors 205
Software 207
Telecom Services 209
Chapter 16 Utilities 211
Regulated and Diversified Utilities 212
Independent Power Producers 214
About the Authors 217
Index 221
See More
Heather E. Brilliant, CFA, Co-Chief Executive Officer, Morningstar Australasia
Prior to assuming her current role, Brilliant led Morningstar's global equity and corporate credit research teams, consisting of more than 120 analysts, strategists, and directors. Brilliant is a member of the CFA Institute Board of Governors and is a past chairman of the CFA Society of Chicago.
Elizabeth Collins, CFA, Director of Equity Research, North America, Morningstar
Collins is responsible for leading Morningstar's team of North American-based equity research analysts. She has served as chair of Morningstar's Economic Moat committee, a group of senior members of the equity research team responsible for reviewing all Economic Moat and Moat Trend ratings issued by Morningstar.
Morningstar is a leading provider of independent investment research in North America, Europe, Australia, and Asia. We offer an extensive line of products and services for individual investors, financial advisors, asset managers, and retirement plan providers and sponsors.
To find out more about Morningstar's approach to stock investing and receive a free trial of our research, visit: www.global.morningstar.com/whymoatsmatter
See More
Learn more about