The Digital Marketer: Ten New Skills You Must Learn to Stay Relevant and Customer-Centric
ISBN: 978-1-118-76083-3
368 pages
April 2014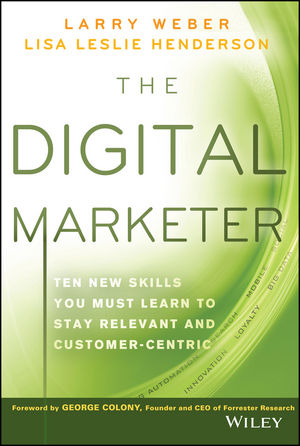 Big data. Digital loyalty programs. Predictive analytics. Contextualized content. Are you ready?
These are just a few of the newest trends in digital marketing that are part of our everyday world. In The Digital Marketer: Ten New Skills You Must Learn to Stay Relevant and Customer-Centric, digital marketing guru Larry Weber and business writer and consultant Lisa Leslie Henderson explain the latest digital tools and trends used in today's marketing initiatives. The Digital Marketer explains:
The ins and outs of this brave new world of digital marketing
The specific techniques needed to achieve high customer engagement
The modern innovations that help you outperform the competition
The best targeting and positioning practices for today's digital era
How customer insights derived from big and small data and analytics, combined with software, design, and creativity can create the customer experience differential
With the authors' decades of combined experience filling its pages, The Digital Marketer gives every marketer the tools they need to reinvent their marketing function and business practices. It helps businesses learn to adapt to a customer-centric era and teaches specific techniques for engaging customers effectively through technology. The book is an essential read for businesses of all sizes wanting to learn how to engage with customers in meaningful, profitable, and mutually beneficial ways.
See More
Acknowledgments vii
Foreword George F. Colony ix
Introduction xiii
1 The 10 Essential Skills EveryMarketer Needs 1
2 How Organizations Are Adapting to the Customer-Centric Era 47
3 Build a Successful Marketing Career (Hint: Standing Still Is Extraordinarily Risky) 67
4 Design Valuable Customer Experiences 95
5 Find Actionable Insight in Big Data and Marketing Analytics 126
6 Employ Entrepreneurial Thinking for Discernment and Agility 157
7 Create a Content Experience Strategy That Delivers 177
8 Engage Customers via Social Communities 213
9 Maximize Marketing Impact with Converged Media 241
10 Drive Sales with Marketing Automation 266
11 CraftWorthwhile Loyalty and Digital Couponing Programs 283
12 Ignite Customer-Centricity Everywhere 299
Notes 317
Index 345
See More
Larry Weber (Boston, MA) is Chairman and CEO of Racepoint Global, an advanced marketing services agency. He is the founder of Weber Shandwick and MITX, the world's largest Internet marketing association, and the author of four previous books on marketing, technology, and leadership. www.racepointglobal.com
Lisa Leslie Henderson (Boston, MA) writes, teaches, and consults on the changing face of marketing, creativity and innovation, and social entrepreneurship. This is the second book upon which she has collaborated with Larry Weber. www.lisalesliehenderson.com
See More
April 14, 2014
THE DIGITAL MARKETER: Ten New Skills You Must Learn to Stay Relevant and Customer-Centric
Connect with Wiley Publicity
Marketers have been gulping down change for the last decade. Low-cost and ubiquitous communications technology has rapidly changed human behavior, causing seismic shifts in marketing philosophy, practices, and careers. At its core, marketing is still about creating and keeping customers, but the 'how-to' questions for accomplishing this have changed considerably.
In THE DIGITAL MARKETER: Ten New Skills You Must Learn to Stay Relevant and Customer-Centric (Wiley, April 2014), digital marketing evangelist, Larry Weber and author Lisa Leslie Henderson navigate the reader through the brave new world of digital marketing and explore the unprecedented opportunities now available for companies to realize the customer-centricity they have been discussing for decades.
THE DIGITAL MARKETER details it all: big data, social communities, marketing automation, software integration, native advertising, location-based services, design thinking, digital loyalty programs, rich content, converged media strategies, marketing attribution analysis, and more.
These new concepts and practices are disruptive, multifaceted and overwhelming. THE DIGITAL MARKETER reduces this complexity bysynthesizing what at first appears as miscellany into ten skills, using concrete case studies and examples as illustrations. The authors also develop an overarching context to explain how these skills work in sync to create remarkable customer experience—the primary source of differentiation for organizations across every sector going forward.
Filled with practical takeaways and supplemental resource information, including ongoing discussions on Twitter (#thedigitalmarketer), THE DIGITAL MARKETER explores how marketers are:
Crafting targeted, contextualized interactions to break through today's content overload and drive awareness, sales, and ongoing engagement;
Creating effective and integrated multi-media storytelling for today's onmichannel marketing environment;
Becoming experience architects and enhancing customer engagement and experience, through design thinking, behavior science, and customer journey analysis;
Using big data and marketing automation to prioritize marketing efforts, nurture and score leads, and drive profitable engagement throughout the customer journey;
Capturing the attention of new audiences, prospects, and existing customers by reimagining and combining owned, earned, and paid media;
Embracing entrepreneurial decision-making practices to enhance agility and and build relevant evidence for and against choices;
Transforming anonymous transactions into collaborative customer relationships that are mutually rewarding.
Larry Weber and Lisa Leslie Henderson are available for interviews and speaking opportunities about the current marketing landscape, its evolution, and the ten new marketing skills, as well as:
The evolution of the marketing and communications industry: past, present, and future
The changing relationship between today's CMO and CIO
How social media is likely to evolve
The Big Four—Amazon, Google, Apple, and Facebook—Who's going to win
How the C-Suite is changing
How both political parties can benefit from more sophisticated digital marketing
See More
Instructors Resources
Request a print evaluation copy
Contact us

See More
See Less