European and Chinese Traditions of Philosophy
ISBN: 978-1-118-76383-4
192 pages
July 2013, Wiley-Blackwell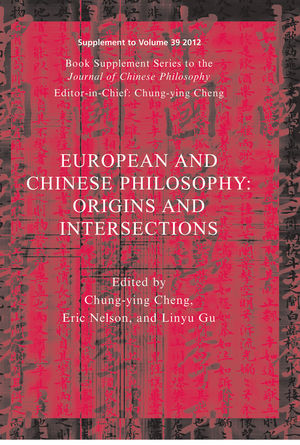 The Journal of Chinese Philosophy initiates this volume on the origins of philosophy and their relations in philosophical languages, be it Chinese or Greek or European as not merely derived from the Greek. Given this understanding we see how a philosophical issue could be discussed significantly from both the European-Western position and the Chinese perspective. Each position and perspective embodies a different historicity and viewpoint as experienced in the vision and pursuit of reality and humanity. The contrast between the European and Chinese traditions of philosophy is impressive and yet mutually stimulating as shown in the works of Heidegger and post-Heideggerian authors. The authors of this book illustrate how the European-Western and Chinese approaches could be complementary and yet together could be philosophically insight-productive.
See More
Preface: Origins and Relations of Philosophy: European and Chinese
CHUNG-YING CHENG
Introduction: Intersections between Chinese and Western Philosophies
ERIC S. NELSON
Heidegger, Misch, and the Origins of Philosophy
ERIC S. NELSON
Deconstruction and Différance: Onto-Return and Emergence in a Daoist Interpretation of Derrida
CHUNG-YING CHENG
Zhenzhi and Acknowledgment in Wang Yangming and Stanley Cavell
WILLIAM DAY
Isaiah Berlin's Challenge to the Zhuangzian Freedom
TAO JIANG
Lao-Zhuang and Heidegger on Nature and Technology
GRAHAM PARKES
World Philosophy and Climate Change: A Sino-German Way to Civil Evolution
MARTIN SCHÖNFELD
Levinas and the Daodejing on the Feminine: Intercultural Reflections
LIN MA
"Waiting for Godot"? Contemporaneity, Feminism, and Creativity
LINYU GU
Mapping Kant's Architectonic onto the Yijing via the Geometry of Logic
STEPHEN R. PALMQUIST
See More
Professor Dr. Chung-ying Cheng, internationally known philosopher of East-West integration and a leading representative of Neo-Confucian philosophy in contemporary world, was born in 1935 in China, received his college education at National Taiwan University in Taipei with major in philosophy and literature. He received his M.A. in Philosophy from University of Washington (1959), received Ph.D. in Philosophy (with minor in mathematics) from Harvard University (1964) and started teaching in 1964. He became a tenured full Professor of Philosophy by 1972 at University of Hawaii at Manoa.
See More