The Handbook of Evolutionary Psychology, 2 Volume Set, 2nd Edition
ISBN: 978-1-118-76399-5
1328 pages
November 2015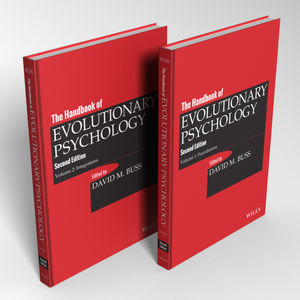 Groundbreaking developments, findings, and perspectives in evolutionary psychology
The Handbook of Evolutionary Psychology is the field's leading resource, providing comprehensive coverage of the latest findings and theoretical developments. Now in its second edition, this two-volume set features expanded discussion on culture, neuroscience, and human development, with a broader scope that extends beyond the individual and into family dynamics, groups dynamics, societies, and cultures. Volume 1: Foundations provides a detailed overview of this exciting new field of study, and Volume 2: Integrations shows how the theory is applied in industries as diverse as politics, medicine, anthropology, marketing, and more. Contributions from Steven Pinker, Richard Dawkins, Paul Bloom, Paul Rozin, Donald Symons, Leda Cosmides, and John Tooby provide insight from thought leaders, rounding out the most respected evolutionary psychology reference on the market.
Evolutionary psychology seeks to identify which human psychological systems are the results of natural selection, evolved to solve recurrent problems in human ancestral environments. These books bring together the fundamental concepts, latest developments, and expert insight to give you an accurate, comprehensive view of this area of study.
A thorough revision and expansion of a groundbreaking handbook, commonly regarded as the definitive handbook for the field; Google Scholar citations to the individual chapters of previous editions well exceed 1,000

The luminaries of the field present both the foundations of Evolutionary Psychology (EP) and explain the new theoretical developments and empirical discoveries that continually appear

Coverage of culture, neuroscience, and human development are expanded throughout

Reflects broader concept of EP, beyond inclusive fitness EP, as well as exploring the intersection of EP with a broad variety of subject areas, including medicine, literature, consumer behavior, and organizational leadership

2 Volumes
Evolutionary psychologists suggest that the field is more than a sub discipline of psychology, that it can provide a foundational, metatheoretical framework that integrates the entire field.
See More
The Handbook of Evolutionary Psychology: Volume 1 Foundations
Foreword ix
Steven Pinker
Acknowledgments xv
Contributors xvii
Introduction: The Emergence and Maturation of Evolutionary Psychology xxiii
David M. Buss
PART I FOUNDATIONS OF EVOLUTIONARY PSYCHOLOGY 1
David M. Buss
1 The Theoretical Foundations of Evolutionary Psychology 3
John Tooby and Leda Cosmides
2 Life History Theory and Evolutionary Psychology 88
Marco Del Giudice, Steven W. Gangestad, and Hillard S. Kaplan
3 Methods of Evolutionary Sciences 115
Jeffry A. Simpson and Lorne Campbell
4 Evolutionary Psychology and Its Critics 136
Edward H. Hagen
5 Intuitive Ontologies and Domain Specificity 161
Pascal Boyer and H. Clark Barrett
PART II SURVIVAL 181
David M. Buss
6 The Evolutionary Psychology of Food Intake and Choice 183
Paul Rozin and Peter M. Todd
7 The Behavioral Immune System 206
Mark Schaller
8 Spatial Navigation and Landscape Preferences 225
Irwin Silverman and Jean Choi
9 Adaptations to Predators and Prey 246
H. Clark Barrett
10 Adaptations to Dangers From Humans 264
Joshua D. Duntley
PART III MATING 287
Challenges of Mating 287
David M. Buss
Adaptationism and Human Mating Psychology 291
Donald Symons
11 Fundamentals of Human Mating Strategies 294
David P. Schmitt
12 Physical Attractiveness: An Adaptationist Perspective 317
Lawrence S. Sugiyama
13 Contest Competition in Men 385
David A. Puts, Drew H. Bailey, and Philip L. Reno
14 Women's Sexual Interests Across the Ovulatory Cycle 403
Steven W. Gangestad, Randy Thornhill, and Christine E. Garver-Apgar
15 Human Sperm Competition 427
Todd K. Shackelford, Aaron T. Goetz, Craig W. LaMunyon, Michael N. Pham, and Nicholas Pound
16 Human Sexuality and Inbreeding Avoidance 444
Debra Lieberman and Jan Antfolk
17 Sexual Coercion 462
Mark Huppin and Neil M. Malamuth
18 Love and Commitment in Romantic Relationships 482
Lorne Campbell and Timothy J. Loving
PART IV PARENTING AND KINSHIP 499
Martin Daly
19 Kin Selection 505
Raymond Hames
20 Evolution of Paternal Investment 524
David C. Geary
21 Parental Investment and Parent-Offspring Conflict 542
Catherine Salmon
22 The Evolutionary Ecology of the Family 561
Ruth Mace
23 Hunter-Gatherer Families and Parenting 578
Coren L. Apicella and Alyssa N. Crittenden
24 The Role of Hormones in the Evolution of Human Sociality 598
Mark V. Flinn and Carol V. Ward
Author Index I-1
Subject Index I-30
The Handbook of Evolutionary Psychology, Volume 2: Integrations
PART V GROUP LIVING: COOPERATION AND CONFLICT 621
David M. Buss and Daniel Conroy-Beam
25 Adaptations for Reasoning About Social Exchange 625
Leda Cosmides and John Tooby
26 Interpersonal Conflict and Violence 669
Martin Daly
27 Women's Competition and Aggression 684
Anne Campbell
28 Prejudices: Managing Perceived Threats to Group Life 704
Steven L. Neuberg and Peter DeScioli
29 Leadership in War: Evolution, Cognition, and the Military Intelligence Hypothesis 722
Dominic D. P. Johnson
PART VI CULTURE AND COORDINATION 745
Daniel Conroy-Beam and David M. Buss
30 Cultural Evolution 749
Maciej Chudek, Michael Muthukrishna, and Joe Henrich
31 Morality 770
Robert Kurzban and Peter DeScioli
32 The Evolutionary Foundations of Status Hierarchy 788
Mark van Vugt and Joshua M. Tybur
33 Reputation 810
Pat Barclay
34 The Evolution and Ontogeny of Ritual 829
Cristine H. Legare and Rachel E. Watson-Jones
35 The Origins of Religion 848
Ara Norenzayan
36 The False Allure of Group Selection 867
Steven Pinker
PART VII INTERFACES WITH TRADITIONAL PSYCHOLOGY DISCIPLINES 881
David M. Buss
37 Evolutionary Cognitive Psychology 885
Peter M. Todd, Ralph Hertwig, and Ulrich Hoffrage
38 Evolutionary Developmental Psychology 904
David F. Bjorklund, Carlos Hernández Blasi, and Bruce J. Ellis
39 Evolutionary Social Psychology 925
Douglas T. Kenrick, Jon K. Maner, and Norman P. Li
40 The General Factor of Personality: A Hierarchical Life History Model 943
Aurelio José Figueredo, Michael A. Woodley of Menie, and W. Jake Jacobs
41 The Evolution of Cognitive Bias 968
Martie G. Haselton, Daniel Nettle, and Damian R. Murray
42 Biological Function and Dysfunction: Conceptual Foundations of Evolutionary Psychopathology 988
Jerome C. Wakefield
43 Evolutionary Psychology and Mental Health 1007
Randolph M. Nesse
PART VIII INTERFACES ACROSS TRADITIONAL ACADEMIC DISCIPLINES 1027
David M. Buss
44 Evolutionary Psychology and Evolutionary Anthropology 1029
Daniel M. T. Fessler, Jason A. Clark, and Edward K. Clint
45 Evolutionary Genetics 1047
Ruben C. Arslan and Lars Penke
46 Evolutionary Psychology and Endocrinology 1067
James R. Roney
47 Evolutionary Political Psychology 1084
Michael Bang Petersen
48 Evolutionary Literary Study 1103
Joseph Carroll
PART IX PRACTICAL APPLICATIONS OF EVOLUTIONARY PSYCHOLOGY 1121
David M. Buss
49 Evolutionary Psychology and Public Policy 1123
Nicolas Baumard
50 Evolution and Consumer Psychology 1143
Gad Saad
51 Evolution and Organizational Leadership 1161
Nigel Nicholson
52 Evolutionary Psychology and the Law 1180
Owen D. Jones
Afterword 1205
Richard Dawkins
Author Index I-1
Subject Index I-30
See More
David M. Buss, Phd is the author of more than 200 scientific articles and six books. He has won numerous awards including the American Psychological Association (APA) Distinguished Scientific Award for Early Career Contribution to Psychology (1988), the APA G. Stanley Hall Lectureship (1990), the APA Distinguished Scientist Lecturer Award (2001), and the Robert W. Hamilton Book Award (2000) for the first edition of Evolutionary Psychology. He is also the editor of the first comprehensive Handbook of Evolutionary Psychology (2005, Wiley). He enjoys extensive cross-cultural research collaborations and lectures widely within the United States and abroad.
See More