E-book
TEFL Lesson Plans For Dummies
ISBN: 978-1-118-76424-4
352 pages
August 2014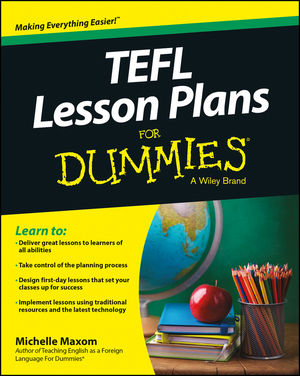 Instant English lessons – learn in a flash!
TEFL Lesson Plans For Dummies is a ready-made course manual for TEFL teachers. With fully fleshed-out lessons, activities, tools, games, and resources, this book contains what is essentially an instant TEFL course. Use the ready-made materials directly in the classroom, or follow along with the detailed planning models and frameworks to grow your skills while designing your own lesson plans more effectively. The book includes access to online materials you can print for use in class, and the lessons can be used with or without the aid of technology in the classroom. You'll find expert advice on teaching all age levels and class sizes, including ideas for taking the lessons out into the world.
Many EFL/ESL teachers have little or no experience, and may have only been in the profession for a limited time. TEFL Lesson Plans For Dummies saves the day with materials, ideas, and activities that can be implemented quickly and easily, making lessons more productive and fun. From quick exercises to larger-scale plans, this book contains hundreds of ways to help your students become more proficient English speakers.
Implement expertly-designed planning models with step-by-step advice
Teach lessons designed for students of all ages and classes of all sizes
Integrate technology when it's available, or do without it when it's not
Move your lessons outside of the classroom for deeper immersion
Whether you're taking a TEFL training course, about to head out on your first job, or a veteran of the field, this book provides you with the tools you will need to get things moving in class. If you're looking to cut down on planning time without sacrificing student engagement, TEFL Lesson Plans For Dummies is the classroom-ready resource you need.
See More
Introduction 1
Part I: Methodology in the Madness 7
Chapter 1: Grasping The Basics Of TEFL Teaching 9
Chapter 2: Adapting Recent Approaches and Methodologies to Your Work 19
Chapter 3: Getting Down to Planning 45
Part II: Beginner and Elementary Classes 63
Chapter 4: Getting to Know Each Other on the First Day 65
Chapter 5: Back to Basics: Using Your Own Realia 77
Chapter 6: Getting Flash with Flashcards 87
Chapter 7: Making Use of Mobile Phones 95
Chapter 8: Covering Clothes and Fashion 105
Chapter 9: Acting It Out: Using Role-Plays 113
Part III: Pre-Intermediate and Intermediate Classes 121
Chapter 10: Cultivating Classroom Language from Day One 123
Chapter 11: Back to Basics: Developing Discussions 133
Chapter 12: Thinking Outside the Book 143
Chapter 13: Watching TV Online 151
Chapter 14: Culture: Extracting Language from Art 161
Chapter 15: Communicating through Story-telling 171
Part IV: Upper Intermediate and Advanced Classes 181
Chapter 16: First Day: Improving Intonation 183
Chapter 17: Back to Basics: Teaching Varieties of English 193
Chapter 18: Traditional Resources: Delving Into Dictionaries 203
Chapter 19: Technology: Interactive Websites 213
Chapter 20: Read All About It! Focusing on the News 223
Chapter 21: Dissecting Dictogloss 233
Part V: Mixed Classes 241
Chapter 22: Chatting to Children 243
Chapter 23: Training Teens 253
Chapter 24: Making Use of Readers 263
Chapter 25: Developing Presentation Skills 273
Chapter 26: Focusing on Manners and Etiquette 283
Chapter 27: Team Work: Going on Field Trips 293
Part VI: The Part of Tens 303
Chapter 28: Ten Ways to Improve Your Teaching Skills 305
Chapter 29: Ten Ways to Make Your Students Happy 311
Index 317
See More
Michelle Maxom has taught both EFL students and would-be teachers for more than 15 years in the UK and Italy. She has served as Director of Studies at a central London EFL school, and as a freelance teacher/trainer Michelle has taught trainee TEFL teachers and courses and tutored distance learners.
See More