Textbook
Creating Your Culinary Career
ISBN: 978-1-118-76463-3
288 pages
July 2013, ©2013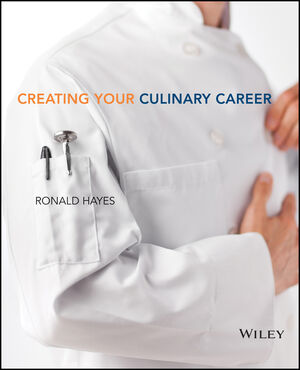 A must-have resource for anyone crafting a career in the culinary arts
Ronald Hayes, the Career Development Manager with The Culinary Institute of America, explores the broad scope of jobs available in the culinary field. Building your culinary skills as a novice, discovering your specialization as a journeyman, and establishing your interests as you master your career path, Creating Your Culinary Career offers a framework for career exploration, development, and growth.
This book offers insider information on all of the regular staff positions available in the culinary field, including traditional restaurants, catering facilities, and institutional facilities; front of the house, bakeshop, and food and beverage outlets; and food communications, media, and sales positions. It then helps readers establish goals, design resumes, and develop interview skills for landing that perfect job.
The ideal career guide for aspiring culinary professionals, this book helps readers discover the ideal career path by building skills and setting goals
Written by The Culinary Institute of America's Career Development Manager, this book celebrates the passion, persistence, and drive required to succeed in one of today's most exciting careers
For anyone beginning a career in the culinary arts, Creating Your Culinary Career features must-have information for the aspiring food professional.
See More
FOREWORD vi
1 A CULINARY CAREER 1
2 GOAL-SETTING FOR YOUR CULINARY CAREER 39
3 RÉSUMÉS, COVER LETTERS, AND JOB APPLICATIONS 65
4 LANDING A JOB: INTERVIEWING AND NEGOTIATING 103
5 THE NOVICE CULINARIAN: EDUCATION AND EXPERIENCE 143
6 THE JOURNEYMAN 177
7 THE MASTER CULINARIAN 209
APPENDIX I: SALARIES IN THE CULINARY INDUSTRY 238
APPENDIX II: JOB OUTLOOK AND SALARIES FOR SPECIFIC JOBS AND CAREERS IN THE CULINARY ARTS 241
APPENDIX III: QUESTIONS IN THE INTERVIEW 251
APPENDIX IV: JOB SEARCH AND PROFESSIONAL DEVELOPMENT RESOURCES 259
INDEX 269
See More
The book is a must-have for anyone who wants to pursue a culinary career, with practical advice on everything, from choosing an area of specialization to landing a first job.
Ronald Hayes, Associate Director--Career Services at The Culinary Institute of America, explores the wide range of opportunities available to the aspiring culinary professional by dividing career goals into short-term (attainable within one to five years), intermediate (attainable within five to ten years), and long-term (attainable in ten years and beyond)
A résumé is a promotional tool, or amuse-bouche, in culinary terms: a single perfect bite that encompasses the totality of one's skills and leaves the guest wanting more. It is a reflection of experience, education, and skill, and this book will guide the reader through the process of writing a résume and cover letter and on to landing a job through effective interviewing and negotiating with a potential employer.
See More