E-book
Food Texture Design and Optimization
ISBN: 978-1-118-76612-5
464 pages
April 2014, Wiley-Blackwell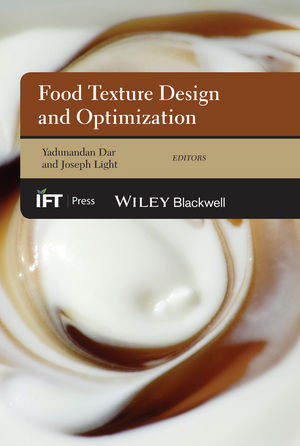 Food texture has evolved to be at the forefront of food formulation and development. Food Texture Design and Optimization presents the latest insights in food texture derived from advances in formulation science as well as sensory and instrumental measurement. This unique volume provides practical insights for professionals who are starting in the field as well as experts looking to enhance their knowledge or expand into new areas.
The first part of this book presents case studies on formulating products in a broad variety of application
segments, such as cheese, ice-cream, baked goods, gluten-free products, low-fat/non-fat dairy products and more. Challenges related to maintaining texture while optimizing nutritional content, cost, flavor and other attributes of the food product are investigated. The book also highlights the importance of texture design and optimization in several types of food products and demonstrates how experts have applied this knowledge in the industry.

Part two provides an overview of the latest advances in tools and techniques for food texture design and optimization, focusing on the use of instrumental techniques, the application of sensory techniques, and the use of marketing and consumer insight tools in the design and optimization of food products. The ability to use advanced characterization techniques in this field is critical for both new and established practitioners in tackling the problems they face. Food Texture Design and Optimization serves as an important reference for technical practitioners on how to adopt advanced techniques in food texture research. This information is invaluable in reviewing establish the state of the art in this field and providing a minimum recommended standard for food formulators.
See More
Contributors ix
1 Introduction 1
Yadunandan Lal Dar and Joseph M. Light
Part I Product development challenges and texture solutions 19
2 People, products, texture: a personal retrospective 21
Howard R. Moskowitz
3 Optimizing textural properties of soft solid foods: replacing eggs 45
Xin Yang
4 Low fat ice cream 74
Arun Kilara
5 Formulating gelatin free products 93
P. L. Buwalda
6 Modified whey proteins as texturizers in reduced and low-fat foods 108
Jeffrey Banes, Thomas Helm, and David Taylor
7 Texture design for breaded and battered foods 128
Chandani Perera and Milda E. Embuscado
8 Multi-textured foods 159
Arun Kilara and Tapashi Sengupta
9 Textural attributes of wheat and gluten free pasta 222
Alessandra Marti, Maria Ambrogina Pagani, and Koushik Seetharaman
10 A ddressing texture challenges in baked goods with fiber 245
Rajen S. Mehta
Part II A dvances in texture measurements and consumer insights 281
11 Use of electromyography in measuring food texture 283
Takahiro Funami, Sayaka Ishihara, and Kaoru Kohyama
12 Texture design for creaminess: the role of lubrication 308
Fred van de Velde and Els de Hoog
13 Descriptive analysis of food texture: advances in the sensory characterization of food textures 321
Gail Vance Civille and Joanne Seltsam
14 Mind genomics® and texture: the experimental science of everyday life 342
Howard R. Moskowitz
15 The use of advanced spectroscopic techniques to understand texture in dairy foods 378
Marcela Alexander and Milena Corredig
16 A tomic force microscopy for determining surface interactions of relevance for food foams and emulsions 402
Marta Krasowska, Clive A. Prestidge, and David A. Beattie
17 Importance of understanding mouth behavior when optimizing product texture now and in the future 423
Melissa Jeltema, Jacqueline H. Beckley, and Jennifer Vahalik
Index 443
See More
Yadunandan Lal Dar, PhD. serves as Ingredient Applications Director, South America at Ingredion Incorporated and is based in Mogi Guaçu, Brazil.
Joseph M. Light serves as Vice President of Global Development at Ingredion Incorporated and is based in  Bridgewater, New Jersey, USA, the company's Global R&D Headquarters.
See More
More in this series