Electrical Estimating Methods, 4th Edition
ISBN: 978-1-118-76698-9
288 pages
November 2014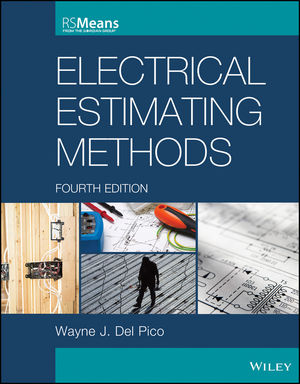 Simplify the estimating process with the latest data, materials, and practices
Electrical Estimating Methods, Fourth Edition is a comprehensive guide to estimating electrical costs, with data provided by leading construction database RS Means. The book covers the materials and processes encountered by the modern contractor, and provides all the information professionals need to make the most precise estimate. The fourth edition has been updated to reflect the changing materials, techniques, and practices in the field, and provides the most recent Means cost data available. The complexity of electrical systems can make accurate estimation difficult, but this guide contains all the necessary information in one place.
An electrical estimate represents the total cost for materials, labor, overhead and profit, but accuracy is virtually impossible without a basic knowledge of the field, and real-world experience in the type of work required. Inaccurate estimates lead to problems with customer satisfaction, which often create payment issues. A thorough, complete, and accurate estimate is in the best interest of all parties involved in the work. Electrical Estimating Methods provides more than just data. Detailed discussions about the work itself help highlight factors that may escape notice, and access to the latest cost data helps tie everything together. Features include:
Discussion of current equipment, materials, and processes
Means data for both residential and commercial projects
Case studies that illustrate best practices
Online access to the latest Means data for fast access on the job
The book discusses specific situations as well as general practices, and provides comprehensive guidance to the creation of a true, current, estimation of costs. For electrical contractors and estimators, Electrical Estimating Methods contains must-have content that simplifies the estimating process.
See More
About the Author xiii
PART 1 THE ESTIMATING PROCESS 1
CHAPTER 1 Components of an Estimate 3
CHAPTER 2 Types of Estimates 7
Order of Magnitude Estimates 8
Square Foot Estimates 9
Assemblies Estimates 10
Unit Price Estimates 11
CHAPTER 3 Before Starting the Estimate 15
Obtaining Bid Documents 15
To Bid or Not to Bid 15
Document Study 16
Estimating Team Meeting 17
CHAPTER 4 The Quantity Takeoff 19
Beginning the Quantity Takeoff 19
Rules to Follow for Accurate Takeoffs 20
Accounting for Waste 24
Other Factors that Affect Quantities 26
CHAPTER 5 Pricing the Estimate 27
Sources of Cost Data 27
Cost Categories 29
Types of Costs 29
Profit 29
CHAPTER 6 Direct Costs 31
Material 31
Labor 33
Equipment 37
Subcontractors 38
Project Overhead 40
Bonds 42
CHAPTER 7 Indirect Costs 45
Home Office Overhead 45
Profit and Contingencies 48
CHAPTER 8 The Unit Price, Project Overhead Summary, and Estimate Summary Sheets 55
Unit Price Sheet 55
Project Overhead Summary Sheet 56
The Estimate Summary Sheet 59
CHAPTER 9 Prebid Scheduling 69
Scheduling Theory 69
Critical Path Method (CPM) 70
Value of the Prebid Schedule 71
Task Types 72
Task Durations 73
Calculating Durations 74
Milestones and Constraints 76
CHAPTER 10 Bidding Strategies 77
The Business Plan 77
Competitive Bidding 78
Resource Analysis 80
Market Analysis 81
General Bidding Strategies 82
Maximizing the Profit-to-Volume Ratio 84
CHAPTER 11 Project Cost Control and Analysis 87
Cost Control 87
Productivity and Efficiency 90
Overtime Impact 91
PART 2 COMPONENTS OF ELECTRICAL SYSTEMS 93
CHAPTER 12 Raceways 95
Cable Tray 95
Conduit (to 15′ High) 99
Conduit Fittings 102
Conduit in Concrete Slab 104
Conduit in Trench 105
Cutting and Drilling 106
Wire Duct—Plastic 108
Trench Duct 109
Underfloor Duct 110
Surface Metal Raceways 113
Wireways 114
Flexible Metallic Conduit 116
CHAPTER 13 Conductors and Grounding 119
Wire 119
Armored Cable 123
Cable Terminations (to 600 Volt) 123
Shielded Power Cables 125
Cable Terminations (High Voltage) 126
Mineral Insulated Cable 127
Nonmetallic Sheathed Cable 128
Fiber-Optic Cable Systems 129
Special Wires 130
Grounding 131
Undercarpet Wiring 133
Undercarpet Telephone Systems 135
Undercarpet Data Systems 137
CHAPTER 14 Boxes and Wiring Devices 141
Pull Boxes and Cabinets 141
Outlet Boxes 142
Wiring Devices and Low-Voltage Switching 144
Fasteners 145
Hangers 147
CHAPTER 15 Starters, Boards, and Switches 149
Circuit Breakers 149
Control Stations 150
Fuses 151
Load Centers 153
Meter Centers and Sockets 154
Motor Control Center 155
Motor Control Center Components 157
Motor Connections 159
Motors 160
Motor Starters and Controls 161
Contactors 165
Relay 166
Panelboards 167
Panelboard Circuit Breakers 169
Safety Switches 170
Switchboards 172
Substations 174
Control Switches 176
CHAPTER 16 Transformers and Bus Duct 179
Transformers 179
Isolating Panels 180
Bus Duct 182
Bus DuctBusway—100A and Less 184
Uninterruptible Power Supply Systems 186
CHAPTER 17 Power Systems and Capacitors 187
Capacitors 187
Generator Set 188
Automatic and Manual Transfer Switches 190
CHAPTER 18 Lighting 193
Interior Lighting Fixtures 193
Exit and Emergency Lighting 196
Exterior Fixtures 197
Lamps 199
Track Lighting 200
Fixture Whips 201
CHAPTER 19 Electrical Utilities 205
Electric Site Work 205
CHAPTER 20 Special Systems 211
Special Systems 211
Clock Systems 211
Detection Systems 212
Doorbell Systems 214
Electric Heating 215
Lightning Protection 218
Nurses' Call Systems 220
Closed-Circuit TV Systems 222
Residential Wiring 224
CHAPTER 21 Electrical Demolition and Temporary Facilities 229
Defining the Electrical Demolition Scope 230
Electrical Demolition 231
Temporary Facilities 232
CHAPTER 22 Contract Modifications 235
Contract Modifications 235
What Makes Change Orders Different 238
Effects of Overtime 240
CHAPTER 23 Project Closeout 243
The Closeout Process 243
Objectives of the Closeout Process 245
Contract Closeout 245
Administrative Closeout 246
Lessons Learned 246
CHAPTER 24 Computerized Estimating 249
Basic Spreadsheet Programs 250
Stand-Alone Estimating Software 252
Quantity Takeoff Software 253
APPENDIX
Symbols and Abbreviations 255
Trade Specific Symbols 255
Index 265
See More
WAYNE J. DEL PICO is president of W. J. Del Pico, Inc., where he provides litigation support services and expert testimony for construction-related matters. He has more than 35-years of experience in construction project management and estimating and has been involved in projects throughout most of the United States. He is a member of the adjunct faculty at Wentworth Institute of Technology in Boston. Mr. Del Pico is a nationally recognized lecturer and author on estimating, scheduling, and project control. He is the author of Plan Reading and Material Takeoff, Estimating Building Costs, and Project Control: Integrating Cost and Schedule in Construction, and coauthor of The Practice of Cost Segregation Analysis. He is also a practicing Neutral with the American Arbitration Association, where he hears construction-related arbitration cases.
More information about the author is available at www.wjdelpico.com
See More