Textbook
An Introduction to Developmental Psychology, 3rd Edition
ISBN: 978-1-118-76720-7
848 pages
May 2017, ©2016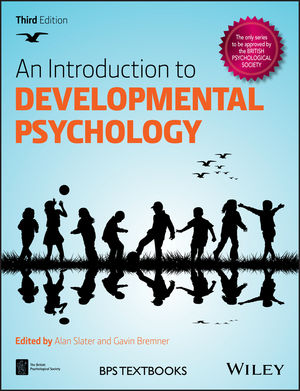 An Introduction to Developmental Psychology, 3rd Edition is a representative and authoritative 'state of the art' account of human development from conception to adolescence. The text is organised chronologically and also thematically and written by renowned experts in the field, and presents a truly international account of theories, findings and issues. The content is designed with a broad range of readers in mind, and in particular those with little previous exposure to developmental psychology.

See More
List of Contributors xxi
Preface to Third Edition xxiii
Part I Introducti on 1
1 The Scope and Methods of Developmental Psychology 3
Alan Slater, Scott P. Johnson and Darwin Muir
2 Theories and Issues in Child Development 41
Scott P. Johnson, Alan Slater and Ian Hocking
3 The Nature–Nurture Debate 79
Alan Slater
Part II Infancy 107
4 Prenatal Development 109
Christine Moon and William P. Fifer
5 Perception, Knowledge and Action in Infancy 143
J. Gavin Bremner, Kirsty Dunn and Diana S.Y. Tham
6 Emotional Development and Attachment Relationships 183
Elizabeth Meins
7 Early Social Interactions with People and Objects 213
Cintia Rodríguez, Julia Benassi, Luisa Estrada, and Nicolás Alessandroni
8 The Development of Self and Gender 259
Wendy Lawrenson
Part III Childhood 303
9 Cognitive Development 305
Margaret Anne Defeyter
10 The Development of Language 341
Heather M. Hill and Stan A. Kuczaj II
11 Acquiring a Theory of Mind 381
Peter Mitchell
12 Reading and Mathematics in Developmental Psychology 407
Peter Bryant
13 Memory Development and Eyewitness Testimony 439
Stephen J. Ceci, Stanka A. Fitneva, Cagla Aydin and Nadia Chernyak
14 Play and the Beginnings of Peer Relationships 477
Peter K. Smith
15 Prosocial Tendencies, Antisocial Behaviour and Moral Development in Childhood 511
Daniel Hart, Neeta Goel and Robert Atkins
Part Iv adolescence 541
16 Cognitive Development in Adolescence 543
Kang Lee, Gizelle Anzures and Alejo Freire
17 Social Development 577
Tirza H.J. Van Noorden and William M. Bukowski
Part V Practic al Issues 611
18 Educational Implications 613
Alyson Davis and Naomi Winstone
19 Risk and Resilience in Development 645
Leslie Morrison Gutman and Eirini Flouri
20 Social Problems in Schools 683
Peter K. Smith and Julian Elliott
21 Atypical Development 715
Sarah Norgate
Glossary 751
Names Index 785
Subject Index 805
See More
Alan Slater is Associate Professor in Developmental Psychology at the University of Exeter, UK. He is the co-editor of several books including The Blackwell Reader in Developmental Psychology, Introduction to Infant Development, Theories of Infant Development, and the six-volume set Psychology of Infancy.
Gavin Bremner is Professor of Developmental Psychology at Lancaster University, UK. He is the author and editor of many books, including the popular textbook Infancy, The Wiley-Blackwell Handbook of Infant Development, Theories of Infant Development, and the six-volume set Psychology of Infancy.
See More
New chapters 7 and 8, on social development in infancy, and the development of self and gender.
More on findings from neuroscience.
More critical analysis of theories.
An expanded website including video materials as well as:
Student self-test multiple choice questions
Flashcards
Online glossary
Large Instructor testbank
Downloadable figures and tables
Guide to teaching topically using the book
Free access to Wiley-Blackwell journal articles reference in the text
PowerPoint lecture slides


See More
Written at an easy-to-comprehend level by an international team of respected researchers, conveying their knowledge with enthusiasm and skill
Full supporting materials - chapter overviews, discussion questions, suggestions for further reading, and glossary
Chapters covering applied issues in developmental psychology
See More
Instructors Resources
Request a print evaluation copy
Contact us

Contact your Wiley Representative
Find Your Rep

See More
See Less
More in this series
Learn more about