E-book
Introduction to Qualitative Research Methods: A Guidebook and Resource, 4th Edition
ISBN: 978-1-118-76729-0
416 pages
September 2015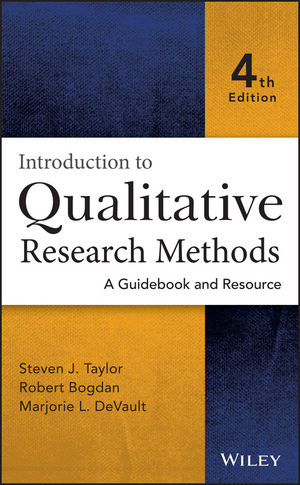 An informative real-world guide to studying the "why" of human behavior
Introduction to Qualitative Research Methods is a practical, comprehensive guide to the collection and presentation of qualitative data. Unique in the market, this book describes the entire research process — from design through writing — illustrated by examples of real, complete qualitative work that clearly demonstrates how methods are used in actual practice. This updated fourth edition includes all new case studies, with additional coverage of mixed methods, non-sociological settings, funding, and a sample interview guide. The studies profiled are accompanied by observation field notes, and the text includes additional readings for both students and instructors. More than just theory, this guide is designed to give you a real-world practitioner's view of how qualitative research is handled every step of the way.
Many different disciplines rely on qualitative research as a method of inquiry, to gain an in-depth understanding of human behavior and the governing forces behind it. Qualitative research asks "why" and "how," and the data is frequently complex and difficult to measure. This book shows you how to effectively handle qualitative work, regardless of where it's being applied.
Understand the strengths and limitations of qualitative data
Learn how experts work around common methodological issues
Compare actual field notes to the qualitative studies they generated
Examine the full range of qualitative methods throughout the research process
Whether you're studying sociology, psychology, marketing, or any number of other fields, especially in the social and behavioral sciences, human behavior is the central concern of your work. So what drives human behavior? That's what qualitative research helps to explain. Introduction to Qualitative Research Methods gives you the foundation you need to begin seeking answers.
See More
Acknowledgments xi
PART ONE : Among the People: How to Conduct Qualitative Research 1
Chapter 1 Introduction: Go to the People 3
A Note on the History of Qualitative Methods 4
Qualitative Methodology 7
Theory and Methodology 11
Notes 28
Chapter 2 Research Design and Pre-Fieldwork 29
Research Design 29
Selecting Settings 32
Obtaining Institutional Review Board Approval 34
Writing Proposals 40
Access to Organizations 44
Access to Public and Quasi-Public Settings 46
Access to Private Settings 47
What Do You Tell Gatekeepers and Informants? 49
Collecting Data About Obtaining Access 51
Covert Research 51
Chapter 3 Participant Observation: In the Field 54
Entering the Field 55
Negotiating Your Role 56
Establishing Rapport 58
Participation 62
Key Informants 64
Difficult Field Relations 66
Forming Relationships 68
Field Tactics 69
Asking Questions 73
Learning the Language 76
Field Notes 78
Boundaries of a Study 90
Leaving the Field 91
Triangulation 93
Ethics in the Field 95
Chapter 4 In-Depth Interviewing 101
The Qualitative Interview 102
Types of Interview Studies 103
Choosing to Interview 104
Selecting Informants 107
Approaching Informants 110
Understanding the Interview in Context 114
Managing the Interview Situation 115
Getting People to Talk About What Is Important to Them 118
The Interview Guide 122
Probing 123
Cross-Checks 126
Relations With Informants 128
Recording Interviews 130
Group Interviews 131
The Interviewer's Journal 132
Note 134
Chapter 5 Montage: Discovering Methods 135
Disrupting the "Commonsense World of Everyday Life": Harold Garfinkel 138
Qualitative Research as Autobiography 140
Entering a World Without Words 142
Personal Documents 144
Picturing Disability 146
Photography and Videotaping 148
Official Records and Public Documents 151
Historical and Archival Research 153
Notes 159
Chapter 6 Working With Data: Data Analysis in Qualitative Research 161
Narratives: Descriptive and Theoretical Studies 161
Building Theory 163
Working With Data 168
Constructing Life Histories 194
PART TWO: Writing Qualitative Research: Selected Studies 197
Chapter 7 Writing and Publishing Qualitative Studies 199
What You Should Tell Your Readers 200
Some Tips on Writing 203
Common Mistakes in Writing From Qualitative Data 207
Publishing Qualitative Studies 210
Selected Studies 213
Chapter 8 "You're Not a Retard, You're Just Wise": Disability, Social Identity, and Family Networks 215
Steven J. Taylor
Chapter 9 Producing Family Time: Practices of Leisure Activity Beyond the Home 247
Marjorie L. DeVault
Chapter 10 Ethnicity and Expertise: Racial-Ethnic Knowledge in Sociological Research 267
Marjorie L. DeVault
Chapter 11 Citizen Portraits: Photos of People With Disabilities as Personal Keepsakes 289
Robert Bogdan
Chapter 12 "They Asked for a Hard Job": World War II Conscientious Objectors on the Front Lines 312
Steven J. Taylor
Closing Remarks 335
Appendix 1
Field Notes 338
Appendix 2
Interview Guide Template 351
Peter Ibarra
References 354
Author Index 381
Subject Index 391
See More
Steven Taylor, PhD is professor of cultural foundations of education, centennial professor of disability studies, and co-director of Syracuse University's Center on Disability Studies, Law, and Human Policy. He is the author of numerous books and articles He was the recipient of the 1997 Research Award of the American Association on Mental Retardation, the 2003 Syracuse University Chancellor's Citation for Exceptional Academic Achievement, and the 2008 Senior Scholar Award of the Society for Disability Studies.
Robert Bogdan, PhD is a Distinguished Professor Emeritus of Social Science and Education at Syracuse University. After serving as a Peace Corps volunteer in Nigeria (1964-1966) he went to graduate school in sociology. He joined the faculty at Syracuse University in 1971. He has won many awards for his writing and teaching including an honorary doctorate degree from Stockholm University.
Marjorie DeVault, PhD is the Maxwell Professor of Teaching Excellence and the undergraduate director of the department of Sociology at Syracuse University. Her special areas of interest include gender studies, qualitative methodology, feminist studies, and social interaction. . She maintains an IE website at http://faculty.maxwell.syr.edu/mdevault/Default.htm.
See More