Textbook
Understanding the Religions of the World: An Introduction
ISBN: 978-1-118-76756-6
520 pages
June 2015, ©2014, Wiley-Blackwell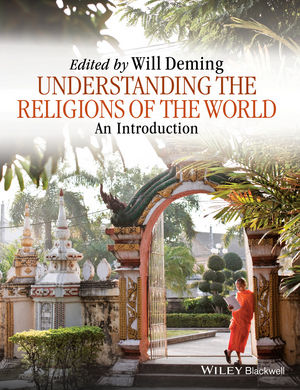 Understanding the Religions of the World offers a new approach to the study of religion which moves away from the purely descriptive and instead helps students understand how religions actually 'work'. Covering all the main faith traditions, it combines historical context, contemporary beliefs and practices, and original theory, with numerous study features and valuable overviews.


A major new student-focused textbook concentrating on contemporary practices and beliefs of world religions
Brings together a team of experts to provide a uniquely comprehensive coverage of religious traditions, including African religions and the religions of Oceania, which are rarely covered in detail
Integrates original theory by arguing that each religion operates according to its own logic and order, and that they fulfill our need for a point of orientation
Incorporates extensive student features including chapter introductions, 'did you know?' sections, boxed examples/material, numerous images and maps, conclusions, study questions and teaching plans, available on publication at www.wiley.com/go/deming
See More
Contributors vii
Preface for Teachers ix
A Note about the Chapter Features xii
About the Website xiii
Introduction 1
1 Hinduism 9
2 Buddhism 61
3 Chinese Religion 115
4 Japanese Religion 167
5 African Religions 201
6 Religions of Oceania 237
7 Judaism 269
8 Christianity 325
9 Islam 389
10 Change in Religions and New Religions 449
Glossary of Key Terms 481
Index 495
See More
Will Deming is a Professor in the Department of Theology at the University of Portland. He specializes in Pauline Studies and his primary academic interests are in New Testament, early Christian literature, Second Temple Judaism, and Greco-Roman culture. His major publications include Rethinking Religion (2005) and Paul on Marriage and Celibacy, 2nd edition (2004).
See More
The headlines in our daily news make it all too clear that our world is in tragic need of greater understanding of the diversity of religions in history and today. The approach and the resources in Understanding the Religions of the World are valuable aids for teachers and students in their efforts to meet the challenges of understanding religions from the inside out.
Charles Hallisey, Harvard University

Religion is an important topic in today's world. To know the basics of the world's religions is to gain access to some of the greatest thinkers of all time about some of the most significant matters to all people everywhere. To learn the history of the great faith traditions is to become acquainted with the history of the human race and to see where it has come from. And by becoming familiar with the beliefs of these faith traditions, one can become a citizen of the world and see where we, as a race, might someday be. But where can one find an adequate guide to this important subject? The answer is now clear. In this book!
Erik W. Larson, Florida International University ​
Recent trends in religious studies tend to analyze religions with attention to historical change and consciousness. Understanding the Religions of the World pulls off the huge accomplishment in this respect and distinguishes itself among its competitors by exhibiting an awareness to these dual perspectives throughout the textbook. Each chapter is presented by experts, filled with unusual insights and the editor Will Deming has produced a piece of work that is easily readable yet thought-provoking, but, more importantly, one that articulates big conceptual ideas of each religion in a practical way which make it highly recommendable to all first year undergraduate students.
Mehmet Karabela, Queen's University, Canada


Understanding the Religions of the World, is not only an insightful and engaging text in the study of religion as a human, cultural, social and sacred phenomenon, it is also an in depth survey of a wide variety of religious traditions across many regions of the globe. With clear and readable discussions of several topics and themes central to understanding how these traditions are lived and experienced in diverse cultures and societies, this unique volume serves as an excellent text for introducing students to the nuances and complexity of how religion works in many places and how religions serves as the most pivotal phenomenon that defines a people's identity and life situations. What is unique about it is that the volume successfully combines a deep knowledge of the various traditions with methods and approaches for studying and understanding them. The text faithfully presents how the devotees understand and view their traditions and how the traditions have creatively responded to modernity and change. Moreover, the volume deploys important tools and resources for interpreting the traditions. Its interdisciplinary reach will make the book an essential reading for students of religion, anthropology, sociology and cultural studies.
Jacob K. Olupona​, Harvard University


The author has achieved a difficult task in tackling the world's religions in one succinct volume that is accessible to undergraduates. What makes it distinct and unique is its inclusion of African and Oceanic religious traditions alongside the more predictable "world" religions, giving it a valuable comparative edge. The writing is clear and engaging, and the visual aids - such as maps, photographs, and graphs - add to the attractiveness of the volume. I look forward to using it in introductory courses on religions.
Frank J. Korom, Boston University
See More
Instructors Resources
Request a print evaluation copy
Contact us

Contact your Wiley Representative
Find Your Rep

See More
See Less