E-book
Global Heritage: A Reader
ISBN: 978-1-118-76910-2
288 pages
April 2015, Wiley-Blackwell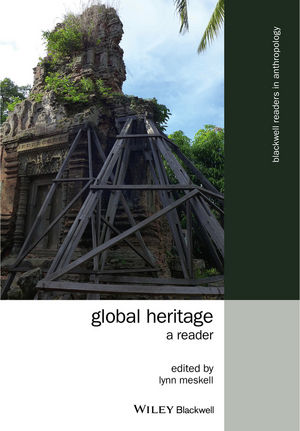 Examines the social, cultural and ethical dimensions of heritage research and practice, and the underlying international politics of protecting cultural and natural resources around the globe.
Focuses on ethnographic and embedded perspectives, as well as a commitment to ethical engagement
Appeals to a broad audience, from archaeologists to heritage professionals, museum curators to the general public
The contributors comprise an outstanding team, representing some of the most prominent scholars in this broad field, with a combination of senior and emerging scholars, and an emphasis on international contributions
See More
Notes on Contributors viii
Introduction: Globalizing Heritage 1
Lynn Meskell
1 UNESCO and New World Orders 22
Lynn Meskell and Christoph Brumann
2 Neoliberalism, Heritage Regimes, and Cultural Rights 43
Rosemary J. Coombe and Lindsay M. Weiss
3 Civil Societies? Heritage Diplomacy and Neo-Imperialism 70
Morag M. Kersel and Christina Luke
4 Bridging Cultural and Natural Heritage 94
Denis Byrne and Gro Birgit Ween
5 Communities and Ethics in the Heritage Debates 112
Chip Colwell and Charlotte Joy
6 Heritage Management and Conservation: From Colonization to Globalization 131
Webber Ndoro and Gamini Wijesuriya
7 Heritage and Violence 150
Alfredo González-Ruibal and Martin Hall
8 Urban Heritage and Social Movements 171
Chiara De Cesari and Michael Herzfeld
9 Sustainable Development: Heritage, Community, Economics 196
Sophia Labadi and Peter G. Gould
10 Transnationalism and Heritage Development 217
Kathryn Lafrenz Samuels and Ian Lilley
11 Heritage and Tourism 240
Noel B. Salazar and Yujie Zhu
Index 259
See More
Lynn Meskell is Professor of Anthropology and Director of the Archaeology Center at Stanford University. Before coming to Stanford in 2005 she was Professor of Anthropology at Columbia University. She is Honorary Professor at the University of the Witwatersrand, Johannesburg. Some of her recent books and edited collections include Cosmopolitan Archaeologies (2009) and The Nature of Culture: The New South Africa (Blackwell, 2011). Her new research focuses on the role of UNESCO in terms of heritage rights, sovereignty and international politics.
See More
More in this series