Open Innovation: New Product Development Essentials from the PDMA
ISBN: 978-1-118-77077-1
384 pages
October 2014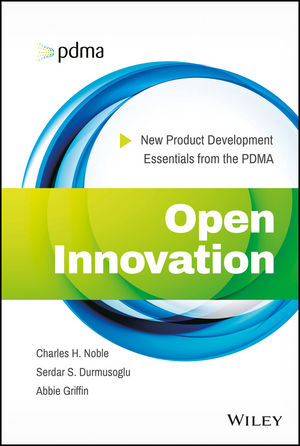 A clear, practical guide to implementing Open Innovation for new product development
Open Innovation: New Product Development Essentials from the PDMA is a comprehensive guide to the theory and practice of the Open Innovation method. Written by experts from the Product Development and Management Association, the book packages a collection of Open Innovation tools in a digestible and actionable format. Real-world case studies drawn from the authors' own successes and failures illustrate the concepts presented, providing accurate representation of the opportunities and challenges of Open Innovation implementation. Key tools are presented with a focus on immediate applications for business, allowing NPD professionals to easily discern where this cutting edge development method can push innovation forward.
Open Innovation assumes that companies can and should use both internal and external ideas and paths to market, permeating the boundaries between firm and environment. Innovations transfer outward and inward through purchase, licensing, joint ventures, and spin-offs, allowing companies to expand beyond their own research and dramatically improve productivity through collaboration. PDMA Essentials provides practical guidance on exploiting the Open Innovation model to these ends, with clear guidance on all aspects of the new product development process. Topics include:
Product platforming and idea competitions
Customer immersion and interaction
Collaborative product design and development
Innovation networks, rewards, and incentives
Many practitioners charged with innovation have only a vague understanding of the specific tools available for Open Innovation, and how they might be applied. As the marketplace shifts dramatically to keep pace with changing consumer behaviors, remaining relevant increasingly means ramping up innovation processes. PDMA Essentials provides the tools NPD practitioners need to implement a leading innovation method, and drive continued growth.
See More
Introduction: The Journey into Open Innovation xiii
Charles H. Noble
Serdar S. Durmusoglu
PART 1: OPEN INNOVATION IN THE FUZZY FRONT END 1
1 DE?]BOTTLENECKING OPEN INNOVATION: TURNING PATENT?]BASED TECHNOLOGY NETWORK ANALYSIS INTO VALUE 3
Manfred Stadlbauer
Gerhard Drexler
1.1 Methods of Patent Analysis and Data Mining 3
1.2 Patent Analytics for Identifying Open Innovation Partners 12
1.3 Nanotechnology Case Study 18
1.4 Conclusion 24
2 OPEN FORESIGHT WORKSHOPS FOR OPPORTUNITY IDENTIFICATION 27
Christiane Rau
Fiona Schweitzer
Oliver Gassmann
2.1 Corporate Foresight Workshops and Processes 28
2.2 Opening Up the Foresight Process 30
2.3 Stages of Opening Up the Foresight Process 32
2.4 Pitfalls to Avoid 45
2.5 Keys to Success 46
2.6 Conclusion 50
PART 2: OPEN INNOVATION IN THE DEVELOPMENT STAGE 53
3 KEEPING UP WITH THE VIRTUAL VOICE OF THE CUSTOMER—SOCIAL MEDIA APPLICATIONS IN PRODUCT INNOVATION 57
Anna Dubiel
Tim Oliver Brexendorf
Sebastian Glöckner
3.1 Introduction 57
3.2 The Voice of the Virtual Customer 59
3.3 The Social Media Phenomenon 59
3.4 Social Media in New Product Development 62
3.5 Success Factors 76
3.6 Conclusion 78
4 PREDICTION, PREFERENCE, AND IDEA MARKETS: HOW CORPORATIONS CAN USE THE WISDOM OF THEIR EMPLOYEES 81
Peter Koen
4.1 Introduction 81
4.2 Virtual Stock Markets in Corporations: Prediction, Preference, and Idea Markets 83
4.3 How Well Do Prediction, Preference, and Idea Markets Work in Corporations? 89
4.4 Implementing a Stock Market in Corporations 95
4.5 Choosing a Virtual Stock Market Software Platform 100
4.6 Conclusions 103
About the Contributor 105
5 CATALYZING TACIT KNOWLEDGE EXCHANGE WITH VISUAL THINKING TECHNIQUES TO ACHIEVE PRODUCTIVE OPEN INNOVATION COLLABORATIONS 107
Karen A. Kreutz
Kim D. Benz
5.1 Introduction 107
5.2 Visual Thinking Introduction 109
5.3 Visual Thinking and Open Innovation Endeavors 114
5.4 Understanding the Tacit Knowledge Exchange Challenges 117
5.5 Using Visual Thinking in OI Teams 122
5.6 Conclusions 129
6 USER COLLABORATION THROUGH PRIVATE ONLINE COMMUNITIES 135
Thomas Troch
Tom De Ruyck
6.1 Introduction 135
6.2 From Crowd?]Everything to Co?]Everything 136
6.3 Crowdsourcing, Co?]creation, and Structural Collaboration 137
6.4 Private Online Communities 138
6.5 How to Get Started with Private Online Communities 153
6.6 Conclusion 169
PART 3: OPEN INNOVATION WITH UNIVERSITIES 173
7 COLLABORATIVE INNOVATION ACROSS INDUSTRYACADEMY AND FUNCTIONAL BOUNDARIES: HOW COMPANIES INNOVATE WITH INTERDISCIPLINARY FACULTY AND STUDENT TEAMS 175
Jelena Spanjol
Michael J. Scott
Stephen Melamed
Albert L. Page
Donald Bergh
Peter Pfanner
7.1 Introduction 176
7.2 The IPD Model: Resolving Major Open Innovation Challenges 177
7.3 Concept Prototypes: Virtual and Physical 194
7.4 Conclusion 199
Appendix A 200
Appendix B 201
Appendix C 212
Appendix D 214
Appendix E 218
About the Contributors 222
8 OPEN INNOVATION: A FRAMEWORK FOR COLLABORATIVE PRODUCT DEVELOPMENT BETWEEN
INDUSTRY AND UNIVERSITIES 225
Aruna Shekar
8.1 Introduction 225
8.2 Open Innovation Program 226
8.3 A Framework for Open Innovation between University and Industry 227
8.4 An Example of an Open Innovation Project 234
8.5 What Industry Partners Can Expect from Open Innovation Projects 237
8.6 Challenges in University?]Industry Collaborations 239
8.7 Company Feedback from Industry Partners 240
8.8 Keys to Success 240
8.9 Pitfalls to Avoid 242
8.10 Benefits of the Open Innovation Program 243
8.11 Conclusions 243
About the Contributor 244
Appendix A 246
Appendix B 248
Appendix C 253
Appendix D 254
PART 4: OPEN INNOVATION FOR REALLY BIG INITIATIVES 257
9 OPEN INNOVATION AS A DISCOVERY SOLUTION FOR CONFRONTING THE
EXTRAORDINARY CHALLENGE 259
Christopher W. Miller
9.1 Surfing on Innovation Impact Waves: The Source of the Really Big Problem 260
9.2 Process, Purpose, and Payoff 260
9.3 Conclusion 276
PART 5: BEST PRACTICES AND ADVICE FOR OPEN INNOVATION 279
10 HOW TO WORK WITH SMALL COMPANIES TO EXPAND YOUR OPEN INNOVATION CAPABILITIES 281
Donna Rainone
Mike Rainone
Louise Musial
10.1 Introduction 281
10.2 Definitions 282
10.3 Background of Open Innovation 283
10.4 Two Paths: The Intraprenurial Organization versus the Outsourced Organization 284
10.5 How to Build Entrepreneurship within a Large Corporation 288
10.6 Why Working With Small Companies Is Important 293
10.7 Conclusion 295
11 BOOSTING OPEN INNOVATION BY LEVERAGING BIG DATA 299
Gerhard Drexler
Andrej Duh
Andreas Kornherr
Dean Korošak
11.1 Open Innovation and Big Data 299
11.2 Big Data Applications in Today's World 306
11.3 Big Data Analytics in Action 308
11.4 Keys to Success and Pitfalls to Avoid 313
11.5 Conclusions 315
12 AMERICAN PRODUCTIVITY AND QUALITY CENTER BEST PRACTICES STUDY: USING OPEN INNOVATION TO GENERATE IDEAS 319
Christopher W. Miller
G. Anne Orban
Becky Partida
Andrea Stroud
Paige Leavitt
12.1 Open Innovation Best Practices Study 320
12.2 Open Innovation Best Practices 321
12.3 Eleven Best Open Innovation Practices 322
12.4 Open Innovation Enablers 333
12.5 Conclusion 337
INDEX 339
See More
CHARLES H. NOBLE is the Proffitt's Professor of Marketing and Director of the Marketing PhD Program at the University of Tennessee, where he teaches courses in product development and innovation. He is also the Vice Chair for the PDMA.
SERDAR S. DURMUSOGLU is Associate Professor of Marketing at the University of Dayton. He teaches new product development, innovation, and entrepreneurship.
ABBIE GRIFFIN holds the Royal L. Garff Presidential Chair in Marketing at the David Eccles School of Business at the University of Utah. She was editor of the Journal of Product Innovation Management from 1998 to 2003.
See More