Kindle Fire HDX For Dummies
ISBN: 978-1-118-77265-2
288 pages
December 2013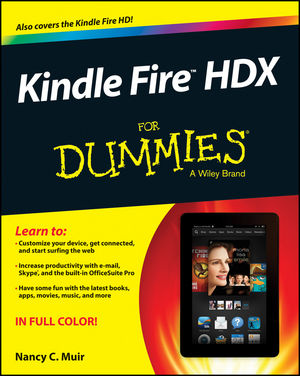 Spark your interest in Kindle Fire HDX and start burning through books, movies, music, and more with this bestselling guide!
The Kindle Fire HDX is Amazon's premiere tablet. With its new, more powerful Android operating system, this latest version has some exciting bells and whistles along with the features that have made the Fire a tablet fan favorite: access to the amazing Amazon Appstore, online music storage, a large music and video store, a huge e-book library, and easy one-step ordering from Amazon. This full-color, For Dummies guide shows you how to take advantage of all the Kindle Fire's functionality including browsing the web, sharing photos, watching videos, playing games, downloading apps, reading newspapers and magazines, and personalizing the device for your needs.
Covers the Kindle Fire HDX and Kindle Fire HD tablets
Walks you through getting connected, navigating the touchscreen interface, working with Kindle Fire's built-in apps, using Amazon Cloud, and getting help from the Mayday feature
Helps you stay in touch with social media, e-mail, and Skype and find what you're looking for online with Amazon's Silk web browser
Shows you how to stay entertained with the latest apps, movies, TV shows, music, games, e-books, and other cool content for your Kindle Fire HDX or Kindle Fire HD
Blaze through Kindle Fire HDX For Dummies and start taking advantage of the hottest tablet in town today!
See More
Introduction 1
Part I: Getting Started with Kindle Fire HDX  5
Chapter 1: Overview of the Kindle Fire HDX 7
Chapter 2: Kindle Fire HDX Quickstart 23
Chapter 3: Kindle Fire HDX Settings 49
Part II: Taking the Leap Online  75
Chapter 4: Going Shopping 77
Chapter 5: Going Online 99
Part III: Having Fun and Getting Productive 123
Chapter 6: E-Reader Extraordinaire 125
Chapter 7: Playing Music 151
Chapter 8: Playing Video 167
Chapter 9: Going Social 181
Chapter 10: Getting Productive with Kindle Fire HDX 197
Part 4: The Part of Tens  223
Chapter 11: Ten Apps That Add Functionality to Kindle Fire HDX 225
Chapter 12: Ten (or So) Top Gaming Apps 239
Index  253
See More
Nancy C. Muir is a writer and consultant as well as the author of more than 100 books on business and technology topics. Her credits include multiple editions of Kindle Fire For Dummies, Computers For Seniors For Dummies, and Laptops For Seniors For Dummies.
See More