Textbook
A Woman's Dilemma: Mercy Otis Warren and the American Revolution, 2nd Edition
ISBN: 978-1-118-77501-1
216 pages
January 2015, ©2015, Wiley-Blackwell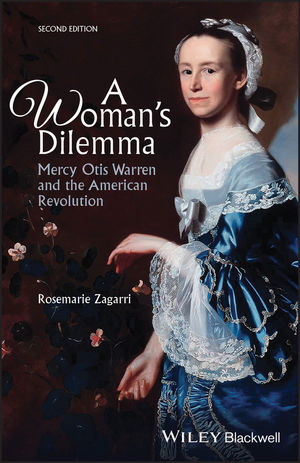 The second edition of
A Woman's Dilemma: Mercy Otis Warren and the American Revolution
updates Rosemarie Zagarri's biography of one of the most accomplished women of the Revolutionary era. The work places Warren into the social and political context in which she lived and examines the impact of Warren's writings on Revolutionary politics and the status of women in early America.
Presents readers with an engaging and accessible historical biography of an accomplished literary and political figure of the Revolutionary era
Provides an incisive narrative of the social and intellectual forces that contributed to the coming of the American Revolution
Features a variety of updates, including an in-depth Bibliographical Essay, multiple illustrations, a timeline of Warren's life, and chapter-end study questions
Includes expanded coverage of women during the Revolutionary Era and the Early American Republic
See More
Acknowledgments viii
A Partial Genealogy of the Family of Mercy Otis Warren xi
Map: Massachusetts in 1782 xii
Timeline: Mercy Otis Warren/The American Revolution xiii
Introduction xv
1 The First Friends of Her Heart 1
2 Politics as a Family Affair 23
3 Her Pen as a Sword 49
4 War Widows 79
5 An Old Republican 99
6 "History is not the Province of the Ladies" 135
Conclusion: The Line Beyond Her Sex 164
Bibliographical Essay 172
Index 186
See More
Rosemarie Zagarri is University Professor and Professor of History at George Mason University in Fairfax, Virginia. She is the author of The Politics of Size: Representation in the United States, 1776-1850 (1987) and Revolutionary Backlash: Women and Politics in the Early American Republic (2007). She is also editor of David Humphreys' "Life of General Washington" with George Washington's "Remarks" (1991).
See More