E-book
Landlord's Legal Kit For Dummies
ISBN: 978-1-118-77511-0
408 pages
June 2014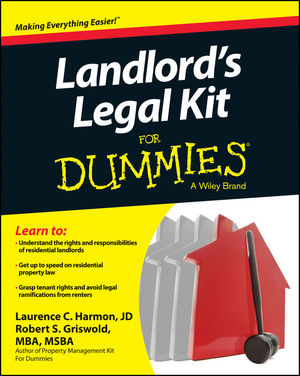 The landlord's essential guide to residential rental law
Landlord's Legal Kit For Dummies is a comprehensive guide to the laws and legalities of renting property. This one-stop legal reference provides both guidance and the correct forms that help landlords avoid tenant issues, which could lead to legal ramifications. From screening potential tenants to handling your own insurance and taxes, you'll find expert insight in this easy-to-read style that simplifies complex legal matters into understandable terms. The book includes access to all the needed legal forms in both English and Spanish, and contains current information about applicable codes, ordinances, and policies across the country.
Landlords have a responsibility to provide a safe, fully operational home for their tenants, and oversights can result in major court settlements. As a landlord, you need to know what the law requires of you. You also need to understand your rights, and the actions available to you when the tenant is in the wrong. This resource brings you up to speed, with the most current information about residential rental property law. The book covers privacy rights, domicile laws, paperwork, and more.
Features up-to-date lease forms and contracts available for download online
Provides information about applicant screening questionnaires and anti-discrimination policies
Includes state and local building codes, health ordinances, and landlord-tenant laws
Instructs you how to handle breach of lease situations and evictions
There's even guidance on hiring a lawyer to protect your assets, property, and rights. Ignorance of the law is no excuse in court, and it frequently leads to misunderstandings that can hurt your wallet and your reputation. Before you lease another property, get all your ducks in a row with the essential instruction and tools in Landlord's Legal Kit For Dummies.
See More
Introduction 1
Part I: Getting Started with Landlording Fundamentals 5
Chapter 1: Grasping the Legal Fundamentals of Managing Residential Rentals 7
Chapter 2: Protecting Your Legal Assets 23
Chapter 3: Taking Possession of a Rental Property 41
Chapter 4: Hiring a Property Manager 59
Part II: Advertising and Taking on New Residents Legally 75
Chapter 5: Getting the Lowdown on Fair Housing 77
Chapter 6: Exploring the Legal Aspects of Advertising 99
Chapter 7: Addressing the Legalities of Rent Collection and Rent Control 111
Chapter 8: Screening Applicants: Knowing When to Approve or Reject Them 137
Chapter 9: Composing Your Rental Contract 153
Chapter 10: Establishing a Security Deposit Policy 185
Chapter 11: Moving in a New Resident 201
Part III: Recognizing Your Responsibilities and Liabilities 221
Chapter 12: Repairing and Maintaining the Premises 223
Chapter 13: Minimizing Injuries from Potentially Dangerous Conditions 245
Chapter 14: Preventing and Eliminating Hazardous Environmental Conditions 259
Chapter 15: Protecting Residents and Workers from Criminal Acts 277
Chapter 16: Understanding Resident Privacy and Your Right to Enter the Premises 297
Chapter 17: Resolving Landlord-Resident Disputes 309
Part IV: Changing and Ending Leases 321
Chapter 18: Handling Cotenancies, Sublets, Assignments, and Guests 323
Chapter 19: Revising and Terminating Rental Contracts 331
Chapter 20: Moving a Resident Out 349
Part V: The Part of Tens 357
Chapter 21: Ten Tips for Staying Out of Legal Trouble 359
Chapter 22: Ten (or So) Tips for Being a Better Landlord 365
Index 371
See More
Laurence C. Harmon, JD, is the CEO of HARMONLAW LLC, specializing in apartment-related legal and property management consulting.
Robert S. Griswold, MBA, MSBA, is a successful real estate investor and property manager with a large portfolio of residential and commercial rental properties.
See More