E-book
Kitchen & Bath Products and Materials: Cabinetry, Equipment, Surfaces, 2nd Edition
ISBN: 978-1-118-77531-8
368 pages
November 2014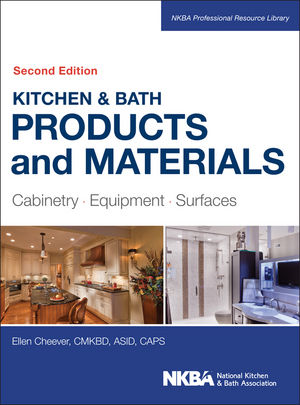 Objective guidance on kitchen and bath fitting choice to suit any client and any space
Kitchen and Bath Products and Materials describes the typical materials, equipment, and surfaces used in all facets of residential kitchen and bath design. Part of the National Kitchen and Bath Association's Professional Resource Library, this comprehensive reference is fully updated and expanded to include new technologies, materials, and finishes, with considerations of sustainability throughout. Full color illustrations and a revised design help visual learners better absorb the information, and the companion website provides an image bank and instructor's guide for classroom use. Each chapter includes a summary and review questions, allowing readers to test their grasp of the material at every step.
Kitchen and bath design is the most popular and lucrative area within residential interior design. As such, the enormous amount of options available for surfaces, fixtures, and materials is far too vast to be navigated by taste and aesthetics alone. Kitchen and Bath Products and Materials provides the background designers need to choose what's best for the client and the space, based on a number of objective factors and technical details. This complete handbook allows readers to:
Explore material options for storage systems, fixtures, fittings, and surfaces
Become familiar with sizing systems, efficiency ratings, and certifications
Consider factors like manufacturing processes, engineering, and configuration
Learn the terms and nomenclature used to describe materials, fixtures, and appliances
Design is about more than just aesthetics – whether the project is a remodel or new construction, there are codes, standards, and functional requirements that must be met. Kitchen and Bath Products and Materials is a practical reference, providing the information designers need to make informed decisions.
See More
PREFACE xiii
ACKNOWLEDGMENTS xv
CHAPTER 1 Cabinetry 1
Cabinet Types 2
Responsible Resource Management in the Cabinet Industry 5
KCMA Certification Program 9
Cabinet Sizing Systems: Imperial and Metric 12
Cabinet Manufacturing Systems 18
Cabinet Interior Storage Systems 23
Cabinet Mechanical/Functional Hardware 38
Cabinet Sizes 43
Cabinet Core Materials 58
Cabinet Interior and Exterior Finish Materials/Systems 61
Typical Door Styles 83
Cabinet Millwork Design Details 87
Generic Cabinet Nomenclature 89
Summary 90
Review Questions 90
CHAPTER 2 Appliance Types and Planning Considerations 91
Selecting More Efficient Appliances 92
Energy Guide and Energy Star Labels 92
Kitchen Food Preservation Center 96
Kitchen Waste Management 104
Cooking Center 108
Summary 135
Review Questions 135
CHAPTER 3 Fixture Materials 137
Protecting Materials from Bacteria 137
Fixture Construction 138
Summary 151
Review Questions 151
CHAPTER 4 Fixture Design and Planning Considerations 153
Kitchen Sink And Bathroom Lavatory Fixtures 154
Toilet Fixtures 165
Bidet Fixtures 171
Residential Urinal Fixtures 173
Bathtub Fixtures 173
Shower Stall Fixtures 186
Bathtub/Shower Combination Unit Fixtures 190
Summary 191
Review Questions 192
CHAPTER 5 Fitting Materials , Engineering , and Configuration 193
Construction Materials 194
Planning Considerations When
Combining Finishes 195
Kitchen and Bathroom Faucet
Fitting Engineering 199
Summary 210
Review Questions 210
CHAPTER 6 Bathtub and Shower Fitting
Design and Engineering 211
Bathtub Fittings 211
Bathtub/Shower Combination Fittings 215
Shower Fittings 216
Steam Showers And Saunas 226
Summary 230
Review Questions 231
CHAPTER 7 Surfacing Materials 233
Sustainable Choices 233
Solid Wood Counter Surfaces 234
Cast Polymers: Counter Surfaces And Wet Wall Surfaces 236
Ceramic Tile: All Surfaces 239
Concrete 257
Cork Flooring 258
Glass Surfaces 259
Hardwood Flooring 261
Laminates 263
Paint 268
Quartz Composite 269
Solid Surfacing 271
Metal Countertops 272
Stone 273
Vinyl Resilient Flooring 282
Wallpaper 282
Summary 284
Review Questions 284
Appendix A: Generic Cabinet Nomenclature 285
Appendix B: Appliance Checklist 321
GLOSSARY 327
RESOURCES 339
INDEX 345
See More
ELLEN CHEEVER, CMKBD, ASID, CAPS is an innovative kitchen and bath designer and an influential author in the industry. She has written over 20 books and manuals on kitchen and bathroom standards, and is a regular columnist for Kitchen & Bath Design News magazine.
See More