The Wiley Handbook of Anxiety Disorders
ISBN: 978-1-118-77535-6
1440 pages
May 2014, Wiley-Blackwell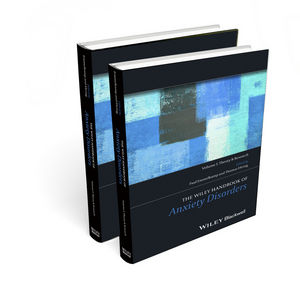 This two-volume, state-of-the-art Handbook on the research and treatment of anxiety and related disorders is the most internationally and clinically oriented Handbook currently available, encompassing a broad network of researchers, from leading experts in the field to rising stars.
The very first handbook to cover anxiety disorders according to the new DSM-5 criteria
Published in two volumes, the International Handbook provides the most wide-ranging treatment of the state-of-the-art  research in the anxiety disorders
Offers a truly international aspect, including authors from different continents and covering issues of relevance to non-Western countries
Includes discussion of the latest treatments, including work on persistence of compulsions, virtual reality exposure therapy, cognitive bias modification, cognitive enhancers, and imagery rescripting
Covers treatment failures, transdiagnostic approaches, and includes treatment issues for children as well as the older population
Edited by leaders in the field, responsible for some of the most important advances in our understanding and treatment of anxiety disorders
See More
Paul Emmelkamp is a Professor of Clinical Psychology at the University of Amsterdam and a registered clinical psychologist and psychotherapist. His research in this area focuses on the aetiology and treatment of anxiety disorders, posttraumatic stress disorder and OCD and the role of co-morbidity. He is the founding editor of Clinical Psychology & Psychotherapy and editor of BMC-Psychiatry. He is the author of Evidence-based treatment for Alcohol and Drug Abuse (with E. Vedel, 2006) and of Personality Disorders (with J. H. Kamphuis, 2007).
Thomas Ehring is a Professor of Clinical Psychology and Psychotherapy at the University of Münster, Germany, as well as a registered clinical psychologist and Director of the Centre for PTSD Treatment at Münster University. He has authored many journal articles as well as contributing chapters to several books including Cognitive Behavioral Theories in Clinical Practice (2009).  
See More
This impressive two-volume handbook includes coverage of almost anything one could want to know about anxiety disorders – theory, epidemiology, assessment, and multiple aspects of treatment. The authors' list is a who's who of experts in anxiety disorders. This book will be of great use to anxiety researchers as well as to students and practitioners in this field.
—Professor Dianne L. Chambless, University of Pennsylvania
See More