E-book
Introduction to Health Care Quality: Theory, Methods, and Tools
ISBN: 978-1-118-77959-0
384 pages
November 2016, Jossey-Bass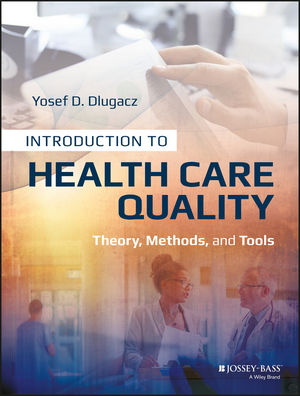 Introduction to Health Care Quality explores the issues of quality management in today's health care environment, and provides clear guidance on new and perennial challenges in the field. The idea of 'quality' is examined in the context of a variety of health care situations, with practical emphasis on assessment, monitoring, analysis, and improvement. Students will learn how to utilize statistical tools, patient data, and more to understand new models of reimbursement, including pay for performance and value-based purchasing. They will also learn how to learn how to incorporate technology into everyday practice. Each chapter centers on an essential concept, but builds upon previous chapters to reinforce the material and equip students with a deeper understanding of the modern health care industry. Real-world situations are highlighted to show the intersection of theory and application, while cutting-edge methodologies and models prepare students for today's data-driven health care environment.
Health care quality is defined and assessed according to setting, with factors such as standards, laws, regulations, accreditation, and consumerism impacting measurement and analysis in tremendous ways. This book provides an overview of this complex field, with insightful discussion and expert practical guidance.
Health care today is worlds away from any other point in history. As the field grows ever more complex, quality management becomes increasingly critical for ensuring optimal patient care. Introduction to Health Care Quality helps students and professionals make sense of the issues, and provide top-notch service in today's rapidly changing health care environment.
See More
List of Figures and Tables xvii
Preface xxi
Acknowledgments xxv
About the Author xxvii
Introduction xxix
PART I: QUALITY MANAGEMENT FUNDAMENTALS 1
1 Foundations of Health Care Quality 3
Defining Quality 4
Contributions of Quality Theorists—Nothing New under the Sun 5
Quality Management Methodologies 14
Organizations Making an Impact on Quality and Safety Standards 16
Centers for Medicare and Medicaid Services 21
Institute for Healthcare Improvement 24
Agency for Health Research and Quality 25
National Quality Forum 27
The Leapfrog Group 27
Data: The Foundation of Quality Management 28
Summary 32
Key Terms 33
Quality Concepts in Action 33
References 33
Suggestions for Further Reading 34
Useful Websites 35
2 Understanding the Impact of Health Care Reform 37
The Affordable Care Act 38
New Models of Payment 42
New Models of Providing Care 47
New Models for Collecting Data 53
Improving Interpersonal Communication 56
Summary 60
Key Terms 60
Quality Concepts in Action 61
References 61
Suggestions for Further Reading 62
Useful Websites 63
3 Making the Case for Change 65
What Is Involved in Change? 66
Managing and Measuring Quality in the Reform Environment 69
Who Is Involved in Change? 71
Changing Communication 77
The Role of Data in Promoting Change 86
Summary 89
Key Terms 90
Quality Concepts in Action 90
References 91
Suggestion for Further Reading 92
Useful Websites 92
4 New Challenges for Health Care Professionals 93
Meeting Statistical Expectations for Standards of Care 94
Meeting Patient Expectations 97
Role of Dashboards 100
Role of Data Analysis 104
Understanding Different Kinds of Data 105
Managing Care for Chronic Illness across the Continuum 109
Managing Aggregated Patient Care Issues 112
Improving Communication 121
Summary 127
Key Terms 127
Quality Concepts in Action 127
References 128
Suggestions for Further Reading 129
Useful Websites 130
5 Improving Patient Safety 133
Understanding Medical Errors and Adverse Events 134
High-Reliability Organizations 139
The Role of Quality Management in Promoting a Safety Culture 142
Prioritizing Improvements 147
Expanding Data Sources: Partnerships to Develop Best Practice 154
Leading Organizational Improvements 155
The Role of Nursing Leaders in Promoting Safety 158
The Role of the Medical Staff in Promoting Safety 162
Promoting Safety through Effective Communication 165
Summary 169
Key Terms 169
Quality Concepts in Action 169
References 170
Suggestions for Further Reading 170
Useful Websites 171
PART II: APPLYING QUALITY TOOLS AND TECHNIQUES 173
6 Working with Quality Tools and Methods 175
Identifying a Problem 176
Describing Information 183
Variability 185
Making Use of Data 188
Significance
Using Quality Tools and Techniques to Improve Safety 189
Clinical Pathways or Care Maps 195
Improving Performance: Plan-Do-Study-Act 201
Summary 206
Key Terms 206
Quality Concepts in Action 206
Suggestions for Further Reading 207
Useful Websites 207
7 Working with Quality Data 209
Working with Measurements 210
Understanding Issues in Data Collection 214
Using Data to Understand Appropriateness of Care 218
The Value of Aggregated Data in Performance Improvement 222
The Role of Data in Managing Chronic Disease 225
Using Data to Monitor Variability 230
Publicly Reported Data 234
Interpreting and Making Use of Data 237
Quality Management in the Future 239
Summary 240
Key Terms 241
Quality Concepts in Action 241
References 241
Suggestions for Further Reading 242
Useful Websites 242
8 Working with Quality and Safety Measures 245
Commitment to Quality 246
The Future of Quality
Using Measures to Understand Care 247
Defining the Measure 250
Process Measures 253
Pay for Performance 263
P4P Measures
Patient Satisfaction Measures 264
Monitoring Measures 268
Safety and Environment of Care Measures 273
Summary 277
Key Terms 277
Quality Concepts in Action 277
References 278
Suggestions for Further Reading 279
Useful Websites 279
9 Translating Information into Action 281
Maximizing Efficiency 282
Determining Appropriate Levels of Care 288
End-of-Life Care/Advanced Illness 289
The Reform Mandate
Understanding Mortality 291
Improving ICU Care 295
Analyzing Readmission 298
Case Example: Readmission
Using Data for Improvements 299
Patient-Centered Care 303
Delivering the Message 305
Summary 308
Key Terms 308
Quality Concepts in Action 309
References 309
Suggestions for Further Reading 310
Useful Websites 311
10 Preparing for the Future 313
The New Quality Management 314
The New Role of Administrators
The Business of Health Care 315
Measurements Are the Nuts and Bolts of Quality 319
Getting Everyone on Board 322
Challenges for the Future 324
Summary 326
Key Terms 327
Quality Concepts in Action 327
Suggestions for Further Reading 327
Useful Websites 328
Index 329
See More
YOSEF D. DLUGACZ, PHD, is the Senior Vice President and Chief of Clinical Quality, Education and Research of the Krasnoff Quality Management Institute of the Northwell Health system. The goal of the Institute is to bridge the gap between theoretical knowledge learned in the academic setting and the realities of applying quality management methods in today's health care reform environment. Dr. Dlugacz's research focuses on developing models that link quality, safety, good clinical outcomes and financial success for increased value and improved efficiencies.
See More