E-book
Sell More With Sales Coaching: Practical Solutions for Your Everyday Sales Challenges
ISBN: 978-1-118-78601-7
208 pages
September 2013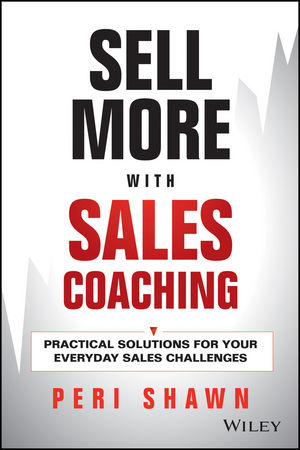 Sales coaching tools and strategies to help you sell more
Sales executives and business leaders are looking for ways to increase their revenues without major changes to their technology, processes or workforce management. When done effectively, sales coaching can be the catalyst that improves sales results, team morale and employee retention. Sell More with Sales Coaching provides results-proven sales coaching material that includes assessment, exercises and sales coaching questions.
As a result of applying the tools and strategies in this book, sales leaders and teams will drive higher revenues and performance by:
Assessing team members' sales capacities
Determining what type of coaching is needed on an individual basis
Identifying sales mistakes being committed by salespeople
Coaching salespeople to avoid committing sales mistakes
Improving the quality of sales conversations
Increasing the quality of conversations within the team
Leveraging the use of CRM during sales coaching
The author's company, the Coaching and Sales Institute, has worked with large sales forces and provided training for the launch of the debit card, and one of the fastest-growing divisions of the Royal Bank of Canada.
See More
Acknowledgments xi
Introduction 1
CHAPTER 1 Ensuring Your Sales Coaching Gets Results 3
CHAPTER 2 Sales Mistake #1: Not Being Clear Who's Buying 17
CHAPTER 3 Sales Mistake #2: Forgetting Why People Buy 33
CHAPTER 4 Sales Mistake #3: Being Self-Focused 47
CHAPTER 5 Sales Mistake #4: Telling Mistruths 63
CHAPTER 6 Sales Mistake #5: Being Ill-Prepared 79
CHAPTER 7 Sales Mistake #6: Taking Too Much of the Client's Time 93
CHAPTER 8 Sales Mistake #7: Sharing What's Not Relevant 107
CHAPTER 9 Sales Mistake #8: Missing Prospects' Buying Cues 119
CHAPTER 10 Sales Mistake #9: Acting like a Traditional Salesperson 131
CHAPTER 11 Sales Mistake #10: Treating Clients as Enemies 145
CHAPTER 12 Making Your Sales Coaching Sustainable 159
BONUS CHAPTER Leveraging Your CRM during Sales Coaching 169
About the Author 191
Index 193
See More
PERI SHAWN is an author, speaker, and leadership coach. Her company, the Coaching and Sales Institute, numbers among its clients firms such as RBC Insurance, Rogers Communications, Canadian Tire Financial Services, Merck, and Hallmark. Peri teaches and coaches corporate sales executives and their teams to sell more. As part of Peri's ongoing research, she has developed groundbreaking proprietary tools that demonstrate how trust affects performance, management, and the client experience. Peri has served as the national president and executive board member of the Canadian Association of Professional Speakers and the Association of Independent Consultants. She was also a member and past international council representative of the Global Speakers Federation (GSF).
See More