E-book
Reading the American Novel 1780 - 1865
ISBN: 978-1-118-78631-4
208 pages
June 2013, Wiley-Blackwell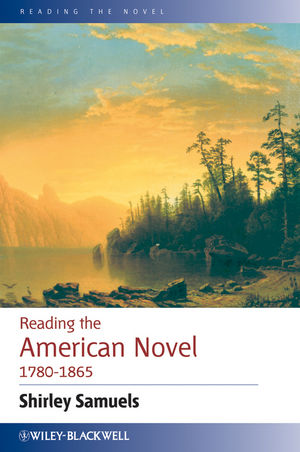 Reading the American Novel 1780-1865
 provides valuable insights into the evolution and diversity of fictional genres produced in the United States from the late 18th century until the Civil War, and helps introductory students to interpret and understand the fiction from this popular period.
Offers an overview of early fictional genres and introduces ways to interpret them today
Features in depth examinations of specific novels
Explores the social and historical contexts of the time to help the readers' understanding of  the stories
Explores questions of identity - about the novel, its 19th-century readers, and the emerging structure of the United States - as an important backdrop to understanding American fiction
Profiles the major authors, including Louisa May Alcott, Charles Brockden Brown, James Fenimore Cooper, Nathaniel Hawthorne, Herman Melville, Harriet Beecher Stowe, alongside less familiar writers such as Fanny Fern, Caroline Kirkland, George Lippard, Catharine Sedgwick, and E. D. E. N. Southworth
Selected by Choice as a 2013 Outstanding Academic Title
See More
Preface vii
Acknowledgments xv
1 Introduction to the American Novel: From Charles Brockden Brown's Gothic Novels to Caroline Kirkland's Wilderness 1
2 Historical Codes in Literary Analysis: The Writing Projects of Nathaniel Hawthorne, Elizabeth Stoddard, and Hannah Crafts 23
3 Women, Blood, and Contract: Land Claims in Lydia Maria Child, Catharine Sedgwick, and James Fenimore Cooper 45
4 Black Rivers, Red Letters, and White Whales: Mobility and Desire in Catharine Williams, Nathaniel Hawthorne, and Herman Melville 67
5 Promoting the Nation in James Fenimore Cooper and Harriet Beecher Stowe 91
6 Women's Worlds in the Nineteenth-Century Novel: Susan B. Warner, Elizabeth Stuart Phelps, Fanny Fern, E. D. E. N. Southworth, Harriet Wilson, and Louisa May Alcott 119
Afterword 151
Further Reading 165
Index 171
See More
Shirley Samuels is Professor of English and American Studies at Cornell University. She is the author of Romances of the Republic (1996) and Facing America (2004), and editor of The Culture of Sentiment (1992) and The Companion to American Fiction, 1780–1865 (2004). She also edited the Cambridge Companion to Abraham Lincoln (2012).
See More
More in this series