E-book
Homogeneous Catalysis for Unreactive Bond Activation
ISBN: 978-1-118-78899-8
648 pages
October 2014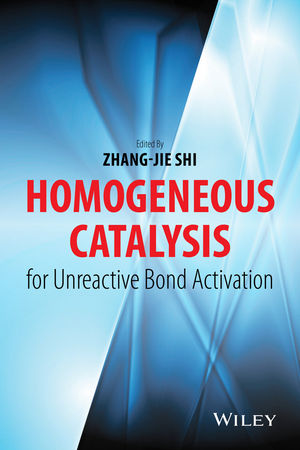 This book offers a comprehensive overview of different catalytic reactions applied to the activation of chemical bonds. Each of the seven chapters covers key C-X classes where carbon is combined with another element: chlorine, fluorine, nitrogen, sulfur, oxygen, hydrogen, and carbon.
The first part of the book discusses homogeneous catalysis in the activation and transformation of C-Cl and C-F, highlighting their basic activation modes, cross-coupling, and intensive mechanisms.
The second part of the book focuses on C-N, C-S, and C-O bonds, mentioning their catalytic pathways. Finally, C-H and C-C bonds, their activation, chemical transformations, and applicability are covered. Overall, the book presents methodologies that can be applied to the efficient synthesis of drug molecules and fine chemicals. Through their presentation, the authors show that synthetic chemistry can be done in greener ways that limit hazards and pollution.
See More
Preface
Contributor List
Chapter 1: Catalysis in C-Cl Activation
Zhong-Xia Wang and Wang-Jun Guo
Chapter 2: Homogeneous Transition-metal Catalyzed C–F Activation
Shang-Dong Yang
Chapter 3: Homogeneous Transition-metal Catalzyed C–N Activation
Xiao-Bing Wan
Chapter 4: Catalytic Carbon-Sulfur Bond Activation and Transformations
Zhengkun Yu
Chapter 5: Homogeneous Transition-Metal-Catalzyed C–O Bond Activation
Da-Gang Yu, Shuang Luo, Fei Zhao, and Zhang-Jie Shi
Chapter 6: Homogeneous Transition-Metal-Catalyzed C–H Bond Functionalization
Bi-Jie Li and Zhang-Jie Shi
Chapter 7: Catalysis in C–C Activation
Hu Li and Zhang-Jie Shi
See More
Zhang-Jie Shi is a Professor in Peking University's College of Chemistry & Molecular Engineering. He is the recipient of several awards including the Second Rank Award of National Natural Sciences (2013), OMCOS Award (2013), Lilly Excellence Chemistry Award (2012), Tetrahedron Young Investigator Award (2011), CCS-RSC Excellent Young Chemist Award (2011) , Distinguished Young Investigator Foundation (NSFC, 2009), CCS-John Wiley Excellent Chemistry Award (2008), Distinguished Young Chemist Award of Chinese Chemical Society (2007), Synlett/Synthesis Journal Award (2006). Dr. Shi has edited a book, published over 100 in leading international journals, and given over 80 lectures at scientific conferences.
See More