Bartending For Dummies, 5th Edition
ISBN: 978-1-118-79126-4
384 pages
January 2014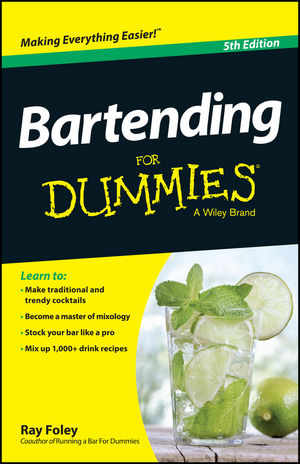 Make and serve drinks like a pro
This latest edition of Bartending For Dummies features over 1,000 drink recipes in an A-Z format with clear, easy-to-follow instructions. This 5th Edition also provides over 40 new cocktails ideas for those who want to know how to serve cocktails professionally, for themselves, or for their guests.
Detailed information on how to properly stock a bar with the latest and greatest glassware and tools
Expanded coverage on making exotic frozen/blended specialties and specialty coffees
Experimenting with the new flavor/buzz in Bourbons and Scotches: honey
The latest flavored rums, gins, ryes, and of course vodkas (buttered, waffle, sherbet, and marshmallow flavored are just a few new editions)
New coverage devoted to craft distillers
Fun, new ways to garnish drinks (even flaming options), rim, and serve drinks like a master mixologist
Tips on creating unique punches and even non-alcoholic drinks
The latest tips and advice on curing hangovers and hiccups
If you're interested in crafting traditional or modern cocktails, Bartending For Dummies has you covered.
See More
Introduction 1
Part I: Getting Started with Bartending 5
Chapter 1: Just for Openers: The Right Tools and Glasses 7
Chapter 3: Setting Up Your Home Bar 23
Chapter 4: Charts and Measures 33
Part II: Distilling the High Points of Various Spirits 41
Chapter 5: American and Canadian Whisk(e)y 43
Chapter 6: Aperitifs, Cordials, and Liqueurs 53
Chapter 7: Beer 63
Chapter 8: Brandy 67
Chapter 9: Cognac and Armagnac 73
Chapter 10: Gin 79
Chapter 11: Irish Whiskey 83
Chapter 12: Rum 87
Chapter 13: Scotch Whisky 93
Chapter 14: Tequila and Mezcal 99
Chapter 15: Vodka 105
Chapter 16: Wine 111
Part III: Cocktail Recipes 119
Chapter 17: Recipes from A to Z 121
Chapter 18: Martini Madness 297
Chapter 19: Drinks for Special Occasions 305
Chapter 20: Breakfast Cocktails 315
Chapter 21: Nonalcoholic Drinks 319
Part IV: The Part of Tens 323
Chapter 22: Ten Toasts to Mark Any Occasion 325
Chapter 23: At Least Ten Cures and Lores 327
Recipes Index 329
Topics Index 361
See More
Ray Foley is the founder and editor of BARTENDER Magazine. A consultant to some of the United States' top distillers and importers, he is responsible for creating and naming new drinks for the liquor industry.
See More