E-book
A Guide to Online Course Design: Strategies for Student Success
ISBN: 978-1-118-79138-7
224 pages
December 2013, Jossey-Bass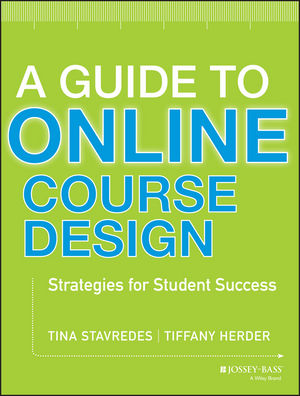 A Guide to Online Course Design offers faculty and professional staff a practical and easy-to-follow model for creating exceptional online courses that focuses on quality standards in instructional design, transparency in learning outcomes, and learner persistence. A comprehensive resource, the book includes effective, research-based instructional strategies to motivate online learners and help them become more self-directed. A Guide to Online Course Design emphasizes quality standards and removing barriers to learners' persistence, which ensures online courses meet the needs of online learners as well as distance education initiatives.
"All faculty members and course designers, regardless of experience level, content background, or technology skills, can benefit from applying the approaches defined in this book. The authors have imparted a wealth of knowledge that can improve the quality of any online class and I highly recommend this book for all those involved with online learning."
- Anton G. Camarota, faculty, University of Denver
"Anyone involved in developing online courses should read this book! Packed with great insights and the research to back them up, Stavredes and Herder guide readers with practical information that will support online course development."
- Brenda Boyd, director of professional development and consulting, Quality Matters Program
"The blend of theory and application makes A Guide to Online Course Design and indispensable resource for any professional seeking to create high quality, outcomes-based learning experiences. I loved the action steps that close each chapter, as they lead the reader through the entire process of course design from analysis to implementation."
- Kathe Kacheroski, dean of curriculum and instruction, Rasmussen College
See More
Exhibits and Figures ix
Preface xi
About the Authors xvii
PART 1 An Introduction to Persistence and Quality Design 1
1 Quality Design to Support Learner Persistence 3
2 The Instructional Design Process 13
PART 2 Analysis of Learners and Learning Outcomes 21
3 Analysis of Online Learner Characteristics and Needs 23
4 Analysis of Learning Outcomes and Competencies 33
PART 3 Design of Course Assessments and Sequence 51
5 Design of Course Assessments 53
6 Sequence of Instruction 69
PART 4 Design of Instructional Strategies 77
7 Foundations of Transformative Learning 79
8 Selection of Instructional Materials 91
9 Design of Effective Course Activities 115
PART 5 Development of Instruction 137
10 Development of Instructional Materials 139
11 Organizing the Course Environment 161
PART 6 Implementation and Evaluation 171
12 Course Evaluations and Maintenance 173
Final Remarks 187
References 189
Index 195
See More
Tina Stavredes has more than fifteen years of experience in online learning. Currently, she is chief academic officer of online services at Corinthian Colleges, Inc. Formerly, she was with Capella University serving in a number of roles including director of curriculum, associate dean, chair, and as a Harold Able distinguished faculty member. Her experience includes managing high-performing online faculty members and developing quality online courses.
Tiffany Herder is a curriculum and instructional designer, collaborating with faculty and cross-functional staff to create quality learning experiences. She has worked in online learning for more than ten years. Formerly, she was a senior instructional designer for Capella University.
See More
Learn more about