E-book
Natural Products: Discourse, Diversity, and Design
ISBN: 978-1-118-79460-9
552 pages
April 2014, Wiley-Blackwell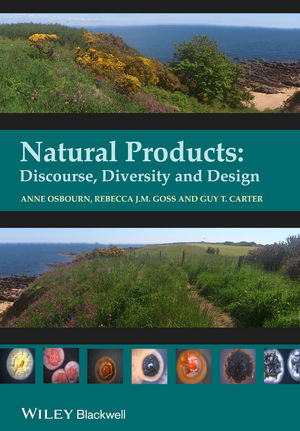 Natural Products: Discourse, Diversity and Design provides an informative and accessible overview of discoveries in the area of natural products in the genomic era, bringing together advances across the kingdoms.  As genomics data makes it increasingly clear that the genomes of microbes and plants contain far more genes for natural product synthesis than had been predicted from the numbers of previously identified metabolites, the potential of these organisms to synthesize diverse natural products is likely to be far greater than previously envisaged.  Natural Products addresses not only the philosophical questions of the natural role of these metabolites, but also the evolution of single and multiple pathways, and how these pathways and products may be harnessed to aid discovery of new bioactives and modes of action.
Edited by recognized leaders in the fields of plant and microbial biology, bioorganic chemistry and natural products chemistry, and with contributions from researchers at top labs around the world, Natural Products is unprecedented in its combination of disciplines and the breadth of its coverage. Natural Produces: Discourse, Diversity and Design  will appeal to advanced students and experienced researchers, from academia to industry, in diverse areas including ecology, industrial biotechnology, drug discovery, medicinal chemistry, agronomy, crop improvement, and natural product chemistry.
See More
Contributors ix
SECTION I NATURAL PRODUCTS IN THE NATURAL WORLD 1
Part 1 Role and Reason 3
1 The Role of Phytochemicals in Relationships of Plants with Other Organisms 5
Pawe³ Bednarek
2 Designer Microbial Ecosystems – Toward Biosynthesis with Engineered Microbial Consortia 23
David M. Babson, Mark Held, and Claudia Schmidt-Dannert
3 Marine Natural Products – Chemical Defense/Chemical Communication in Sponges and Corals 39
Elodie Qu´evrain, Isabelle Domart-Coulon, and Marie-Lise Bourguet-Kondracki
Part 2 Self-Protection – Avoiding Autotoxicity 67
4 How Plants Avoid the Toxicity of Self-Produced Defense Bioactive Compounds 69
Supaart Sirikantaramas, Mami Yamazaki, and Kazuki Saito
Part 3 Fishing and Pharming 83
5 Marine Bioprospecting 85
Amanda M. Fenner and William H. Gerwick
6 Myxobacteria: Chemical Diversity and Screening Strategies 103
Alberto Plaza and Rolf M¨uller
7 Fungal Endophytes of Grasses and Morning Glories, and Their Bioprotective Alkaloids 125
Christopher L. Schardl, Li Chen, and Carolyn A. Young
8 Fungal-Actinomycete Interactions –Wakening of Silent Fungal Secondary Metabolism Gene Clusters via Interorganismic Interactions 147
Volker Schroeckh, Hans-Wilhelm N¨utzmann, and Axel A. Brakhage
9 Secondary Metabolites Produced by Plant Pathogens 159
Barbara J. Howlett
SECTION II FROM GENES TO MOLECULES 171
Part 1 Reading the Genome 173
10 Analyzing Fungal Secondary Metabolite Genes and Gene Clusters 175
Yi-Ming Chiang, Clay C. C. Wang, and Berl R. Oakley
Part 2 Biosynthesis and Heterologous Expression 195
11 RiPPs: Ribosomally Synthesized and Posttranslationally Modified Peptides 197
Noah A. Bindman and Wilfred A. Van Der Donk
12 Polyketide Synthase: Sequence, Structure, and Function 219
Joel Bruegger, Grace Caldara, Joris Beld, Michael D. Burkart, and Shiou-Chuan (Sheryl) Tsai
13 Manipulation of Fungal Natural Product Pathways 245
Russell J. Cox and Katherine Williams
14 Production of Therapeutic Products 261
Guojian Zhang and Blaine A. Pfeifer
Part 3 Regulation: Waking Sleeping Pathways 277
15 Waking Sleeping Pathways in Filamentous Fungi 279
Joe Spraker and Nancy Keller
SECTION III EVOLVING ENZYMES, EVOLVING PATHWAYS: SYNTHETIC BIOLOGY 293
Part 1 Chemical Diversification 295
16 The Oxidosqualene Cyclases: One Substrate, Diverse Products 297
Ikuro Abe
17 Harnessing Sugar Biosynthesis and Glycosylation to Redesign Natural Products and to Increase Structural Diversity 317
Carlos Olano, Carmen M´endez, and Jos´e A. Salas
Part 2 Evolving Pathways 341
18 Evolutionary Mechanisms Involved in Development of Fungal Secondary Metabolite Gene Clusters 343
Geromy G. Moore, J´erˆome Collemare, Marc-Henri Lebrun, and Rosie E. Bradshaw
Part 3 Synthetic Biology 357
19 Synthetic Biology of Natural Products 359
Rainer Breitling and Eriko Takano
SECTION IV SCREENING FOR BIOACTIVITY 371
20 Image-Based Screening Approaches to Natural Products Discovery 373
Christopher J. Schulze and Roger G. Linington
21 Making Sense of Structures by Utilizing Mother Nature's Chemical Libraries as Leads to Potential Drugs 397
David J. Newman and Gordon M. Cragg
22 Is There an Ideal Database for Natural Products Research? 413
John W. Blunt and Murray H. G. Munro
SECTION V TO APPLICATION 433
Case Studies 435
23 Daptomycin and A54145: Structure–Activity Relationship (SAR) Studies Enabled by Combinatorial Biosynthesis 437
Richard H. Baltz
24 Discovery and Development of NVB302, a Semisynthetic Antibiotic for Treatment of Clostridium difficile Infection 455
Steven Boakes and Michael J. Dawson
25 ILS-920: A Rapamycin Analog for Ischemic Stroke 469
Edmund I. Graziani
26 BC265: A Nonquinone Ansamycin Hsp90 Inhibitor Developed Using Biosynthetic Medicinal Chemistry 483
Matthew A. Gregory, Steven J. Moss, and Barrie Wilkinson
27 Discovery and Development of Caspofungin (CANCIDAS): Concept to Clinic 497
James M. Balkovec, David L. Hughes, Prakash S. Masurekar, Carole A. Sable, Robert E. Schwartz, and Sheo B. Singh
Index 523
See More
The editors
Anne Osbourn is Professor at the University of East Anglia, UK, and Director of the Norwich Research Park Industrial Biotechnology and Bioenergy Alliance, and is based at the John Innes Centre.
Rebecca J. Goss is Reader in Organic/Biomolecular Chemistry at the School of Chemistry and also at the Biomedical Sciences Research Complex at the University of St Andrews, UK.
Guy T. Carter has over 30 years of experience working in Pharmaceutical R&D, primarily in the discovery and development of microbial products. He is currently CEO of Carter–Bernan Consulting and Chief Scientific Officer at Biosortia Pharmaceuticals, USA.
See More