Cancer Cytogenetics: Chromosomal and Molecular Genetic Aberrations of Tumor Cells, 4th Edition
ISBN: 978-1-118-79553-8
648 pages
August 2015, Wiley-Blackwell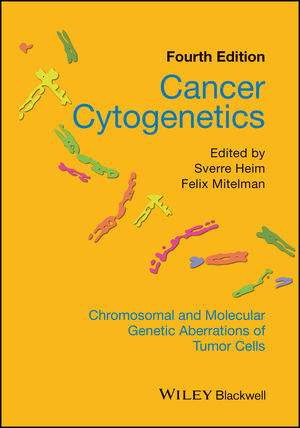 The first three editions of this acclaimed book presented a much-needed conceptual synthesis of this rapidly moving field. Now,
Cancer Cytogenetics
, Fourth Edition, offers a comprehensive, expanded, and up-to-date review of recent dramatic advances in this area, incorporating a vast amount of new data from the latest basic and clinical investigations.
New contributors reflecting broader international authorship and even greater expertise
Greater emphasis throughout on the clinical importance and application of information about cytogenetic and molecular aberrations
Includes a complete coverage of chromosome aberrations in cancer based on an assessment of the 60,000 neoplasms cytogenetically investigated to date
Now produced in full color for enhanced clarity
Covers how molecular genetic data (PCR-based and sequencing information) are collated with the cytogenetic data where pertinent
Discusses how molecular cytogenetic data (based on studies using FISH, CGH, SNP, etc) are fused with karyotyping data to enable an as comprehensive understanding of cancer cytogenetics as is currently possible
See More
Contributors vii
Preface to the Fourth Edition ix
1 How it all began: cancer cytogenetics before sequencing 1
Felix Mitelman and Sverre Heim
2 Cytogenetic methods 11
David Gisselsson
3 Cytogenetic nomenclature 19
Sverre Heim and Felix Mitelman
4 Nonrandom chromosome abnormalities in cancer: an overview 26
Sverre Heim and Felix Mitelman
5 From chromosomes to genes: searching for pathogenetic fusions in cancer 42
Ioannis Panagopoulos
6 Acute myeloid leukemia 62
Bertil Johansson and Christine J. Harrison
7 Myelodysplastic syndromes 126
Harold J. Olney and Michelle M. Le Beau
8 Chronic myeloid leukemia 153
Thoas Fioretos
9 Chronic myeloproliferative neoplasms 175
Peter Vandenberghe and Lucienne Michaux
10 Acute lymphoblastic leukemia 198
Christine J. Harrison and Bertil Johansson
11 Mature B ] and T ]cell neoplasms and Hodgkin lymphoma 252
Reiner Siebert and Sietse M. Aukema
12 Tumors of the upper aerodigestive tract 332
Susanne M. Gollin
13 Tumors of the lung 361
Penny Nymark, Eeva Kettunen and Sakari Knuutila
14 Tumors of the digestive tract 373
Georgia Bardi and Sverre Heim
15 Tumors of the urinary tract 401
Paola Dal Cin
16 Tumors of the breast 426
Manuel R. Teixeira, Nikos Pandis and Sverre Heim
17 Tumors of the female genital organs 447
Francesca Micci and Sverre Heim
18 Tumors of the male genital organs 481
Manuel R. Teixeira and Sverre Heim
19 Tumors of endocrine glands 497
Jörn Bullerdiek and David Gisselsson
20 Tumors of the nervous system 515
Petter Brandal and Sverre Heim
21 Tumors of the eye 538
Karen Sisley
22 Tumors of the skin 555
Fredrik Mertens, Felix Mitelman and Sverre Heim
23 Tumors of bone 566
Fredrik Mertens and Nils Mandahl
24 Soft tissue tumors 583
Nils Mandahl and Fredrik Mertens
Index 615
See More
Professor Sverre Heim has worked within the field of cancer cytogenetics for more than three decades. He has used chromosomal markers to trace the clonal relationships among neoplastic cell populations and determine their patterns of evolution. He has described numerous specific chromosome abnormalities in various hematologic disorders and solid tumors, identified their gene-level consequences, and has shown that the karyotypic and molecular genetic abnormalities have diagnostic as well as prognostic consequences. Dr Heim has served as a member of several editorial boards and scientific advisory committees. He is the author of nearly 500 scientific publications.

Professor Felix Mitelman has published more than 750 articles in the field of cancer cytogenetics. In the early 1980s, he established a unique database on chromosome changes in cancer – a systematic compilation of reported acquired cytogenetic aberrations, the molecular genetic outcome of the cytogenetic abnormalities, and the clinical consequences of the genetic changes. In 1989, Dr Mitelman founded the journal Genes, Chromosomes & Cancer and he has since served as the Editor-in-Chief. He is an elected member of several distinguished societies, including the Royal Swedish Academy of Sciences and the American Academy of Arts and Sciences.
See More